We have conducted research on Montage Technology Group's ("MONT", or the "Company") during the past few weeks. Based on our findings, we believe the independent distributor which accounted for more than 70% of the company's 2013 revenues, is actually a related party of MONT. We believe MONT's sky-high margins may not be sustainable in the future and more than $20m owed to it by this related party might not be collected in future periods. We therefore recommend selling the shares of MONT.
MONT is a China based fabless semiconductor manufacturer. Founded in 2004 by semiconductor industry veterans from Marvell Semiconductors and Newave Semiconductors, MONT's core business is centered around selling chips for set-top boxes. The company's clients are mostly local Chinese companies, and the company listed its shares in the US in September 2013. In addition, MONT's shareholders sold 4.35 million shares in a follow on offering on January 31, 2014.
MONT's SEC filings and investor presentations suggest the company has experienced enormous growth rates in the past few years:

After reviewing the company's prospectus and filings, one glaring fact that stands out above all others was MONT's overwhelming dependency on a single distributor named LQW Technology Company Limited. It important to note that players in this industry typically rely on 3rd party distributors and MONT is no different. However, based on MONT's filings, LQW accounted for 50% and 71% of its sales in 2012 and 2013 respectively:
"We have sold a substantial majority of our set-top box solutions to end customers through three independent distributors, LQW Technology Company Limited, Qinuo International Co., Ltd. and China Electronic Appliance Shenzhen Co., Ltd. Sales through these three distributors accounted for 71%, 8% and 7%, respectively, of our total revenue in the nine months ended September 30, 2013, and 50%, 18% and 9%, respectively, of our total revenue in the year ended December 31, 2012."
MONT included in its S-1 fillings the distribution agreement signed with LQW in 20133. MONT's fillings disclose that its dealings with LQW started in October 2011 and that during 2012 LQW became its single largest source of revenues:
"LQW has been a distributor for the Company's products since October 2011 and no revenue was recognized through sales by LQW for the year ended December 31, 2011…Under the Company's contract with LQW Technology Company Limited ("LQW"), which has been a distributor for the Company's products since October 2011 and was the Company's largest distributor in 2012…"
Judging by the fact that LQW was able to grow its business with MONT from $0 in 2011 to $39m in 2012 and then to $54m during the first nine months of 2013, investors might assume LQW is a large and well-known distributor. However, this does not seem to be the case - LQW does not have a website or any traces of online presence we could find that would indicate this company is looking to generate business. It would be an understatement to say that this is not typical for a company with such high turnover.
It is at this point that search engines came in handy:
1. According to a Linkedin profile, LQW's general manager is Anthony Ho. Ho's bio mentions that he is a former senior employee of both Newave Semiconductors and Marvell Semiconductors - the same companies that formerly employed MONT's founders. The following are bio snippets of some of MONT's senior management, courtesy of MONT's website5 (emphasis added):
"Dr. Howard C. Yang, Chairman & CEO. Howard C. Yang is one of our founders and has served as our Chairman of the board of directors and Chief Executive Officer since our inception. ..Yang co-founded Newave Semiconductor Corp., an integrated circuit design company located in China….
Stephen Tai, President. Stephen Tai is one of our founders and has served as a member of our board of directors and our President since our inception. Prior to co-founding us, Mr. Tai was the Director of Engineering Research and Development and a founding core team member at Marvell Technology Group Ltd., a semiconductor company, from 1995 to 2003."
In addition, according to the company's website, more of MONT's senior managers were at some point employees of one or both of these two companies. All this information leads us to believe that LQW's general manager has a well-established prior relationship with MONT's management and founders.
2. Google StreetView enables us to view the location of LQW's offices (a multi-million dollar company, mind you!). According to the distribution agreement, LQW's offices are located at: 612, 6/F, Hong Leong Industrial Complex, 4 Wang Kwong Road, Kowloon Bay, Hong Kong). See below the location according to Google: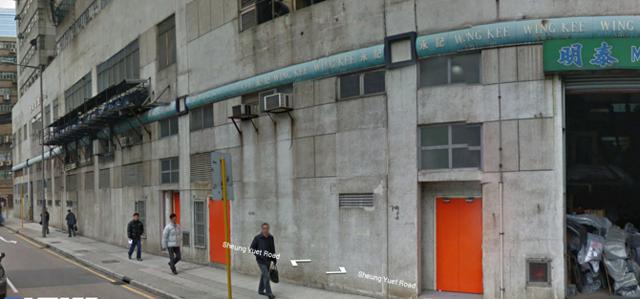 3. On-line records and Hong Kong Company Registry show that LQW was founded on October 20, 2011 - the same month in which MONT claimed to have started its business relationship with LQW. Yet despite being just founded, LQW was still able to generate $39m of MONT's 2012 revenues within mere months of its incorporation. The following is the Certificate of Incorporation of LQW: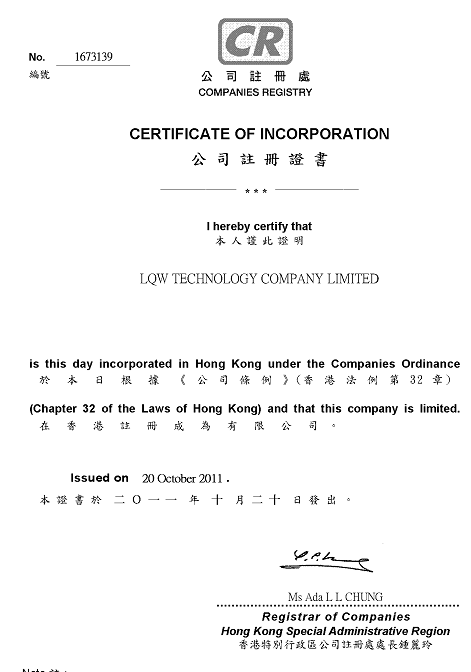 Based on this initial online research, we have uncovered that the offices of this allegedly independent distributor are located in a run-down warehouse in Hong Kong, that its manager shares employment history with a handful of MONT's senior management and that LQW not only managed to become MONT's largest distributor within one year, but it did not even exist prior to engaging in business with MONT!
Hong Kong Company Registry documents available online show that Mr. Anthony Ho - LQW's general manager and founder - sold his holdings in LQW to a certain Chinese company on February 2, 2012. This company is named Shanghai Lanqi Microelectronics Technology Company Limited. The following is the extract of LQW's transfer of ownership obtained from the Hong Kong Company Registry: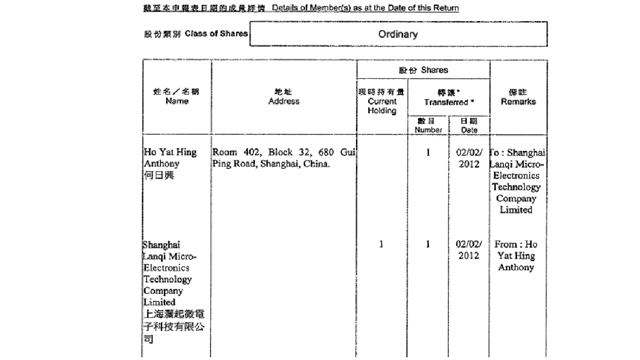 A Google search of the company that acquired the only share of LQW in February 2012 did not yield any initial findings. However, the address for this company (Room 402, Block 32, 680 Gui Ping Road Shanghai) is nearly identical to the address of one of MONT's subsidiaries as disclosed in its SEC filings: Montage Technology (Shanghai) Co. Ltd. (Room 406A, #32 Building, 680 Guiping Road, Shanghai, the PRC).
We believe all these findings support our thesis that MONT and LQW are most likely related parties, in striking contrast to MONT's SEC filings which try to paint a different picture in which LQW is an independent distributor. Since MONT claims that more than 70% of its 2013 revenues were generated by LQW, we believe MONT's actual revenues and margins are materially lower than disclosed in its SEC filings.
This gives us another reason for concern; it seems MONT may have significantly more accounts receivables than presented in its financials (actually about 200% more). Since most of these receivables are from LQW, we believe there is a significant collection concern.
MONT discloses:
"Under our contract with LQW Technology Company Limited, or LQW, which has been a distributor for our products since October 2011 and was our largest distributor in 2012 and the nine months ended September 30, 2013, we are entitled to bill only a portion of the total sale price at the time of shipment (deferred revenue), with the remainder billed upon sale by LQW to the end customer. Upon sale by LQW to the end customer, we bill the remaining sale price to LQW and recognize this amount as revenue directly (rather than initially as deferred revenue) as the sale price is fixed and determinable and all criteria for revenue recognition is met…For our other distributors, we are typically entitled to bill the entire sale price at the time of shipment to the distributors, which is recorded as deferred revenue upon shipment and recognized as revenue when sales from the distributors to the end customers occur."
This means that for its largest distributor, MONT records most of the cost for shipped products as a liability on the balance sheet under deferred revenues. This amount is then netted against deferred cost of revenues (or inventory if you like):
"The Company defers revenue recognition on sales to distributors until its products are sold by the distributors to end customers, which is when the selling price to the distributor is fixed or determinable. Deferred margin, net is calculated as: 1) deferred revenue that is recorded based on the amount of the sale price that the Company is entitled to bill the distributor at the time of shipment to the distributor based on terms of the distribution agreement, less 2) deferred cost of revenue, representing the costs of products shipped to the distributor."
Net Deferred Margin is actually hiding the cost of the product already shipped to LQW and other distributes. As of September 30, 2013, MONT disclosed a Net Deferred Margin on its balance sheet of $1.5m. This figure represents the net amount of the deferred revenues of $20.1m less the deferred cost of revenues of $18.6m:

This means is that $18.6m of the assets on MONT's balance sheet is the cost of the inventory that has been shipped to its distributors and customers, (but mostly to LQW). If we add the deferred cost of revenues to the accounts receivables balance ($10.4m as of September 2013, of which $8.2m relates to LQW), MONT's total amounts owed by its clients and distributors, billed and unbilled, would stand at a stunning $29m or 55% of the book equity of the company. We believe it is fair to assume LQW accounts for 70-80% of this amount, or $20-$23m, similar to its share in the company's revenues. We therefore believe that the amount owed to MONT by LQW has a significant collection risk when investors start to ask questions about LQW.
To summarize, we have shown that MONT is probably using an undisclosed related party as its distributor, a distributor that did not exist before MONT started its business relationship with. In addition, this distributor and that its manager and former shareholder has shared employment history with several of MONT's senior managers. The current shareholder of this distributor is registered at an address that is almost identical to one of MONT's subsidiaries and we believe MONT will not recover the cost of the inventory already shipped to LQW, which we estimate is in excess of $20m.
Disclosure: I am short MONT.