Skystar Bio-Pharmaceutical (NASDAQ:SKBI) is one of China's leading brands providing individually packaged animal wellness and pharmaceutical products for retail sale. Skystar develops, manufactures, packages and distributes vaccines; Western medicines, Traditional Chinese Medicine; topicals, supplements, probiotics; diagnostic kits and animal nutrition supplements for poultry, livestock, marine aquaculture and domesticated pets throughout all 29 agricultural provinces within China. Skystar employs over 300 people across its four manufacturing campuses.
Skystar operates four major product lines: Probiotics, Veterinary Medicine, Veterinary Vaccines and Feed Additives.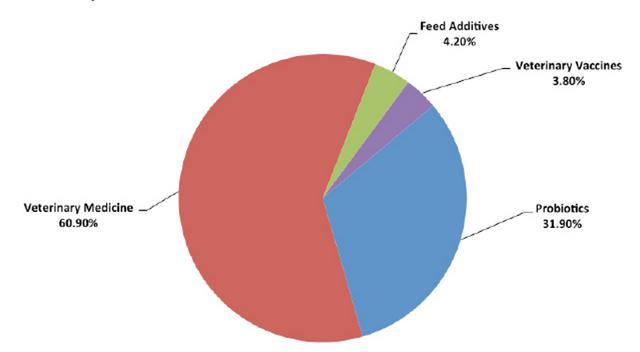 Source: Company's web page
Chinese market
In recent years, multinational pharmaceutical companies have begun to realize that China provides great opportunities in the animal health industry. The emergence of new diseases and new government policies to improve food safety point toward future growth in the Chinese market. China has become the largest market for animal product only second to the United States.
At the same time, the Chinese animal industry is in a developing stage where the government encourages the farmers to scale up their businesses to meet the internal food demand.
Company's valuation
Recently, the Chinese securities have been trading at very low multiples. The reasons for such behavior are: the fears of a slowdown in the Chinese economy and the level of trust given to such companies -hurt by several frauds committed in the past by some Chinese companies.
So far this year, the stock is up 25%. However, it is down more than 50% from its all-time high of $11 USD.

Source: Google Finance
SKBI is being traded at 4 times its currents earnings and .3 times its net book value. We must note that the company has a greater net margin (21%) than the industry average (17%) with no current debt.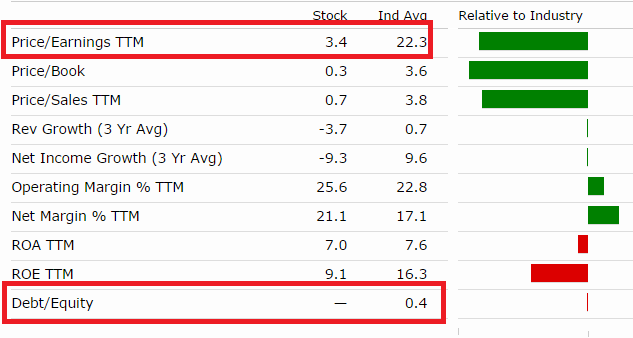 Source: Morningstar.com
The company's revenue has grown from $6 million back in 2006 to $42 million as reported in the last annual report. Therefore, SKBI has an impeccable record without losing any money in any single year since 2008.

Source: Morningstar.com
Strengths of the company
As mentioned before, the company's strengths can be seen in multiple areas, such as its robust revenue growth, largely solid financial position with no debt levels, solid stock price performance, attractive valuation levels and good cash flow from operations. There are some other factors that has positioned the company in a solid situation:
Franchised stores
The company has more than 300 franchised stores, which have helped it to reach more customer among its 29 farming provinces in China. This situation places the company in a solid position since the contract gives the company exclusivity over the franchisees that limit them to sell products that could directly compete with SKBI.
Skystar Bio-Pharmaceutical not only sells products to their customers but educates them to use them in the best way. I believe that this attitude creates value for both the company and the customer. The producer learns the best way to use the products in order to maximize his own production, therefore, the company increase its sales as the customer grows and places larger orders for products.
Growing the production plant
The company currently produces its vaccines in a lab by hand. However, it has just completed its vaccine plant. Accompanied with the above mentioned distribution channel, this new facility will give SKBI the ability to increase both its market share and revenue.
Learn more about the franchised stores and growing production plant here.
New products are been developed
On August, the company announced preparations to launch a new probiotic product for dairy cows by the end of fiscal 2014. The product is targeting the milk production industry which could be a great opportunity since currently, in China the demand for milk outpaces domestic supply.
Quoting the CEO:
"We believe that Skystar's new probiotic will help improve both production and quality. This new probiotic will help increase production for China's dairy producers. We expect to see revenue contribution by the first half of fiscal 2015 and full production goals by 2017."
Adding to his statement, the total potential revenue from this line is expected to be in the range of USD$4.5 million to $6.5 million
Opportunity in the Chinese market
Due to the lack of pharmaceutical companies, China distributes bio-pharmaceuticals products to the farmers through its stated-owned companies. Those companies are not cost-effective, situation that creates an opportunity for companies such SKBI, which are able to provide better vaccines at a lower cost.
Clean from any sort of problems
The company has always hit the earnings, it has never done any sort of estrange finance as most of its Chinese counterpart, it has always filled the financial reports on time, and it has never had a NASDAQ nor a SEC inquiry.
Why the stock it has been lower in the last few months?
Unfortunately, in order to meet its growth goals, the company had diluted its current shareholder's value. A few months ago, the company issued 790,514 shares of common stock worth of $5,000,000. Nevertheless, the proceeds of such offering will be used in the development of new vaccines.
Read more here.
Risk when investing in the company
Problems with small-cap Chinese securities
In the past few years, there has been several problems with some Chinese companies. They have committed frauds laying on its financial situation, causing million in losses for their shareholders. Since then, the accuracy of their financial statements has been questioned. As the companies are located in China, it has been difficult to prove their own legitimacy. Therefore, most of the Chinese stocks have suffered from low quotations.
More good feelings toward the company
Last quarter results
As stated by the company in the last quarter results, it keeps growing its operations, delivering better than expected revenue growth. Such figures give the certainty that the company has been doing a good job while creating more value for its shareholders.
Nine Months 2014 financial highlights vs the Comparable Year Ago Period
First nine months 2014 revenue totaled $39.4 million up 20.0% from $32.9 million
Gross margin of 45.5% for the first nine months of fiscal 2014 as compared to 51%
Net income of $8.7 million or $1.08 per fully diluted share, compared with net income of $8.2 million or $1.08 per fully diluted share
Outlook
On the last week, Skystar Bio Pharmaceutical announced that it maintains its business outlook and anticipates delivering an 8pct to 18pct year over year increase in top line revenue for FY 2014 as compared to FY 2013. The company expects revenue range of $46 million to $50 million for FY 2014.
Final thought
I have a positive sentiment toward the company which is driven by all the positive factors mentioned through the article. I believe that the management is doing a great job by topping the growth estimates and expanding the production line. For those investors who have long-term approach, this may be a good time to invest in the company given the undervalued price of the stock.
Disclosure: The author has no positions in any stocks mentioned, and no plans to initiate any positions within the next 72 hours.
The author wrote this article themselves, and it expresses their own opinions. The author is not receiving compensation for it (other than from Seeking Alpha). The author has no business relationship with any company whose stock is mentioned in this article.