Disclaimer: This is not investment advice. Investment in equities involves significant risks and could result in loss of capital. Consult financial advisor before considering investing in any equity.
I have been a TARO shareholder for well over 6 years. Back then, I was attracted to Taro by its limited competition business(which has changed over the last few years), low valuation, Dilip Shanghvi's track record and a public letter by an institutional minority shareholder (who has since sold out his stake) trying to hold the board accountable to all its shareholders. While the dermatology generic business has become less attractive over this period with the onset of increased competition (Teligent, Lupin, Glenmark, etc), below I explain my rationale for holding Taro and why I see significant upside from the current share price.  Since I have a longer term view of things, I continue to hold through the ups and downs. I do expect management to work towards improving the business and maximizing shareholder value. My prior write up was in 2013 and you can find it here in seeking alpha. TARO did well for me the first 2 years but I have been disappointed in the last 4 years with the share price decline from a high of $170 to $96 per share(02/09/2018).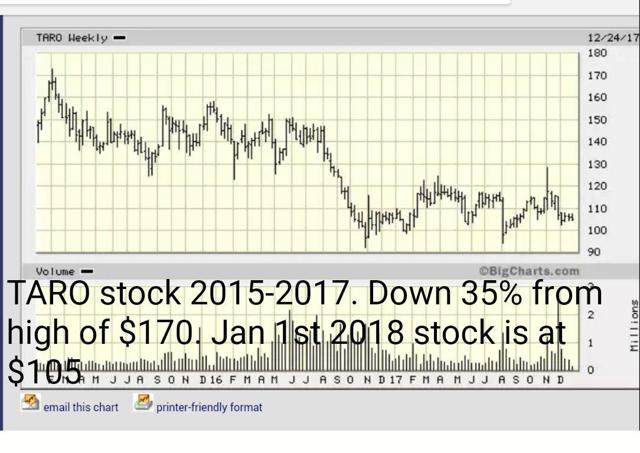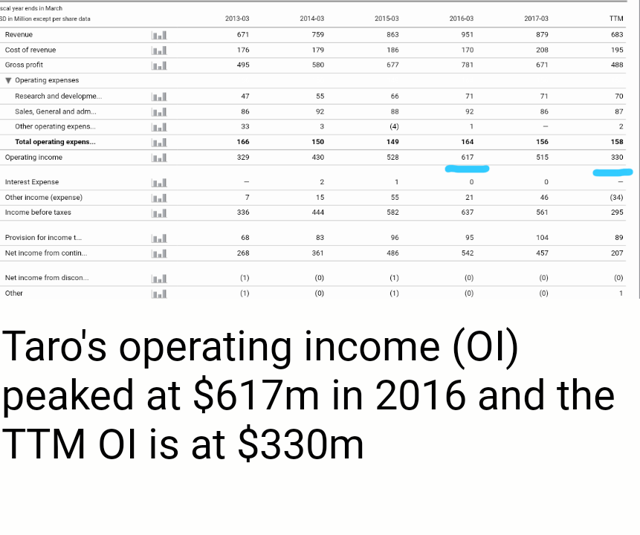 While TARO has made robust profits in these years and has accumulated $1.6b cash(despite its buyback) , its earnings  has suffered in the recent quarters principally due to more competition and customer consolidation resulting in share price decline. Operating income has come down sharply from the peak $617m in 2016 to $330m TTM (source: morningstar). And without proven use of massive $1.6b cash for significant acquisition(S) or in-licensing of patented clinical drugs  nor a detailed disclosure of the market opportunity for its pipeline or what's cooking in the R&D, the outlook for Taro indeed remains unclear and the share price reflects that outlook. 
While management cannot be faulted for things beyond their control (increased competition, customer consolidation and the resulting price erosion), management certainly can be questioned for things under their control: Use of cash to mitigate earnings risk and disclosure are 2 sticking points for me.
1) Maximizing the use of $1.6b Cash and Acquisitions(lack thereof).
When PHARMA IS ALL ABOUT PIPELINE and generics are seeing increasing competition, Why is $1.6b cash not being deployed to in-license patented drugs ?
To put share buyback and the current cash utilization in perspective, a buyback of 1m shares per year at say $100 per share uses cash of $100m or just 6% of the current total cash pile of $1.6b.
As a shareholder, it has been very frustrating to see huge cash idling for a long time without making significant returns to shareholders. For illustrative purposes, a 10% return on $1.6b is $160m in pre-tax income or an additional $3.4 EPS and with a P/E of 12, its value is $40 per share which a selling shareholder can't realize today. S&P 500 returned ~21% in 2017. (I needed cash last year and was really frustrated to sell shares at these prices to the company.)
Taro meanwhile has consistently stated in the last 3-4 years (2014-2018) that it continues to evaluate acquisition opportunities but remains disciplined. The above statement when taken at face value is reasonable esp for shareholders with a long term orientation. However, when one sees it in the context of the spate of significant acquisitions by Sun pharma(majority shareholder of Taro) , one begins to doubt management's intentions. When asked about the contrasting acquisition strategies, Management has said that Sun pharma is a much bigger and diversified business and it cannot be compared with a smaller business like Taro. Over the last few years, Sun has acquired/in licensed a number of clinical drugs (patented drugs) to counter the negative effects of generic business. Here is a list of such acquisitions.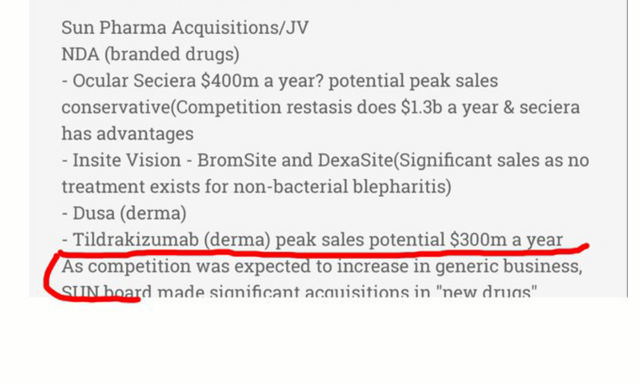 This is in addition to its acquisitions on the generics front: Ranbaxy, URL, Pharmalucense, GSK opiate business, Mitsubishi Tanabe pharma, 14 Rx brands from Novartis.
Sun is investing in branded(patent protected) business here:
This has resulted in analysts favorably talking about Sun's business outlook despite headwinds facing its generic portfolio. 
Clearly for years Taro has been saying the competition in the generic business is increasing. So why hasn't Taro made any significant acquisitions of patented drugs in the period 2014-2017 esp with its huge cash hoard to preempt the earnings loss expected from increased competition in its generic business ?
To be fair to the management, Taro has made some acquisitions and in-licensing in this period. But none of them appear significant.  I will list acquisition/in-licensing opportunities I am aware of:
With the biotech markets in the US overvalued, it is possible Taro is waiting for an economic recession so assets get cheaper so it can make a large acquisition.
Now what would I want Taro to look in to? I would want Taro to buy new expertise and get into the Biosimilar business.  A staggering $67b/year revenue from Biologic drugs will go off-patent by 2021. India's Lupin (hitherto generic drug maker) is making investments in Biosimilars 
There are quite a few interesting companies like Pfenex(PFNX), Momenta Pharma(MNTA), Coherus(CHRS) that are looking for partnerships to fund their biosimilar programs. Amphastar(NASDAQ:AMPH) a proven business with both its biosimilar and complex generics is another asset that is very interesting .
2) The 2nd sticking point is the disclosure on pipeline and its progress :
Taro discloses how many ANDAs it has with FDA. But it does not disclose the market opportunity: brand size, how many competitors and known filers, first to file status, potential launch timing (patent disputes or settlement agreements), etc. As a result, it is impossible to even attempt to analyze these opportunities. Now the above piece of information can be anonymized and provided.
Taro's potential big value addition is Novexatin(in-licensed in 2013) and its currently undergoing phase2b trial. However no information is released on the results of the p2a trial that completed in Jan 2016 except management stated that the results were positive. Now in pharma new/specialty drug investing there is a latency of 5-7 years before an investment in a product starts to earn any money. Providing adequate and timely information flow through out this clinical progress would ensure it is equitable for all shareholders: Seeds that have been sown can then be reaped by the rightful owners as they begin to grow. The market will assign value based on the clinical data results discounting any residual clinical, regulatory and commercial risk. There is a biotech ecosystem (investors, analysts, market) in the US that is built around valuing clinical drugs(p1/p2/p3).
On the acquisitions that Taro has made,  the rationale for these investments is not clear nor has any progress been reported on these that I am aware of.
In one of the conference calls a few years ago, management said they have some R&D activities in the areas of antibiotics, atopic dermatitis. But we haven't heard much on these.
I hope Taro provides such information in healthcare investor conferences and starts to have quarterly earnings call instead of an earnings call every 6 months. Taro also currently doesn't seem to have any coverage by analyst firms. A few years back Credit Suisse had written a research report but it appears they no longer cover Taro.
Notwithstanding the above, I believe Taro shareholders are in a sweet spot and here are the 3 reasons why.
1. Earnings are likely to stabilize, in my view . While it is impossible to forecast with almost nothing known on pipeline and the changing market dynamics, I  believe the earnings on the generic portfolio is going to stabilize and would improve from this quarter's base. I premise this on the following 4 factors.
Operating Earnings TTM has declined sharply by 45% from the 2016 peak. OI for the last 4 quarters were $101m, $77m,$88m and $61.8m.
ANDA approvals have increased with a couple first/sole generics in the prior quarter 
Ultimately, because of the small market for most dermatology generics, some products will face a situation where more competition will simply become uneconomical for some players to produce** and hence there could be exits and portfolio price stabilization for residual players. Market leaders and efficient, low cost operators like TARO should benefit.
There could be some sector consolidation (Novartis Fougera seems to be on sale)
** Here is what Teva said on this topic in its most recent conference call, so it seems teva is already selling certain drugs at price points that are unprofitable.
We've also communicated that we are working on an optimization of our generics portfolio on a worldwide basis and in the U.S. I'm happy to inform you that we are, of course, doing this in a very constructive way, talking with our key customers, discussing the issues and making sure that we find a solution regarding unprofitable products either in the form of price adjustments or discontinuation of the products from our side.
However I do expect Teilgent, Lupin, Glenmark to make more launches where Taro is in. It remains to be seen what Taro has in its pipeline or what taro is going to acquire with its $1.6b cash to counter this expected loss due to more competition. Everything here depends on management's proactive actions.
2. Novexatin - TARO in-licensed one drug from Novabiotics in Aug 2013 and has conducted Phase 2 clinical trials on it. The first Phase 2 clinical trial completed in Jan 2016 and management has only disclosed the results are positive. No data is publicly released. The 2nd larger Phase 2b will be completing in April 2018 and it is my expectation that the data for this larger study will be released. 
More information on Novexatin and why this drug has the potential to be a blockbuster can be gleaned from the below links:
Phase2a conducted by Novabiotics
Phase 2a Completed by Taro in Jan 2016 (Note: Results not made publicly available. Management has  said results were positive. This was a 48 patient randomized, double-blinded, placebo controlled study.)
Phase 2b Ongoing (180 patient study Completing in April 2018) . This is testing both a daily 8 week regimen and a daily two 8 week regimen.
After the Phase2a conducted by Novabiotics in 2010, the PR said the following:
 This rate of indicative mycological cure after only 1 month of treatment is higher than has been reported for existing remedies but importantly there is no evidence of any of the potentially serious side effects reported for those treatments, most notably liver damage.

Dr Deborah O'Neil, Founder, commented: "This study confirmed what we anticipated. Novexatin® is a unique product that can address the global market of fungal nail infection, which is poorly served at the moment. As such, Novexatin® has the potential to access a significant proportion of a global market worth $5 Bn.
To summarize, Novexatin has shown to have the following advantages in early studies that could allow it to corner a significant part of the $6b a year world wide market for the treatment of Onychomycosis .
Rapid onset of treatment within 1 month with superior cure rates than existing topical treatments
Only 8 weeks of application over nail vs 40-50 weeks for competition
Good safety record
2013 dated Onychomycosis treatment market (I presume this has not significantly changed with the introduction of new topicals jublia and kerydin.)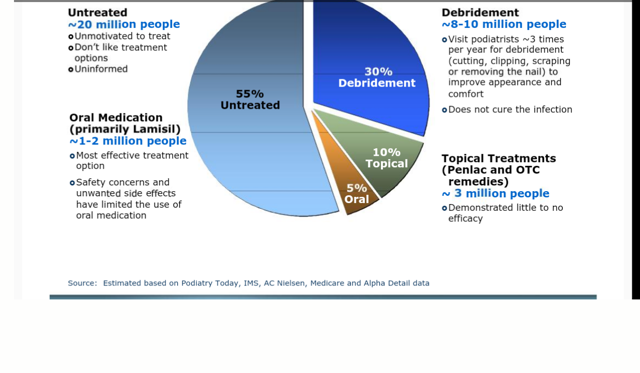 Here is an interesting document on onychomycosis and of interest is the below chart on the efficacy rates. Investors should use this as a back reference when Novexatin data becomes known. The best possible outcome would be if Novexatin's cure rates match those of generic oral terbinafine which is a systemic treatment with some safety issues. In that case,  Dr Gupta reasons  "why wouldn't it be a huge seller" ? However the more likely outcome is the cure rates are superior to existing topical agents but are below oral terbinafine's cure rates.
It is not difficult to see why Novexatin could be a very significant product if the competitive advantages seen in early studies are validated in the Phase 2b. If cure rates are significantly superior to topical agents (as seen in Novabiotics early studies), I estimate*** peak sales ~$1.2b. (~20% of the market). The low efficacy of the currently available topical agents seem to be an easy bar to overcome. Note: Low cure rates of Topicals (Penlac, Kerydin and Jubilia****) combined with the need to apply topical for extended period of 10 months are good reasons why the topical agents haven't meaningfully penetrated the market today.  Peak sales of oral terbinafine was ~$1.2b despite potential safety concerns, contraindications, Liver enzyme test at onset and 6 weeks  and longer treatment period of 3 months. Also note, the Onychomycosis treatment population in the US is ~45 million patients and good part of them go untreated due to a lack of effective and safe therapy)
If cure rates are comparable or better than generic oral terbinafine, a very high bar to overcome and unlikely to happen*, estimated peak sales could top ~$2.1b.(~35% of the market).In this blue sky scenario, Novexatin becomes the standard of care. Note that it can be taken for patients that would not have taken terbinafine due to safety or contraindication issues. Half of onychomycosis patients are 70 years old or above and these patients generally are on other medications and oral terbinafine is not preferred. Also, its shorter treatment period and effectiveness could attract patients that hitherto were not getting treatment or patients using other treatment methods like laser, photodynamic, debridement
Please note in either of the 2 scenarios, the most effective topical agent could also be the preferred agent to be used in combination therapy** with oral terbinafine to improve the cure rates .(as long as safety data is ok). This would also help in the market penetration.
*Note: Compliance for topical agents is a real issue and that could potentially skew cure rates to be lower. The ointment is recommended to apply after a shower and leave the formulation to dry before putting on socks/shoes.  Not everyone will follow the instructions and could take short cuts. With oral pills, you don't have this issue.
Note** To decrease the adverse effects and duration of oral therapy, topical treatments and nail avulsion may be combined with oral antifungal management
Note*** I will likely update this estimate after seeing p2b data. But for this estimate, I am assuming nvxt is able to show MCR of >60% and CCR of 25-30% in p2b.
Note**** If you go by anecdotal reviews of jublia, it takes ~5 months to see fully normal nail if the treatment works
Future potential competition (drugs currently under clinical development) to watch out for are  Topica's 10% luliconazole, Viamet's oral VT-1161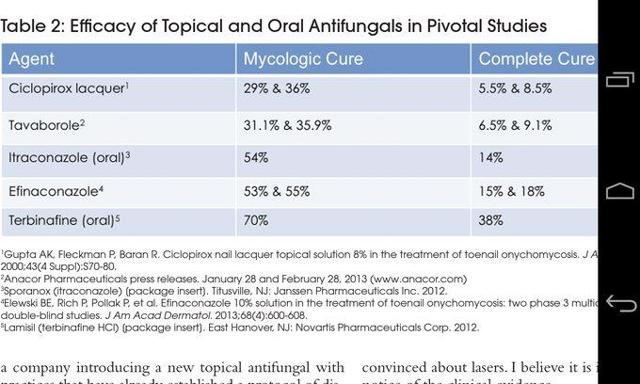 Here is the medscape link. that explains the current treatment landscape for onychomycosis. Another link that explains the unmet need
Recent market evidence indicate that late-stage clinical, pre-commercial drugs fetch 2.5x estimated peak sales.(courtesy: propthinker.com, a pharma investing research service)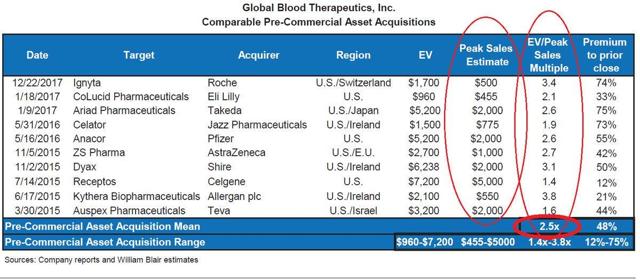 A randomized, placebo controlled, double blinded phase 2b data is a fairly reliable indicator for future success. A good and noteworthy example of the trust the investment and medical community places on such Phase 2 data is Gilead's acquisition of Pharmasset (primarily for Sovialdi rights) back in 2011 for $11b. Here is what John Martin, Gilead's CEO said at the time
Pharmasset presented compelling Phase 2 data earlier this month further characterizing the strong efficacy and safety profile of PSI-7977 (sovialdi). The compound, together with Pharmasset's other pipeline candidates, represents a strong strategic fit with Gilead's vision, pipeline and capabilities. This transaction will serve to drive the long-term growth of our business.
Sovialdi became the standard of care for Hepatitis C,  many tens of thousands of patients benefitted over the years and Sovialdi has earned 10s of billions of dollars for Gilead's shareholders. 
While there are certainly no guarantees in clinical trials and the trial results could be negative, I am cautiously optimistic on the results of Novexatin p2b study since 2 earlier double-blinded, placebo controlled p2 studies were positive. I view Novexatin as a call option for significant upside if we do see good data.
3. Cash Accumulation, Low Share price, Sun's consistent intent to acquire Taro and the ability to fund a minority buy-out
The flip side to not making any significant acquisitions to offset the anticipated earnings loss due to price erosion is TARO's massive cash pile of $1.6b and its low stock price of ~$96. Taro's cash stands at $152 per each minority share( Every $105m in cash is equivalent to $10 per minority share). So hopefully this increases the possibility of good pay out to the loyal remaining 10% shareholders.
Pace of buyback over the years and its effect on Sun's Taro ownership. A total of ~4.88m shares  have been purchased taking Sun's ownership from 65.9% to 73.6%
From the 20F and 8k
During the year ended March 31, 2014, the percent of ordinary shares owned by Sun increased from 65.9% to 68.9% due to our repurchase of 1,959,514 ordinary shares in December 2013.  During each of the years ended March 31, 2015 and 2016, there was no significant change in Sun's ownership of our ordinary shares.  During the year ended March 31, 2017, the percentage of ordinary shares owned by Sun increased to 72.8% due to the repurchase of 2,252,725 shares during the year.  As of May 31, 2017, Sun's ownership percentage increased an additional 0.1% to 72.9%, due to our continued repurchase of additional ordinary shares.

In the current fiscal year from April 2017 to Jan 31st 2018 671,300 shares at an average price of $104.36
Sun has not sold 1 TARO share in any of the buybacks nor expressed any intentions to sell TARO. In fact in the November 2017 earnings call, Sun's appointee Taro CEO made this somewhat intriguing statement when asked about share buyback. "So I think, what we are doing in terms of the share repurchase in a relatively low liquidity stocks helping the shareholders sort of liquidate, investing in our own stock, because we believe in the long-term story."
I would not try to handicap the scenarios but suffice it to say different scenarios are possible. Apparently, Taro can acquire up to ~5.1m shares in the open market at which point Sun's voting rights reaches 90%. The remainder ~5.4m minority shares can only be acquired via buy out offer that has minority protections under Israeli law which includes "majority of minority" vote and the offer should be at fair market value.  So here are 3 possibilities :
A) Continued buyback at the current pace of ~1m shares per year. At that rate in 2023 we would hit 90% voting rights. 
B) Accelerated buyback before or after Novexatin p2b trial completion by means of both open market buyback and the remainder through a dutch buy back at a premium to take Sun's voting rights to 90%. 
C) Suspension of the buyback before/after the current buyback authorization amount is exhausted.
Note: However, in scenario A and C, significant amount of cash would (sooner or later) need to be deployed towards acquisitions. To put the cash utilization in perspective, in scenario A, a buyback of 1m shares per year at say $100 per share uses cash of $100m or just 6% of the current total cash pile of $1.6b.
Mystery of 1.64m (a whopping 12.7% of the float) Shorted Shares
As I have already indicated the company itself has $151 cash per minority/float shares and zero debt. Sun also has its own cash. So who in their right minds would have shorted 10% of the float ? They gotta know something. Why are they interested in keeping share price down. What are their incentives ? I would be interested to know the identity of these short sellers.
What does Sun get by fully acquiring Taro
I believe Taro presents a very good long term opportunity for Sun. A global pharma company like Sun with its wide marketing and distribution capabilities post-Ranbaxy acquisition, could in the long term opportunistically sell Taro's ~250 products in ex-North America markets like Europe, Japan, Latin america, Russia, China and India. The emerging markets of China and India with its increasing purchasing power will certainly be interesting growth opportunities in the coming decades. In the long term, Sun could potentially explore setting up greenfield plants in a low-cost country like India to serve world markets. (China recently changed rules where it would consider foreign trial data and FDA approved products in the drug application process.) Besides, Taro acquisition would give Sun unrestricted access to Taro future cash flows and Taro's assets (Plants, IP and Employees) for further rationalization. Currently, some of Taro's employees do have service agreements to provide services to Sun. It is unclear what services are being rendered. 
Recent ANDA Approvals, Current valuation
Taro in January received ANDA approval for Adapalene and Benzoyl Peroxide Gel, 0.1% / 2.5%.  ($251m US market). In addition in the prior quarter, it has received approvals for Butenafine Hydrochloride Cream, 1%, Fexofenadine Hydrochloride Oral Suspension 30 mg/5 mL, and  Clindamycin Phosphate and Benzoyl Peroxide Gel 1.2%/5% 
Using the TTM EBITDA of $347m (source: yahoo finance), Taro's EV/EBITDA is ~7.
Final Remarks
Public memory is short, but I do expect that if any potential buy-out is considered in the future, it ends up being a win-win situation for all the stakeholders. Meanwhile, I do hope the management invests its huge cash hoard of $1.6b towards patented drugs, CONSISTENTLY maximizes earnings, shareholder value, share price and stewards the Taro ship in the best interests of all its shareholders.
Disclosure: I am/we are long Taro,CHRS.
Additional disclosure: Disclaimer: This article is NOT investment advice. Please consult your financial advisor for investment advice. Read the detailed disclaimer here https://t.co/Jg0PMXiaOS?amp=1