If you have searched the Internet looking for an impartial review regarding the Dubai Lifestyle App and Scott Hathaway you need look no further. The team at Binary Scam Alerts have investigated this software and found it to be a blacklisted SCAM.
The Proof
It seems the affiliate marketers behind these vile scheme are using stolen image bank photos ripped of the internet without written consent.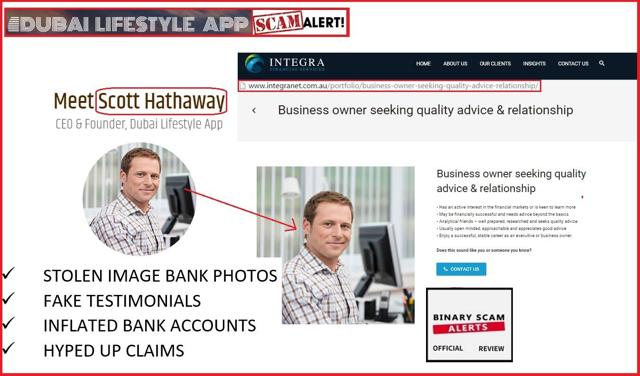 It is believed that the people behind this online investment SCAM are unscrupulous marketers who have crossed the line and don't understand the implications and severity of their actions.
The use of false advertising tactics has become particularly disturbing in this new and growing niche, and when advertisers get too greedy consumers pay the price.
Dubai Lifestyle App SCAM Review
According to the story Scott Hathaway created this app and needed funding to continue development of the software. He approached the Mahmood Brothers who in turn bankrolled his operation with $430,000 and in return asked the software to pay homage to Dubai.
This is why the software is named the Dubai LifeStyle App and now they are inviting new traders to come on board but they have to be action takers.
Word to the Wise: This fake software is NOT free and it will cost you at least $250 to use.
There is similar fraudulent software out there that will steal your money in the blink of an eye. Centument LTD, Quantum Code, Brooks Blueprint, Push Money App, and Free Money System are the ones topping the charts in terms of complaints these days.
Review Summary
The Dubai Lifestyle App is a dangerous online trading scam. The software is bogus and it will take losing trades intentionally.Don't deposit and don't be fooled by the convincing sales pitch and hyped up claims of massive wealth on auto-pilot.