Gemini 2 is a new binary options automated trading software, which also includes trading signals and a trading robot. The Gemini 2 app officially opened to investors on during late September 2016.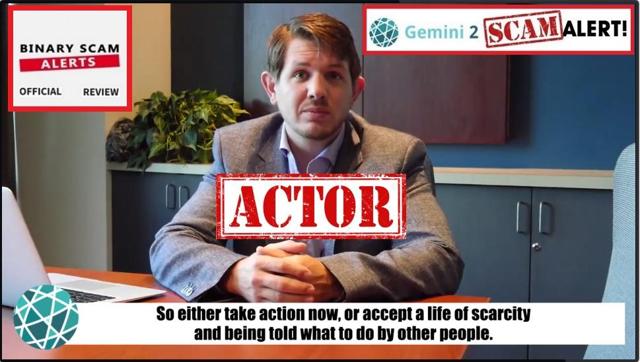 If you are a novice to trading binary options, please make sure you educate yourself by reading about various financial and investment scams. There is no shortage of scam and fraudulent trading software heavily marketed online. It's imperitive you read about the various Binary Options Trading Scams.
Here's a Fair Warning! 100% of people using Gemini 2 lose their money in a matter of minutes! You can't win because the software is rigged and set to take losing trades.
Don't act haphazardly, when you examine a software like Gemini 2, there is one thing that you must ignore, and that is all those hyped up claims and promises of millions.
There is no software out there that can make $2,341 a day from a deposit of only $250.
What you need to do, is take a closer look at the functions of the software.
Does the software allow you to select a licensed broker?
Can you protect your money with various risk management tools ?
Does the software have a demo mode, so you can see how it works?
Every country in the world has a regulator for its financial institutions. The Gemini 2 trading software will assign a broker for you automatically. Many times the broker is not regulated and you should be very careful before investing.