Euro landslide "temporarily" halted, Uncertainties ahead
by TraderNeal
Despite the fact the landslide sell off for the eur-usd has temporarily halted, there is still heavy resistance from a strong downtrend. As stated earlier in my blog there isn't much on the economic calendar in the first half of the week. eur-usd did however manage to firm up after Japan joins China in buying EU bonds to help the current debt crisis in the Eurozone which has been most recently hit by Portugal debt crisis.  The turmoil comes just after recent Ireland problems surfaced and prior to that the ongoing problem with troubled Greece. It seems to be a tsunami of debt that is crashing down on the Euro and there is also doubts about the US economic recovery.
Currently the eur-usd is trading right around 1.2968 (a low made on 11/30/2010 month of November). The pair may find support there or break lower. The next major low is at 1.2586 (which occurred back on 8/24/2010 month of August).
Support & Resistance for the pair is as follows:
Resistances:
M1 Resistance = 1.3980
D1 Resistance = 1.3412
W1 Resistance = 1.3294
H4 Resistance = 1.2963
Supports:
D1 Support = 1.2905
W1 Support = 1.2905 (same as D1)
H4 Support = 1.2892
M1 Support = 1.2203
4hr 144ema = 1.3491 (price is below which means in a downtrend) note that the ema will change much faster than the support and resistance levels.
At them moment of this post we are above all support levels and under all resistance levels - in other words a range. But we are below the 144ema which I feel is crucial to a trend. So technically the bears have a slight advantage but not by much.
Fundamentally there is a lack of clarity with US economy uncertainties and Eurozone sovereign debt woes while technically eur-usd is in a long term downtrend and a short term range which is trading above supports but has yet to challenge resistance. This is a real nail bitter. Meanwhile gold and oil have firmed up and have refused to fall.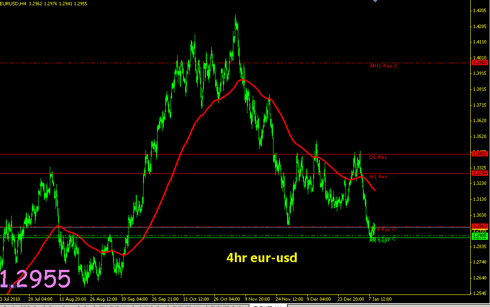 long term bias is short unless the fundamental and technical items I have mentioned changed.  
for further updates please visit
my blog
. 
Disclosure:
I have no positions in any stocks mentioned, and no plans to initiate any positions within the next 72 hours.
Additional disclosure:
I may enter a short or a long on the eur-usd as I am a short term trader but long term my bias at time of posting is bearish