Good morning everyone,
Unfortunately I don't have time to publish an article on Nike (NYSE: NKE) so I thought I'd put this in a blog post! The ticker has also been flooded with articles recently due to the anticipated earnings release, which is expected today after the market close.
For fundamentals I'm afraid you'll have to do your own due dilligence, the sector has experienced a decline in growth forecasts and Nike has been in a downtrend since the start of 2016.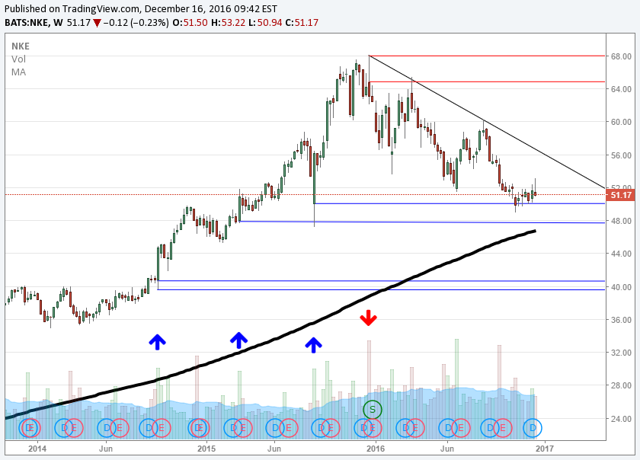 (Please give credit if you wish to use the image)
We're trading right at the first support area I've identified based on buying volume, this can be see as the blue horizontal lines. No matter if you're an investor or a trader, you've got the opportunity to buy a HALF SIZE POSITION between the prices of $50 - $47.25. We also have the 200 moving average that could offer further support if the price bounces off it and stays above.
However, the main problem I have is that this pattern is what's called a descending triangle, which usually indicates the continuation of a downtrend once the support level has been broken.
All is not lost though! If we're lucky, we may see the $41 - $39.64 support area, this hasn't been touched since late 2014. Just like the big $50, $40 will be an area of significant interest. I would advise a FULL SIZE POSITION here as you would now have a huge margin of safety in a premium brand and company.
A share price of $41 would give the company a PE ratio of 17.44 based on forecast 2017 EPS of $2.35, and that has not been seen since 2008. Thats why I'm confident that if the fundamentals haven't changed significantly, you may be given a fantastic christmas present or a great start to 2017!
GAME PLAN FOR TRADERS
Half Position
Entry = $50
Stop loss = $46.25
Take Profit = $58.75
Risk:Reward Ratio = 1:2
Full Position
Entry = $41
Stop loss = $38.64
Take Profit = $58.75
Risk:Reward Ratio = 1:7.5
PLEASE NOTE: Investors will most likely be using a buy-and-hold strategy for when they retire, so will have no need to sell the shares at the price listed above.
Good luck and happy trading / investing!
Disclosure: I/we have no positions in any stocks mentioned, and no plans to initiate any positions within the next 72 hours.