The recovery in US equities over the past 6 months has been spurred by improving economic numbers and attractive valuations. To focus on the valuation side, the price earnings ratio (P/E), calculated by dividing current prices by the last 12 months of earnings per share, of the entire S&P 500 currently stands at 16 - a historically attractive level. While investors view improving economic indicators such consumer confidence with passing interest, market fundamentalists, as Martin Zweig once noted, view the P/E Ratio with a sense of urgency normally devoted only to higher subjects of ethics and morality.
What has driven valuation levels to be so attractive? Part of it is that fear instilled from financial crisis has led to depressed asset prices, but now that equity price levels have returned to pre-crisis levels, it is clear that earnings are the driver. We are currently witnessing a record level of earnings which has endowed the corporate sector with healthy valuations and strong balance sheets.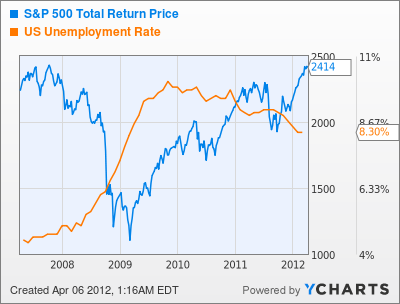 Although some of the earnings growth has come from top-line revenue growth driven by vast government spending and sales in the emerging markets, much of the improvement in earnings has come from cost savings associated with productivity gains.
Companies are simultaneously leveraging savings from outsourcing their manufacturing operations and technological innovations found in big data and the cloud. As a result, companies are producing goods at cheaper cost, more efficiently managing their supply chains, and operating on leaner staffs at their headquarters. As an article in this past week's Economist magazine pointed out, the economic recovery has been good for corporations, but bad for workers.
So, what can we extrapolate from the P/E ratio on the state of the economy? Well, the great recession may have had it part in causing structural economic change by forcing companies to cut cost at an opportune time to embrace new, productivity-driving technologies. Unfortunately, the reformed economy has thus far primarily benefited those with investment portfolios and information technology backgrounds.
The mismatch in job skills demanded and the diminished corporate hiring needs may contribute to continued elevated unemployment for the near future. On the other side of the coin, the big data revolution still has ways to go as it is estimated that only 10% of the necessary investment in new data infrastructure has been made. Moreover, a new generation of tech entrepreneurs has come to market with products that ride trends in the social web and leverage newly abundant computing power and digital storage.
In addition, as the emerging world emerges, domestic growth will also follow as populations that have thus far only been producers begin to consume and make their own contributions to global innovation and culture.
So far in this piece, I have laid out some views on how the economy is structurally changing; however, I do admit to over simplifying to make a point. Certain sectors including energy and even construction should actually contribute to bringing down the unemployment rate at some point in the future. I don't see the US going back to 4% unemployment anytime soon.
The Investment Implications
Without paying much attention to short term tactical shifts in the market, the tech space as a whole should continue to benefit from the above mention. I like the data infrastructure and analytics side of things the most given the amount of investment that still needs to be made for the migration to the cloud and updating wireless networks to support growing mobile data consumption. I believe that IBM and EMC look attractively positioned to capture the big data trend. I am not as fond of the consumer side of tech at the moment because of what I perceive to be a fickle public that is about to witness some of the largest brand wars my generation will ever see (AAPL vs GOOG vs AMZN vs MSFT vs FB). I also tend to shy away from equities which are in the news more than I can afford to follow. I'd rather sniff out value in companies that are uniquely positioned in more niche spaces or act behind the scenes as suppliers to the major players, stocks like BRCM, LNKD, and ORCL.
Going into the year I put a significant overweight on the triple Q's which I liked not only for the momentum play on AAPL's stock, but also for their general shelter from European worries. Given the high correlation of last year's markets and the fact that I was overseas traveling, I found concentrating in ETFs to be sufficient. Now that correlation has cliff dived, I believe it is the right time to shift out of index holdings and into individual names. I have benefited from lower than expected correlations on some of my newer positions. I do believe that correlation and volatility will remain in a contango market despite continued worrying signs in Europe and the lack of an economic panacea in the US. I see a more aligned leadership in Europe as having removed some sovereign tail risk off the table. I also see the economic numbers in the US as good enough to point in a consistent direction. It is especially because the Euro crisis still poses a threat and the fact that the US numbers will remain unremarkable that I believe stock picking will obliterate passive indexing.
If there is any segment of the global economy that I would passively invest into, it would be the emerging markets which have been battered lately by a weakened China and easing commodity prices. I would index EM because on one hand current valuations and long term growth look attractive, on the other, it is extremely hard to stock pick in those markets and does not add as much alpha due to more systemically charged investment environments. Examples of what I mean by "systemically charged investment environments" include subversive Latin American politics and the centrally planned Chinese economy that is subject to an artificial business cycle due to the 5-year plans.
I do believe it is possible to pick winners in EM, but that they require some extra due diligence and tend to be more macro plays in nature because of less the developed financial markets and more export oriented economies. However, as I pointed out earlier, consumers are rising and they have a taste for international brands. As a result, exposed luxury stocks are worth researching and companies like SBUX and DNKN may knock it out of the park with execution on expansion plans. Other strong picks include high-margin manufacturers with integration into developed market supply chains like AVGO.
I plan on elaborating on several of the ideas touched on in addition to laying out the cases for specific companies. For now, I continue to read the tea leaves of the economic picture to confirm the trends and establish good entry points into some solid long term investments.