I believe that natural gas prices will eventually return to levels seen five years ago due to increased commercial utilization and the energy source's relative environmental benefits. However, because there is no OPEC for gas production (…yet), the explosion in production will continue to hold down prices until increases in demand soak up all the excess supply. While traders like T Boone Pickens continue to turn over every penny in search of the bottom in Natural Gas, it makes more sense to devise a strategy that benefits from low gas prices rather than trying to time a recovery in prices.
In recent years, US companies have talked about exporting natural gas and I believe there are some good investing opportunities in riding the export wave. This is one trade that is actually more profitable for companies when the price of henry hub (the US nat gas benchmark) is low relative to global gas prices, making it possible to capture a nice spread.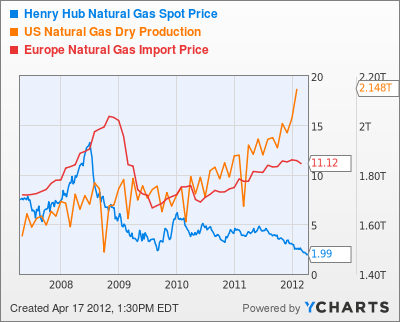 Henry Hub Natural Gas Spot Price data by YCharts
As you can see by the chart, gas production has exploded and led to a collapse in US prices over the past couple of years. However, Europeans are still paying more than 5x the American price. Natural gas is also in high demand in Asia and particularly in Japan where there has been a great dislocation in energy supply due to the Fukushima incident. This past winter, the Japanese were paying more than $20 per BTU to import a record amount of natural gas. Several other countries including China and Germany have also increased gas imports to record levels to diversify their national energy sources.
There are quite a few ways to monetize the trend in US export of natural gas without taking on direct exposure to the price through futures or E&P companies. Of course you could always try some overtly complex futures trades such as betting on a tighter spread between US and European gas prices if you wish. Here is a short list of some publicly traded equities that offer alternatives.
Cheniere Energy (LNG) which just announced plans to start a natural gas export terminal in Louisiana.
Chart Industries (GTLS) which manufactures the equipment needed to liquefy natural gas (nat gas must be liquefied before it can be transported in tanks)
Chicago Bridge and Iron (CBI) makes the storage tanks used to hold and transport LNG (the estimated fleet of nat gas ship carriers is projected to double in the next 2 years and require CBI's technology)