Market and Meaning is my weekly update on market movements and their meaning for you as an investor. Market and Meaning is normally reserved for premium subscribers but is currently being offered for free to all our readers.
Market and Meaning is broken up into three parts:
*Get $150 when you begin trading with Motif Investing, my new favorite way to invest.* (See full Motif Investing Review)
MARKET VIBES
First of all, I want to announce that the first official INVESTOR IN THE FAMILY portfolio is now available for subscribers! Subscriptions are free, so sign-up, get the password, and see how we are investing.
As for the markets, currently the Dow is down close to 700 points on the week. Many say the decimation of oil is a major cause.
As for oil, I hold steady in my thinking that oil and gas stocks are currently on sale and will likely be on clearance soon. I have made a few purchases, but will wait to fill out positions as prices fall further. The great thing is that all energy related stocks are down as a result. I expect to take advantage by started new positions in several of my favorite solar companies and potentially Tesla (NASDAQ:TSLA) as well.
Bret Jensen on how falling oil can impact the markets,
"I also think the market is starting to wake up to the fact that the rapid drop in oil prices is going to have some negative and unforeseen consequences. The small and mid-cap exploration & production sectors have been decimated and other areas of the market are starting to come under distress.
Given the energy industry was the second biggest issuer of junk bonds over the past few years, continued stress here could result in some defaults and might blow up a distressed fund or two. After all, it was the steep fall in oil prices that led to the Russian default crisis of 1998 which rocked our markets albeit briefly. Canada's stock exchanges just suffered their largest losses in three years led by the fall in energy shares there."
He goes on,
"As for my own portfolio, I have been slowly and incrementally adding to positions in my favorite energy plays even as their stocks have imploded. No one likes to catch a falling knife but it is hard to believe that $60 oil will last barring a global recession given the pain that would cause most OPEC countries over the long term."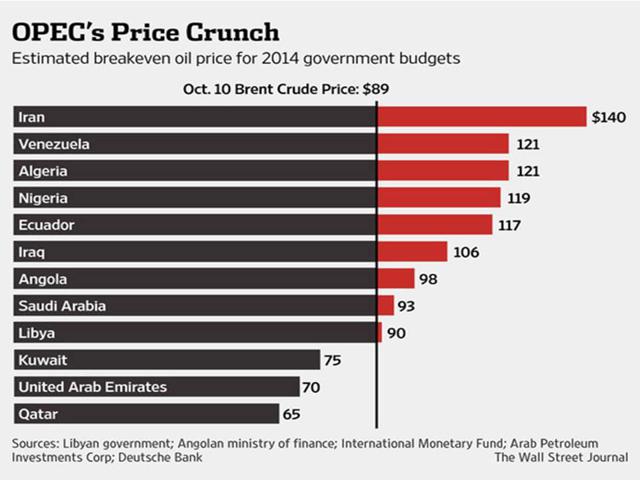 As the INVESTOR IN THE FAMILY portfolio shows, I have also opened some small positions in oil and gas related companies, but am waiting for lower prices before I fill them out. I am also maintaining 25%+ of my portfolio in cash.
Jensen adds that the recent stock rally is likely over and we could be on the brink of a decent pullback. Either way, caution seems to rule the day right now.
Eric Parnell also weighed in regarding oil's potential impact on the markets,
"For now, the problems facing the energy sector remain isolated. But this has the potential to quickly change. For if measurable default risk continues to rise and spread, it has the potential to spillover and place meaningful downward pressure on the broader high yield market. And recent history has shown that a sustained breakdown in high yield corporate bonds is often either accompanied or soon followed by the U.S. stock market to the downside. And unlike other past instances of capital market stress, the U.S. Federal Reserve may find itself much harder pressed to intervene with yet even more liquidity support, for it becomes politically more complex to rush to rescue an industry in oil whose recent decline is providing what so many analysts claim is a major income boost for American consumers in the form of lower gasoline prices at the pump.
As a result, the mounting weakness in the oil sector, particularly as it relates to credit markets, warrants close attention for negative spillover effects in the days and weeks ahead. And monitoring those credits and stocks that are on the front line of the fight is a good place to start."
While on the topic of oil and the markets, there are undoubtedly plenty of people putting themselves forth as newly minted experts on the subject. As usual, Jeff Miller does a nice job of adding some sobriety to your thinking and filters for who you listen to.
I hate to overwhelm you with quotes, but one more from my favorite source on energy companies, Kirk Spano,
"This is the first level of lower oil & gas equity prices. There are catalysts to take those prices down to financial crisis levels or back up quickly. The key factor with this is not supply and demand though. That is a short-term, easily changed equation, about 6 to 24 months. The absolute key here is to watch Russia and Iran negotiations. If there is resolution to those, oil prices will rebound quickly. If not resolution, this could last a couple years."
As for me, I try to avoid making bets on that short of a time frame. My YELLOW ALERT is still in affect and I am sitting on fairly high cash levels as already mentioned.
Thanks for checking in and do us a favor and take two minutes to fill out the survey linked below!
- Brian
P.S. Would you do us a BIG favor and fill out this quick survey to help us serve you better? Thanks!
IF YOU LIKE WHAT YOU SEE, JOIN THE TEAM! Be sure to get to our free newsletter sent straight to your inbox every week, all it takes is your email!
Disclosure: I have no positions in any company mentioned.
Disclaimer: This article is for information purposes only. There are risks involved with investing including loss of principal. All readers must be responsible for and make their own investing decisions. Each reader bears the full responsibility for any decision to buy, sell, or hold any securities, precious metals, real estate, or other asset class as well as any decision regarding the starting or running of a business. Nothing in this newsletter is to be considered investment advice, a formal recommendation, or solicitation to buy or sell any security. Investor in the Family LLC makes no explicit or implicit guarantee with respect to performance or the outcome of any investment or projections made. There is no guarantee that the goals of the strategies discussed by Investor in the Family LLC will be met. Investor in the Family LLC may receive payment for promoting some products found in this article. Even so, Investor in the Family LLC aims to promote products that it has tested and believes will add value to readers. Please see full Disclaimer.
Disclosure: The author has no positions in any stocks mentioned, and no plans to initiate any positions within the next 72 hours.