There are currently violent riot/protests in Egypt over what is seen as a corrupt government. The Egyptians want long sought after reforms. The likely deserve them. However, the underlying reasons for the riots/protests seem to be the high unemployment and the rapidly rising food prices. In countries less affluent than the US and Europe, a higher proportion of the average person's income goes to paying for food. When those prices rise dramatically, people literally starve. When the US talks of unemployed workers, most of those workers have at least a high school education. They can read and understand what is going on in a general sense. Perhaps as few as 51% are literate in Egypt. When you cannot read about world events, you are completely taken in by whatever rabble rousing bunch you happen to listen to. This situation is serious.
The world food situation is serious this year after major crop problems in Russia (and former USSR states), Pakistan (major flooding), China, India, Australia (major flooding and locusts), and Brazil (flooding) in the last year. Egypt has had its problems in this area too -- mostly with drought. I am sure many Egyptians literally do not understand what hit them. These problems have been exacerbated by Dr. Bernanke's QE2 program, which is leading to still further commodity inflation. This isn't likely to endear the US to starving countries. We may see anti-US and anti-EU terrorism rise demonstrably in the wake of this. Misery loves company, and the starving need someone to hate. Right now it is Mubarak in Egypt, but this rioting seems to be spreading. It started recently in Tunisia. When it gets to Iran, Iraq, Afghanistan, etc. imagine the anti-US sentiment that can be raised. Dr. Ben may have turned out to be the terrorists' biggest ally.
Let's not forget that Australia is in the midst of a cataclysmic flood, which will demonstrably hurt its GDP this year. The EU has a huge credit crisis. Many US states are really in the same boat. China has serious inflation problems and an inverted corporate bonds yield curve, which often presages a coming recession. The credit ratings of Japan and Taiwan were recently downgraded. It goes without saying that Egypt's credit rating was downgraded on the uncertainty factor induced by this rioting. Those poor, substantially illiterate people are hurting themselves even further.
The above gives a brief glimpse at the sentiment picture that may be falling into place. Let's look at the short term technical picture now. The US populace has recently been pledged more stimulus via the tax break bill ($800B) and the QE2 program ($600B). That's $1.4T in new stimulus. A normal expectation would be that the US economy would continue to rebound at least in the short term. The 1 year chart of the SPY below gives a glimpse of the possible short term performance.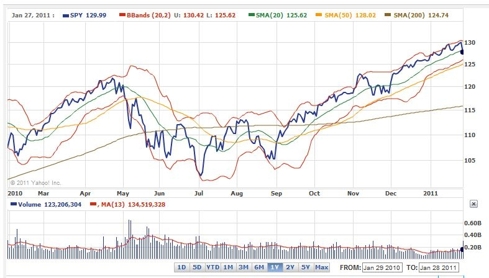 The SPY has already broken below its 20-day SMA. It looks to be headed toward its 50-day SMA. It could bounce up slightly on "Mutual Fund Monday", but it does seem unlikely to completely ignore all of the above negative worldwide data. This likely means that the SPY should retrace to at or near its 50-day SMA in the short term. This is the $125-$126 area of the SPY. The yellow line in the chart above is the 50-day SMA. We could see a bounce here. We did get an effective bounce off the 50-day SMA in Nov. 2010.
Longer term it is unclear how big a retracement the SPY will see. Last April 2010 was the last time so many US stocks (81% before Friday's pullback) were above their 200-day SMA. At that time we saw an approx. 14% retracement. It is possible we could see such a retracement again. The recent stimulus might argue that it should be less severe. The 5 year chart of the SPY (see below) may provide a little more clarity on the situation.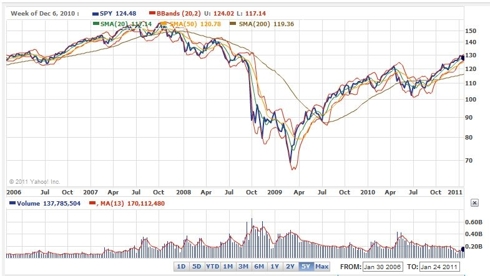 This chart shows the SPY is at a major resistance point from a peak in 2008. Support on the downside from here seems to be roughly in the $118 to $123 area. Barring a major global meltdown, one would expect these levels to hold in the near term. Further geopolitical trauma could change that outlook. The US is indeed a safe haven at the moment. Let us hope that it remains so.