The 30 year Treasury Bond yield is breaking out. This is a sign of inflation. Many consider gold to be the best hedge against inflation. With the apparent break out on the 30 year Treasury Bond yield chart (see below), gold may find the traction it has been lacking lately.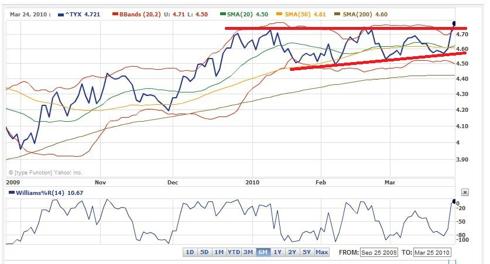 Aside from just the above chart, a new $1T health care bill has been approved recently. A jobs bill has been approved. A jobless benefits bill has been approved by the Senate (and is a shoe-in to be approved by the House). These latter two bills amount to more than $150B in further stimulus. The US government is still spending parts of the nearly $1T stimulus bill from last year. It is incurring further debt load. The Fed is going to stop buying MBS's at the end of March. The extra supply of debt instruments that results from this change in policy is likely to raise long term Treasury yields further. The US government budget is growing, but the tax revenues have shrunk from the 2007-2008 period (as the GDP has shrunk). The US government has been effectively printing money. As the Fed slowly withdraws the stimulus, the long term bond yields should rise further. The price of gold will likely accompany them.
Right now the GLD (gold ETF) chart indicates an oversold condition. It is near its bottom Bollinger Band. The Williams %R indicator shows GLD is oversold. With Trichet's apparent approval of the joint Eurozone and IMF bailout plan for Greece, the Euro may rise again against the USD (at least in the near term). This should help most commodity prices rise in USD terms. Many if not all of the ducks appear to be in a row. Buying GLD right now may be a good play. Of course, if the market starts falling dramatically, it may be a good idea to abandon this play. Still many feel that the market will continue to chug along until the end of the quarter at least. It may be over bought. It may be over priced. However, the pundits seem to believe the market will go up. If so, GLD will most likely join the market. The 6 month chart of GLD is below.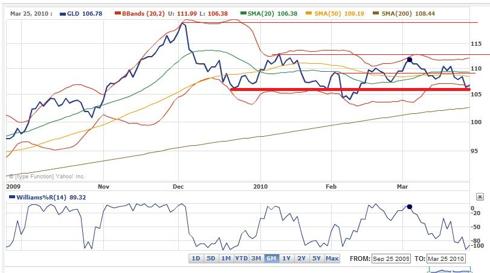 I have drawn in the support line. If GLD breaches this support line, it may be best to abandon the trade for the near term. I have also drawn in three resistance lines. The upward movement could stop at any one. However, at least one of the upper two resistance lines seems likely to be reached. Some gold mining stocks may follow suit. These may not be quite as pure a gold play as GLD though.
Good luck Trading.
Disclosure:
no position at this time