We have had a lot of good economic news lately. The auto sales in march were better than expected. The jobs numbers were lower than expected, but they did not include as many Census jobs as had been predicted. The "core jobs number" was actually higher than expected. The ISM numbers were great. Bond yields and commodity prices have been going up, but not too much (i.e. some inflation). Plus the EU seems to have come to a more "real" bailout solution for Greece this weekend. This is great economic news for Europe. This would all seem to mean that gold is going higher in the near term. The GLD ETF chart would seem to give credence to this thesis. See below: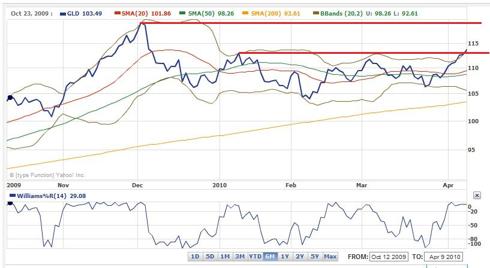 It indicates that GLD has just broken through a significant resistance point. With the good economic news on many fronts (for example, South Korea just upped its GDP estimate for 2010 to 5.2%), there doesn't seem to be a good reason that GLD should not rise higher. The chart would seem to indicate it will. The chart indicates that the next stage of upside should be clear sailing to the $119 to $120 range. You can place a stop at approximately $112 to play this upside move. GLD may go higher than $119 to $120, but we will have to wait to evaluate the GLD situation and the economic news at that time. For now the near term move looks like a good play. If the economic news turns dramatically sour with earnings, that would change this outlook.

Disclosure: no postion at this time.