Yahoo is currently trading at about it's September 1998 price level. That's over 14 years of dead money.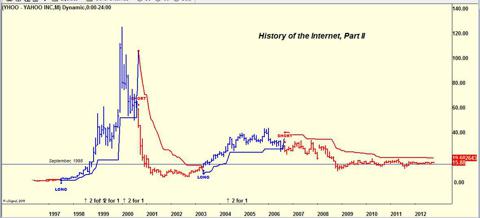 But wait, it's worse. From September, 1998 the stock price rose to $125 in 18 months, making a paper fortune ("paper," how ironic) and ballooning a lot of stock-traders' egos. Six months later, in September of 2000, YHOO is back below $15....then below $10 (March, 2001) and finally, hit a low of $4.01 in Sept. 2001.
The rally from 2003-2006 made YAHOO another ten-bagger, reaching just under $40 in January, 2006. Then came the 2007-08 bear market which pulled the wind out of Yahoo's stock price again, taking it down under $10 by November, 2008.
Although the Internet has become the greatest global financial force in over a century, Yahoo's monthly chart above illustrates that stock price has only a fleeting and unreliable relation to business prospects, not just for Yahoo and the Internet, but for all stocks, sectors and new paradigms-of-the-day.
When it comes to making money in the stock market, the only arbiter of price appreciation (or depreciation) is price. Everything else is just noise.