CTIX
POSTED: October 31, 2012
PUBLISHED IN: Market Analysis
COMMENTS: 0
I was going to mention CTIX in today's Market Close Report…….but I forgot. Better late than never.
A subscriber sent in an interesting TA chart today and in tandem with the Daily Trend Model does suggest a buying opportunity at hand. Certainly if you have yet to buy CTIX, this looks like a lower risk entry (note, "lower" as opposed to "low"). It may also be a good time to add more if you already have a core position. These smaller cap buy & hold biotech's all two things in common: Huge opportunity along with huge risk.
CTIX Daily Trend Model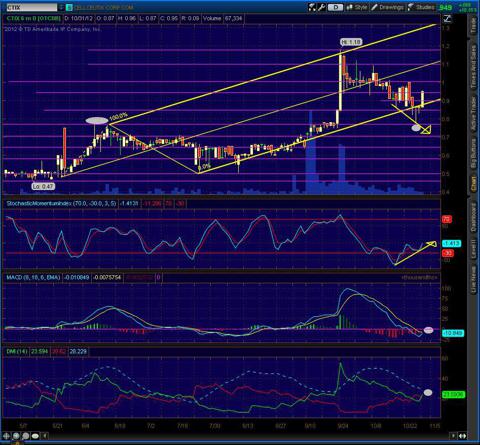 2012-10-31 CTIX 6MonthDaily
TAGS: CTIX, Daily Trend Model, Market Close Report, TA
Disclosure: I am long CTIX.OB.