Come gather 'round people
Wherever you roam
And admit that the waters
Around you have grown
And accept it that soon
You'll be drenched to the bone
If your time to you
Is worth savin'
Then you better start swimmin'
Or you'll sink like a stone
For the trends they are a-changin'.
Below is the featured chart in my Weekend Update for November 3rd. The trends across not just the stock market but several commodity markets seem to be in the midst of multi-year reversals from up to down. Dylan is a man of many talents.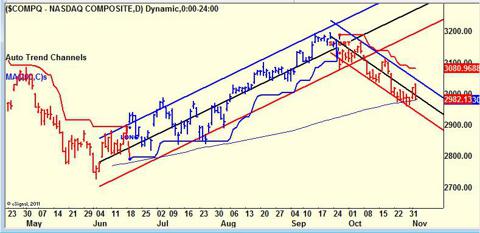 The line it is drawn
The curse it is cast
The slow one now
Will later be fast
As the present now
Will later be past
The order is
Rapidly fadin'
And the first one now
Will later be last
For the trends they are a-changin'.
----apologies to world analyst, Robert Zimmerman
Disclosure: I am short QQQ.