Trovagene (NASDAQ:TROV) has patented a process to detect cancer and infectious diseases from a urine specimen. While I put together an article on TROV, here is an heads-up on the chart. There are a number of very positive patterns in the price action over the past three months, which complicates the look, but each pattern tells its own bullish story.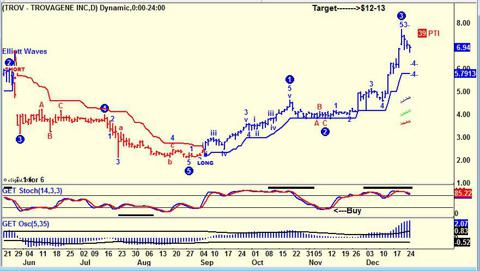 First and foremost, my proprietary, Trend Model Algorithm reversed LONG on September 6th, 2012 @ $2.77. Note how many times price came back down to touch and test the trend line before bouncing strongly above it. Picture perfect.
Next, the Elliott Wave count is showing a third wave higher in progress. This is confirmed by the bottom indicator, the Elliott Momentum Oscillator which is making new highs along with price.
The False Bar Stochastic is also confirming a strong uptrend with the appearance of the horizontal black bar across the overbought area of the stochastic. In other words, ignore all Stochastic Sell Signals as the uptrend is too strong. Note the most recent FBS Buy Signal shown in early November.
Finally, a tentative Fibonacci extention suggest the five wave pattern culminating in the $12-13 area. This can only be adjusted higher as Wave 3 extends eventually into a corrective Wave 4.
The fundamental story gets better the more I learn about the company. Hopefully I can get an article out during or shortly after the holiday doldrums, or the impending dive off of the "cliff," whichever comes last.
Disclosure: I am long TROV.