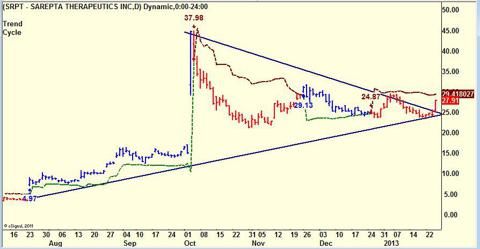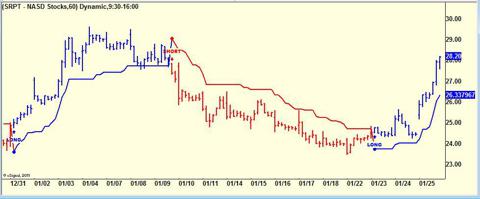 Excerpt from AllanTrends - Weekend Update, January 26, 2013
Sarepta Therapeutics (NASDAQ:SRPT) was first brought to the attention of the Expanded Trading Service last summer after it gapped up from $3 to $8 in July. It then proceeded to run into the 40′s by October and has been consolidating at about a 50% retracement for the past 4 months. Friday, it broke out of a triangle (typically 4th waves before a blow-off 5th wave) and may be on it's way to the 40′s (or higher) again.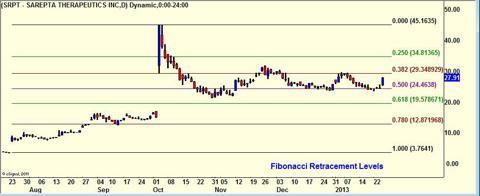 On SRPT's story: There are times when fundamental considerations are relevant, not so much as a market timing tool, but as in big picture perspective. The stories behind of most biotech's range between compelling to pure hype. In the middle of that continuum is anecdotal, but compelling, human interest. Below is an excerpt from the linked article on SRPT's lead drug candidate, Eteplirsen.
Mom seeks drug approval to help son

Today, Austin, who turns 14 on Wednesday, uses a wheelchair because he suffers from Duchenne muscular dystrophy, a degenerative and eventually fatal disease.

His 10-year-old brother, Max, also has Duchenne muscular dystrophy. Unlike his brother, Max has access to the drug eteplirsen as part of a highly successful clinical trial. The drug targets the same gene mutation that is expected to eventually kill both brothers, though their long-term benefit from eteplirsen - if it is approved - is not yet known.

Over the course of the last year, thanks to weekly intravenous infusions of the drug, Max no longer has to use his wheelchair and can walk.

"It has absolutely changed his life," McNary said during a phone interview last week. "He just learned to dance. He is doing the typical things a 10-year-old would do."
Disclosure: I am long SRPT.