A lot has been written about how VXX and UVXY aren't efficient ways to play volatility. I am at the opposite end of the spectrum as I find them to be great trading vehlcles for volatility or even directional signals for equity indexes. Between VXX, UVXY and XIV, there is enough liquidity and/or options to swing trade any of these very robust market measurements, whatever they may be tracking.
There are a myriad of technical indicators that can be used to trade VXX. Moving averages, stochastic, Bollinger Bands, etc. Find the settings that suits your style of trading. I use an algorithm that is something of a cross between a Parabolic Stop & Reverse and an Average True Range trend line indicator using a trailing stop.
Below are two examples of how VXX lends itself to trend following or swing trading in daily and then hourly price bars.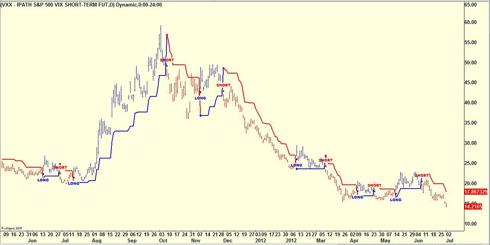 Disclosure: I am short VXX.