Chart of The Week
POSTED: August 4, 2012
PUBLISHED IN: Home Callout Right
COMMENTS: 0
Starbucks has transformed America, the world, with a simple concept offering an exceptional cup of coffee for an exceptional price. Why pay $5 for glorified coffee? Because it is a personal extravagance, a self-gift that we give ourselves for getting through another day, one that doesn't break our bank.
Ten years ago this fledging company's shares could be had for under $5 (split-adjusted) and as success flowed from the capable hands of clean and eager baristas, the stock rose to a $62 high in April of 2012. But it didn't rise in a straight line, hitting a few speed bumps along the way.
That is where trend algorithms come in. First, for long term investors, the SBUX Weekly Trend Model that turns Buy & Hold into Buy-Duck-Buy-Duck, avoid the dangerous corrections while reaping the rewards of a stellar stock running on a caffeine high.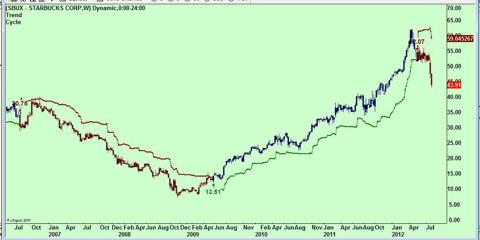 The algorithm exited the stock just before the 2007 market highs at about $31 and held Short all the way down to $13.50, just as the 2007-08 bear market was ending. The algorithm trend line kept investors in the SBUX until May 21, 2012, just about month after SBUX hit its all-time high. From that $52 Sell signal (up from the $13.50 entry just 3 years earlier), SBUX remains on a Weekly Sell as the stock has fallen into the low-40′s.
For Intermediate-term traders, the above SBUX Daily Trend Model issued a Buy Signal in August of 2011 at close to $30. That trade was up 100% in nine months before the algorithm said, "Get out," with a Sell in May at $55. With SBUX now trading in the low 40′s, the Sell has avoided a 30% decline in price while the algorithm patiently awaits the shares to bottom and turn back up. Aggressive traders could be trading both Long and Short, taking full advantage of the dynamics algorithmic trend following.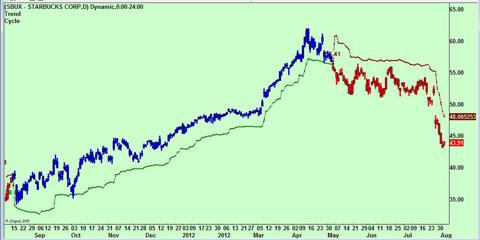 Disclosure: I am short SBUX.