Using XIV as a proxy for being "Short VXX" can yield some outstanding gains. From my Weekly Report dated August 11, 2012:
"On the day of the VXX Sell, it's inverse ETF, XIV, closed at $9.34 and has risen to $14.16 as of Friday's close for a gain on the trade of 52%......This has been a good trade, or as I described above, stellar...."
There is a lot of bellyaching about the downward trend bias of some ETF's, including but not limited to VXX and it's leveraged partner, UVXY. Even if so, a signal is a signal and this June 8th Sell signal has generated over a 50% gain in XIV in about two months. Not only is a signal a signal, but a trend is a trend, no matter what the stock and no matter what the direction of the trend.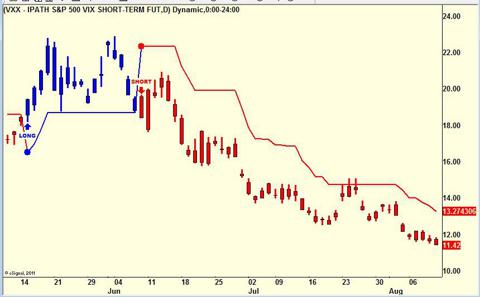 Disclosure: I am long XIV.