NanoViricides (NYSEMKT:NNVC) has developed an array of anti-viral drug candidates that after a series of successful testing of efficiency in the lab are now being tested in animal models. If successful in animal models, the next phase will be human testing. They have been administering the drug through IV injection and more recently have been testing an oral formulation. Being able to take a pill instead of being injected is the difference between Hillary Clinton and Angelina Jolie.
On August 13, 2012 NNVC announced, "...that anti-influenza drug candidates under its FluCide™ program, when given orally, were nearly as effective as when administered as IV injections." In other words, there was not much difference in results that were achieved between IV injections and oral administration. Big deal?
No, the big deal was announced yesterday, August 20th:
NanoViricides Reports That Oral Administration of FluCide® Anti-Influenza Drug Candidates Led to Survival Improvements Comparable to IV Administration and Was Far Superior to Oseltamivir, in a Highly Lethal Animal Model
'The survival data clearly show that oral as well as IV administration of FluCide drug candidates was substantially superior to oseltamivir. In addition, they show that FluCide drug candidates when given orally had substantial efficacy, almost matching the effectiveness of the injectable form given at 0.3X of the oral dosage level."
Oseltamivir is commonly known as Tamiflu. The most recent sales numbers I could find were from 2009:
"Tamiflu is sold by Roche Pharmaceuticals (OTCQX:RHHBY). Sales in the first quarter 2009 were $347 million worldwide, of which Roche noted that $264 million were pandemic stockpiling and $84 million were from seasonal use."
How effective is Tamiflu in the treatment of common influenza?
On average, oseltamivir reduces the duration of symptoms by one and a half days if treatment is started within forty-eight hours of the beginning of symptoms.
Does Tamiflu have any side effects?
The most frequent side effects of oseltamivir are nausea,vomiting, diarrhea, bronchitis, abdominal pain, headache and dizziness.
As for NNVC's FluCide, in the most lethal form of influenza it doubled the survival rates as compared to Tamiflu.
"We are seeing an extremely high level of oral effectiveness. We now know that FluCide can be developed as an oral drug for out-patient influenza," said Eugene Seymour, MD, MPH, CEO of the Company, adding, "Many drugs are commercialized as oral drugs even if the oral dose needed is as high as five times the injectable dose."
Monday's announcement goes on:
No adverse effects were found, indicating that the FluCide dose could be increased further to achieve much greater levels of effectiveness.
Now the good news. NNVC has a market cap of under $100M. While NNVC has relentlessly pursued it's vision of an anti-viral paradigm changing medical miracle, loyal shareholders have suffered through years of a fickle marketplace, dotted with ruthless short sellers and dilutive offerings.
NANOVIRICIDE'S TIME HAS COME
I saved the very best for last. NNVC is trading at $0.58 and it's chart resembles the slope and terrain of the expert runs at Aspen. But even the worst looking chart can hide a butterfly in the making. NNVC is about to emerge from a seven year cocoon. Let's see how she flies.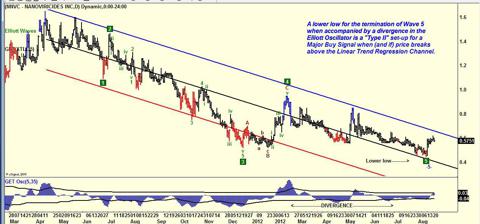 Disclosure: I am long NNVC.
Additional disclosure: I first bought NNVC in 2005 between 8-10c. Along the way I have sold some for as much as $3.00 and change, bought more at $0.44-0.50, sold some at about $2.00 and have held on to the remaining shares, having probably what amounts to a zero basis.....or less. I am likely to buy more in the coming year.