Last week was the first week of Chinese lunar Year of Horse. Right on the New Year Eve, JD.com, the China's largest online direct sales company, filed to $1.5 billion IPO in the U.S. It's the first Chinese company to go public in the U.S since SEC banned certain accounting firms from doing business in China.
An interesting thing I noticed regarding the IPO filing is that while most comments in Chinese social media are somewhat positive, the U.S side has approached the filling with extreme caution and suspicion. As a long-time customer of JD.com since 2010, I will provide some different perspective on this emerging company and China's e-market, and hopefully alleviate the problem of information asymmetry.
1. Business Model Overview
As an online-retailer, JD.com currently has two types of business model: 1) online direct sales; 2) online marketplace.
The online direct sales business is very similar to traditional retail business, in which JD.com procures and manages its own inventories, sells products directly to consumers online, and provides delivery and after-sales services.
In online marketplace business, third-party sellers offer products to customers over JD.com online marketplace and pay certain fees to the company. According to JD.com, currently it charges each seller a one-time platform using fee of 6,000RMB ($1,000 roughly) plus a commission on seller's sales.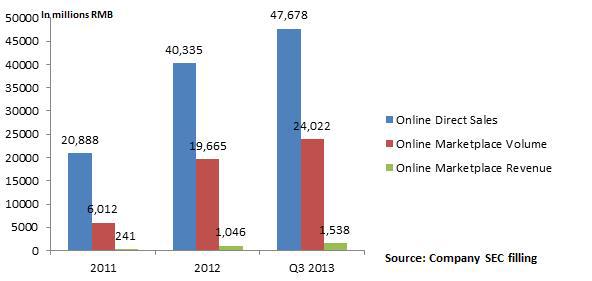 In a country where e-commerce is in its early stage, online direct sales model plays a very important role in establishing trust between vendors and customers, especially in the case of JD.com which started business with selling high-value electronic products. A disturbing fact is that 85% of JD's online direct sales in the first 9 months of 2013 was from sales of electronic products, which is considered to be a crucial reason why their gross margin was so low (9% in 2013).
A low gross margin is definitely not good, but probably not as bad as some people may think. Almost every online-retailer in China provides free delivery to clients, which means these retailers can't pass the fulfillment costs to their clients. Since electronic products in general are expensive, JD.com is able to attain high value per order and thus a low proportion of fulfillment costs. Following is a comparison with Dangdang.com, a competitor that specializes in book and media products:

We can see that although Dangdang had higher gross margins in the past three years, its fulfillment costs were significantly higher as well. The overall profitability (in terms of profit margin after COGS and fulfillment costs) of these two companies has been very similar.
Online marketplace model acts as a way to improve margin and increase company's scale, as the company doesn't assume any inventory risk and charges third-party sellers additional fees for using its fulfillment service. Currently, the products offered in JD's online marketplace are mainly non-electronic products, such as apparel, shoes, etc. As of December 31, 2013, online marketplace accounted for approximately 23.5 million of the approximately 25.7 million SKUs offered on JD.com. Online marketplace volume of has increased both in absolute amount and as a percentage of net GMV, showing a remarkable effort and progress in diversifying the products provided.
2. Competitive Landscape
China's retail industry is highly fragmented, with the top 20 retailers in aggregate only accounting for approximately 10% of the total market share in 2012, according to company's F-1 filling. The fragmented offline retail market in China presents an opportunity for online retailers which are competing with each other for customers and investors. I summarize several JD's key competitors as below, without going into too much detail:
1) Alibaba: Alibaba right now is the largest e-commerce company in China in terms of market volume, and is considered to be the biggest competitor of JD.com. Actually, Alibaba is also planning to go public soon this year, which might be the incentive for JD.com to file IPO so quickly and unexpectedly. What most people don't know is that the family name of Jack Ma, Alibaba's founder and chairman, means exactly "horse" in Chinese. Yes, that "horse" in the "Year of Horse". And JD.com filed IPO on the day right before the "Year of Horse". Well, you can sense the competition (or somewhat hostility).
In online-retail business, Alibaba has two main platforms, Taobao and Tmall. The biggest difference between Alibaba and other online retailers is that all Alibaba's platforms are essentially online marketplaces where Alibaba doesn't take ownership of products, manage inventory, or provide fulfillment services. In this context, Taobao is an Ebay-like platform where practically anyone can buy and sell anything practically, while Tmall is more like the marketplace model of JD.com which is open only to qualified third party sellers. Although Tmall is directly competing with the marketplace model of JD.com, overall Alibaba to JD.com is similar to Ebay to Amazon.com. The bottom line is they are different.
2) Amazon.cn: Amazon.cn was once Joyo.com, an online book seller in China and acquired by Amazon in year 2004. Amazon formally changed the name from Joyo.com to current Amazon.cn in year 2011, and now is selling products through both direct sales model and online marketplaces. Unlike most competitors, Amazon.cn has kept a very low profile and quietly accumulate market share with its years' experience in e-commerce operation and advanced technology. Amazon also brought its iconic Kindle Fire products to China last year (although some customers were not happy about Amazon's strategy of selling old-model kindles in this country, according to customer reviews on Amazon.cn). I'm pretty sure in the near future Amazon.cn will be a strong competitor of JD.com.
3) Suning.com: Suning.com is the online platform of Suning Appliance Company Limited, one of China's largest traditional retailers in consumer electronics, home appliance, and general merchandise. Like Bestbuy in the U.S, Suning has well-established offline brick-and-mortar business. In a sense, Suning.com is similar to Bestbuy.com. With the abundant cash flow from offline business and good relationship with existing suppliers, Suning.com scaled up rapidly since its opening in 2010 and took only two years to get to the Top 3 retailer in terms of total B2C online market volume. However it also faces the same problems of cannibal and huge offline operation costs that Bestbuy.com has.
4) Dangdang: Dangdang (NYSE: Dang) is a NYSE-listed online retailer in China. It has the same business model as JD.com, but majority of its revenue from sales of book and media related products. As a public company, Dangdang has been facing strong short-term profit pressure, which significantly affected its willingness to involve in price war with other online retailers. As a result, it has been losing market share and was once a forgotten name. Although it still could achieve double-digit growth rate of net revenue (43.5% in 2012), the number pales in comparison with competitors (JD.com had a growth rate of 96% in 2012).
In general, the e-commerce industry in China is quite different from that in U.S due to the differences in culture, customer habits, business environment, and consequent development strategies. Hope this article is helpful in evaluating the company and understanding the whole industry.