$YOD a hidden gem because of China's government mandated NGBI. by Marc Muñoz
Why would a country known for it's pirating of movie DVD's elect to use "YOU on Demand" instead of just continuing to buy the pirated DVD's locally? Well it is a crime to sell or buy illegally copied DVD's in China and if illegal DVD's are found in the procession of Chinese citizen, they face government penalties the same as trafficking in illegal drugs which can be very harsh.
Our legal system is nothing when it comes to imposing penalties, compared to China. Perhaps the government mandate for digital households is proof that China is trying to take steps to circumvent and correct this situation? Workers in China are no different from workers here in the US. They enjoy sitting at home after long day at work and just relaxing the same as anyone else. Many working couples in foreign countries work long extended hours so that what little time they do have free is spent wisely. They have to do the shopping, laundry and cleaning of course, but like any one else, they want to sit and enjoy the things they work so hard for.
Reports show China is experiencing an ever increasing middle class resulting in greater disposable income and demand for entertainment such as movies, concerts, sporting events, etc. Over $6 billion was spent on pirated DVD's in 2010 which is twice the Chinese box office. China's box office receipts have maintained higher than 30% annual growth for the past 10 years totaling $4.8 billion in 2014. Making China the world's largest film market outside of the US.
There are only 20 standard format foreign films allowed into China each year for theatrical release plus an additional 14 large format films (IMAX or 3D). When you consider that flat screen TV sales exploded with 45 million LCD TV's projected to have been sold in 2013 alone, it becomes apparent that the demand for entertainment such as movies is what is driving the overwhelming demand for pirated DVD's.
YOD is now offering an alternative to buying low quality pirated DVD's offering Chinese viewers an inexpensive legal alternative to dealing with criminals by offer them the convenience of in home on demand HD quality translated movies at home for about what they pay for pirated non-translated DVD's but with a much broader range of choice and without the legal risks that owning illegal movies at home presents. Remember Chinese people have to either store the DVD's they purchased or attempt to sell them both of which are non-attractive choices for parents trying to raise their children to live a moral standard.
China's Next Generation Broadcasting Initiative (NGBI) is expected to power 215 million digital cable customers with High Definition, Internet and 2 way interactive service capabilities by 2020. "China targets completion of the full digital cable migration with over 200 million digital households by 2015 is driven by a government mandate."
CHINA WILL BE 2 TIMES THE SIZE OF THE US IN DIGITAL HOUSEHOLDS BY 2015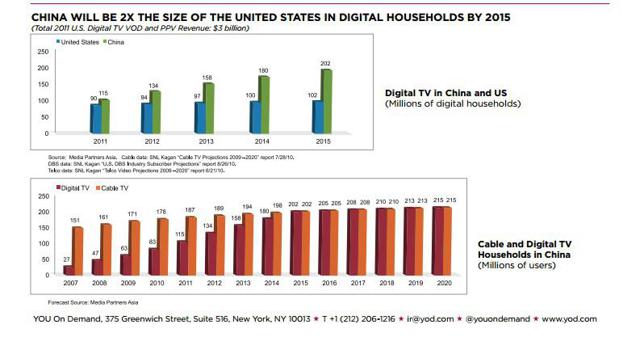 NEW YORK, Feb. 2, 2015 /PRNewswire/ -- YOU On Demand Holdings, Inc. (NASDAQ: YOD) ("YOU On Demand"), a leading Video On Demand ("VOD") the leading subscription and transactional Video On Demand service provider in China through mobile and television. YOD is delivering Hollywood movies and premium content through a licensing agreement with Twentieth Century Fox Television Distribution ("Fox") for the SVOD rights in China to a broad selection of library feature films.
The titles will be available to subscribers of YOU On Demand's Subscription VOD (SVOD) platform and service, via mobile, Over-the-Top (OTT), digital cable and IPTV.
Some of the movies that will be available to YOU On Demand customers include recent worldwide box office hits and award winners.
On December 11th, 2014, You On Demand launched on Southern Media Corporation's 3GTV Mobile Platform; Service and was immediately available to 6 million mobile video subscribers who as stated above, had only a very limit choice previously, apart from illegally purchasing low quality DVD's. Pirated DVD's often are shot from inside a movie theater resulting in blurred video, poor quality sound tracks and sometime even blocked views as patrons got up from their seats to allow others to go to the concessions and so forth.
About Twentieth Century Fox Television Distribution
A unit of 21st Century Fox, Twentieth Century Fox Television Distribution is a global leader in the distribution of award-winning motion pictures, television programming and entertainment content across pay-TV, broadcast television and SVOD. Twentieth Century Fox Television Distribution connects audiences around the world with premium content from the production divisions of Twentieth Century Fox Films, Twentieth Century Fox Television and FX, as well as other 21st Century Fox companies.
About YOU On Demand Holdings, Inc. (http://corporate.yod.com)
YOU On Demand , is a leading multi-platform entertainment company delivering premium content, including leading Hollywood movie titles, to customers across China via Subscription Video On Demand and Transactional Video On Demand. The Company has secured alliances with leading global media operators and content developers. YOU On Demand has content distribution agreements in place with many of Hollywood's top studios including Disney Media Distribution, Paramount Pictures, NBC Universal, Twentieth Century Fox Television Distribution, Miramax Films, Lionsgate and Magnolia Pictures, as well as a broad selection of the best content from Chinese filmmakers. The Company has a comprehensive end-to-end secure delivery system, governmental partnerships and approvals and offers additional value-added services. YOU On Demand has strategic partnerships with the largest media entities in China, a highly experienced management team with international background and expertise in Cable, Television, Film, Digital Media, Internet and Telecom. YOU On Demand is headquartered in New York, NY with its China headquarters in Beijing.
CONTACT:
Jason Finkelstein
YOU On Demand
212-206-1216
jason.finkelstein@yod.com
@youondemand
SOURCE YOU On Demand Holdings, Inc., PR Newswire & youtu.be/1Yb5UlY7WxQ
Disclosure: The author is long YOD.
The author wrote this article themselves, and it expresses their own opinions. The author is not receiving compensation for it. The author has no business relationship with any company whose stock is mentioned in this article.