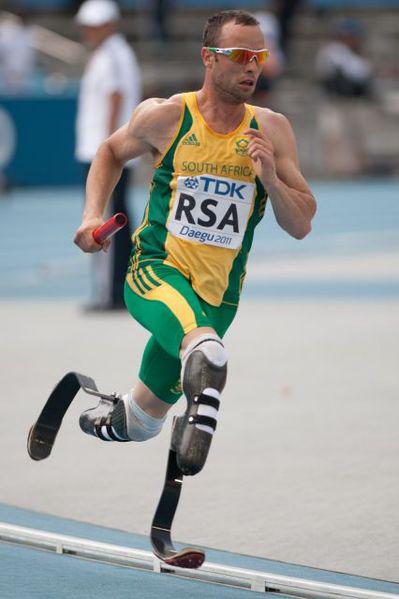 Surely one of the most inspiring stories of the 2012 London Olympics was Oscar Pistorius, the South African runner who ran brilliantly on carbon fiber "blades".
Well, not only can you be inspired by the achievement, but there's a very under-the-radar company behind them. Definitely not for most investors (too small and too foreign), Ossur is a Iceland based company, with subsidiaries around the world, traded on the Copenhagen Stock Exchange, and a likely acquisition target.
The blades that Pistorius uses are the "Flex Foot Cheetah", invented and manufactured in the US by Van Phillips, and sold to the Icelandic company, Ossur, in 2000. While sales of the blades will never be huge, the visibility of the product was remarkable, and the Nike "swoosh" logo on these prostheses must mark a first in endorsements. One can only guess, but the value of this to Nike most likely dwarfs the sales of the blades.
Ossur is an investment which appeal to long horizon investors looking for small cap healthcare companies with favorable demographics and a high visibility for an exit by acquisition, and willing to purchase a little known, little followed stock in an overseas market. Founded in 1986 by an Icelandic prosthetist, Ossur has pursued a focused strategy of acquiring innovative prosthetic technologies, and now sits on a collection of unique and attractive products which are well suited to an aging and affluent population.
Ossur now trades on the Copenhagen stock exchange, and makes an interesting diversification. This is a small company, but has purchased fifteen prosthetics companies over the last decade, building a portfolio of orthopedic products that are high profile, while sales have grown steadily.
To be clear, Ossur does not presently make implants or anything "surgical". Their products are prostheses, braces and supports -- products with a much less difficult approval and regulatory process than anything to be implanted in the body. Ossur has a very full pipeline of innovative prostheses, including powered "bionic" technologies. If you want to invest in "the Six Million Dollar Man", this is as close to a pure play as you'll find. While the powered prosthesis market is in its infancy and presently contributes little to revenues, the scope for growth is dramatic-- and these are very high profile products that, like the blades, generate positive publicity, and would appear to have very large markets going forward. With the worldwide diabetes epidemic, we are sadly likely to see more amputations in the future -- Ossur's remarkable powered prosthetics allow those with loss of lower extremities remarkable function. As this market is new, its hard to judge the size, but its a very big upside from the present contribution to sales, which is mimimal.
Ossur's "PowerKnee" product is breathtaking to watch, the kind of robotic assist that folks with limb loss have hoped for-- if Ossur's bionics live up to the promise, this will provide significant upside to the company
Financial results: over the last five years, sales have increased from USD 332 to USD 401 in 2011. Net profit has steadily improved from USD 8 million in 2007 to USD 37 million in 2011. At the same time, debt has been paid down, from 283 million in 2007 to 111 million at the end of 2011. Market cap is DKR (Danish krone) 3.7 Billion, roughly USD $600 million.
Ossur stock is hardly a rocket ship, not on the radar screen of the momentum or hot stock crowd, but its a bundle of attractive assets and extraordinary technologies slowly gaining sales and visibility. Ossur is a "get rich slow" kind of company, with prudent financial management, a portfolio of products very much exposed to the aging of the population, but which must grow with its market and by developing or acquiring new products.
In short, its the kind of small company that's an acquisition target for a larger company that wants more exposure to our aging demographics through prosthetics - and we already know who this acquirer is likely to be: William Demant Invest A/S, an investment fund of the charitable Oticon Foundation, which presently owns roughly %40 of the Ossur, as well as other assets in the medical devices/prosthetics space. Ossur fits perfectly into Oticon/Demant's focus demographic of assistive technologies for the disabled and aging-- its a perfect fit.
We know that Demant wants to buy more shares -- they just completed a tender offer, where they received roughly %1 of outstanding shares at a price of (DKR) 8.20. The limited tender suggest that shareholders expect a better bid, and the stock is presently trading well over the tender offer bid at DKR 8.35, which equates to a modest P/E of just under 14 times trailing earnings.
Summary:
A little known company with high profile products, solid finances, and a logical acquirer. A special situation for the investor who's looking for "out of the ordinary" assets. Personally, I'd be more interested in the company if Demant weren't so dominant, as you could see multiple bidders.
For an investor, you're looking at a cheap company with a unique and hard to replicate product and position in a market that will grow as the world population ages. Because of the dominant position of the Demant company, you're essentially waiting for the buyout. Demant has stated it wants more control, but that it is not presently seeking to take over Ossur; a situation that resembles many arrangements in biotech where a smaller entrepreneurial company maintains its independence for some time with a large share ownership by a bigger company (see, for example Roche and Genentech)-- such arrangements generally end with a total acquisition.
My recommendation: the meager results of Demant's recent tender offer suggest current shareholders value Ossur shares more highly than the DKR 8.20 offered. A reasonable speculation is that Demant will be back again, with a higher bid. Also worth noting that Denmark is one of the strongest economies at this point, and a healthy Danish company like Demant has a remarkably low cost of capital.
Disclosure: I have no positions in any stocks mentioned, and no plans to initiate any positions within the next 72 hours.