P (Pandora Media Inc) gearing up for another leg higher after a month of price consolidation, watch for breakout above 20.28, 22.6% higher volume
VOLUME 2.33mil shares, +22.6% compared to typical volume of 1.9mil by 11:25 am ET (15-20 min delayed).
Typical daily volume is 5.58mil shares over the past 6 months.
Breakout Details
BREAKOUT WATCH for possible breakout above 20.28, no resistance in area just above.
Type: Continuation breakout from single resistance.
Target: 22.24, 10% Stop: 19.41, Loss: 4%, Profit/Loss ratio: 2.5 : 1 - Good
Support and Resistance
CURRENT PRICE 20.22, at resistance, 19.84 ± 0.44, type single, strength 5
RESISTANCE ABOVE None.
SUPPORT BELOW -5.2% at 19.16 ± 0.42, type double, strength 4
-18.7% at 16.43 ± 0.36, type single, strength 3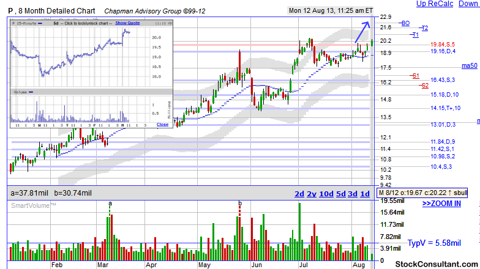 source: http://www.stockconsultant.com/consultnow/basicplus.cgi?symbol=P