$ISRG (Intuitive Surgical Inc) is moving off the bottom and approaching a breakout into the price gap here, big volume today.
VOLUME 776.6k shares, +266% compared to typical volume of 212.2k by 12:55 pm ET (15-20 min delayed).
High Volume alert!
Typical daily volume is 433.1k shares over the past 6 months.
BREAKOUT WATCH for possible breakout above 395.2, no resistance in area just above.
Type: True breakout from triple+ resistance.
Target: 423.6, 8.2% Stop: 379.63, Loss: 3%, Profit/Loss ratio: 2.7 : 1 - Good
Breakouts are an exception to the normal indicators which can at the same time indicate bearishness.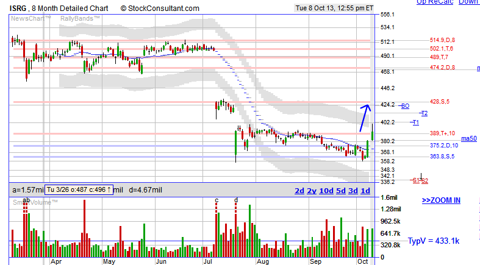 source: ISRG at StockConsultant