$CY (Cypress Semiconductor - NASDAQ) has spent the past 2 and a half months forming a bottom between 9.02 and 9.44 support and resistance areas. Now volume is picking up as it tries to breakout into higher prices. StockConsultant provides detailed analysis and charts below.
BREAKOUT
CONFIRMED breakout above 9.59, no resistance in area just above.
Type: True breakout from double resistance.
Target: 10.29, 6.4% Stop: 9.4, Loss: 2.8%, Profit/Loss ratio: 2.3 : 1 - Good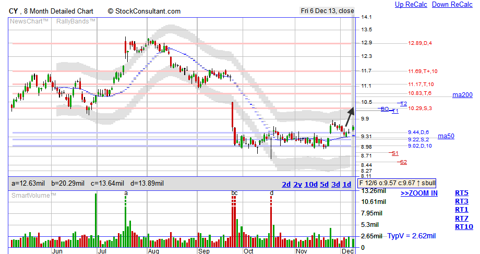 Source: CY at StockConsultant
Disclosure: I have no positions in any stocks mentioned, and no plans to initiate any positions within the next 72 hours.