$BIDU (Baidu Incorporated - NASDAQ) is currently stuck at 167.9 resistance area and just requires a small move above 170.79 to fuel a breakout to new highs.
BREAKOUT
WATCH for possible breakout above 170.72, no resistance in area just above.
Type: Continuation breakout from single resistance.
Target: 183.2, 8.6% Stop: 164.57, Loss: 2.5%, Profit/Loss ratio: 3.4 : 1 - Excellent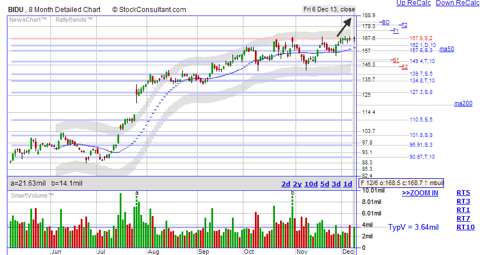 Source: BIDU at StockConsultant
Disclosure: I have no positions in any stocks mentioned, and no plans to initiate any positions within the next 72 hours.