Over the weekend Barron's had an article on ClubCorp citing the company is up over 30% since IPO in the fall. I believe $MYCC will continue to grow revenue and become EPS positive by the end of the year driving the stock price higher from here.
Background:
ClubCorp's home office is in Dallas and is the largest owner and operator of private golf and country clubs in the country. It owns or operates more than 150 golf and country clubs and business, sports and alumni clubs worldwide. Located in 25 states, the District of Columbia and two foreign countries, the company and the clubs in its network serve more than 360,000 members and employ approximately 15,000 peak-season employees.
In 2006, KSL Capital Partners, a private equity firm, purchased the company, and owned 100% of it until the IPO. KSL still retains a 64% stake. CEO Eric Affeldt, a former principal at KSL, has led the company since the buyout.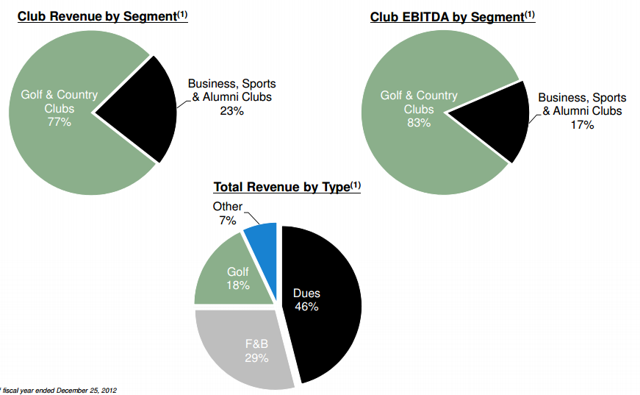 Operations:
· $5,000 a year in dues at country clubs, and a little over $1,000 for business clubs.
· High member-retention rates and recurring revenue from dues (50% of Revenue)
· Retention rate of memberships is very high at 80.7% in 2012, and only dipped to a low of 78% in 2008. I view leaving the club as high cost of social status, and while members may cut back in other areas of their life, they do not want their peers to notice they are no longer at the club.
· 30% of revenue is from sales of food and drinks
· Country clubs are the larger, more profitable segment, contributing 77% of revenue and 83% of Ebitda.
· 18,000 acres of owned real-estate
· Diversification of revenue stream, but also strategic hubs (TX, CA) - this helps to mitigate impact of weather, but also drive value via synergies of location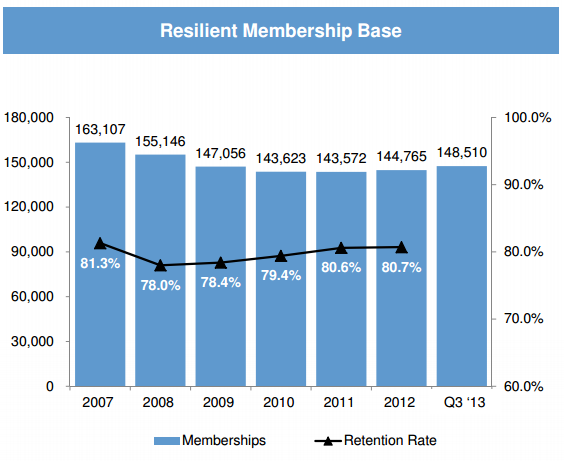 Analyst ratings in the last month have all been positive and I do not see any negative ratings:
· Jefferies Group PT $27
· MKM Partners PT $22
· Citigroup Inc. PT $22
The company has been using proceeds from IPO to reduce debt load and recently initiated a quarterly dividend of $0.12
$MYCC continues to drive growth in three ways:
Organic - focused growth at current clubs with targeted sales at young executives and legacy members
· Additional focus of upgrade offerings, including the Optimal Network Experience, or O.N.E, of 43% of members, was up 3 percentage points from the prior year.
· They are focusing on making it more compelling for you to still come to the club and spend money in some form
· Provided you an incentive to go eat which everybody is still doing even if you are not playing golf
· Testing some alternative O.N.E products in our business and sports club division to expand membership upgrades.
Reinvention - Have completed 25 major reinventions of clubs, which drives increase memberships and traffic at location
Acquisition - Highly fragmented market provides lots of opportunities for acquisitions and to drive synergies. They target 10 to 15% returns. Have 40 to 50 clubs that they are in some form or fashion in dialog with.
Financials:
2013 total revenues of $815.1 million, up 8% year over prior year; and adjusted EBITDA of $177.4 million, up 6.7% over prior year.
Same store sales grew across all areas of the business showing strong and diverse growth. Keep in mind there was one extra week in the quarter
| | | | |
| --- | --- | --- | --- |
|   | Q4 | Growth $ | Growth % |
| Revenue | $269.9M | up $30.4M | 12.70% |
|   |   |   |   |
| Same Store Sales | $258.3M | up $20.6M | 9.70% |
| Dues | $117M | up $11M | 10.50% |
| Food | $81M | up $6.6M | 8.90% |
|   |   |   |   |
| Country Clubs | $194M | up $16.2M | 9.10% |
| Dues | $92.3M | up $9.2M | 11.10% |
| Food | $46M | up $4.7M | 11.30% |
|   |   |   |   |
| Alumi Club | $64M | up $4.4M | 7.30% |
There was a 2% increase in a la carte check average at country clubs, which means the members are spending about 2% more
Also saw an uptick in visits and average check increased almost 6% in the business and sports club division
$MYCC is now a cash taxpayer. So what are the strategies going forward?
In the latest call Curt (NYSE:CEO) said - it makes sense to REIT the company, and that they are having very fulsome discussion with the board. There is however complexity and it certainly will take time to implement. Additionally, KSL's ownership does create obstacles with several of the structures. So from they are continuing to evaluate the capital structure with the board.
Obviously a REIT is an area where they directly can improve the cash tax position in the future
Heading strong in to 2014 $MYCC plans to invest another $20M in acquisitions with a targeted return of 10 to 15%. Of all the recent IPOs I really like ClubCorp as they have revenue & earnings growth, a great opportunity to continue to consolidate a fragmented market, and real assets to back up their valuation.