After seeing apple peak in April the stock has finally taken a breather and went through a six month consolidation. After breaking above $430 it never really looked back and the stock gained 50% in a mere three months. It looks like the stock can be entering its third wave in a long term bullish trend. A few important points to consider:
- Fundamentally Apple is not a "high-flying" tech stock with ridiculous multiples
- Currently trading at roughly 15 P/E it is hard for anyone to justify it being anything other than cheap.
- Technically the stock is exhibiting many bullish technical signals
- Strong break out in early July of consolidation with increased volume despite typical low volume summer trading.
- Outperformance of the Nasdaq and S&P
- Apple appears to be entering bullish 3rd wave upwards in a typical 5 wave pattern
- Apple makes up roughly 20% of the weight of the Nasdaq, so while you may not always be interested in trading directly in Apple, it is prudent to keep an eye on its general direction.
Back in March and April the optimism got a little too high and we saw price pullback. This is very natural and healthy; it would have been irrational to want to get in after a 50% move in three months. However, we have now seen price consolidate and Apple disappear from the hourly headlines. This is exactly the opportunity we like, and all signs point up for Apple.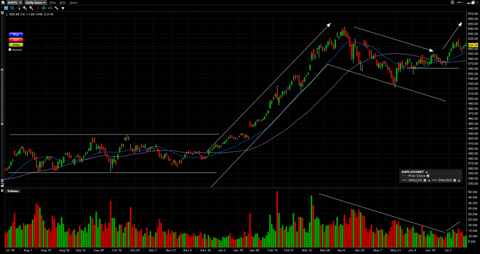 Get our Free Weekly Trade Ideas
and Trading Education Videos: www.GoldAndOilGuy.com
Chris Vermeulen
Disclosure: I have no positions in any stocks mentioned, and no plans to initiate any positions within the next 72 hours.