The Matterhorn Energy Weekly EIA Natural Gas Storage Forecast for gas week 4/12/12 is +34 BCF.
Last week's +18 BCF (adjusted for the reclassifications) came in at 5.25 BCF/d tight to our 2011 model, as the market's balances reverted to the range of the 4 week average. This week, however, we see significant loosening in balances with our +34 BCF forecast. If the EIA prints a number in line with our expectations, we would see the market as loosening 3.25 BCF/d on a week over week basis.
Our forecast of +34 BCF this week comes primarily from our scrape models, and is qualitatively defended by the recent observations in HDDs not proving to generate any significant heating demand. While our demand model came in at +21 after our adjustments for the lessening Residential/Commercial sector demand, we still believe the model is over-estimating the demand from the residual HDDs as this outright bearish winter came to a close.
COAL SWITCH SETS A NEW HIGH
The reference week set a new 7 day weather adjusted power burn record against our 2011 baseline. While coming in nominally lower than the previous week, burns were about 0.25 BCF/d stronger on a weather adjusted basis than the prior week.

As the market waits for summer weather to show up, our forecast and actual burns continue to climb. We anticipate burns will continue to pickup strength as overnight loads allow for it.
Below is our assessment of where current coal to gas economics predict nuclear adjusted switching should be on a rolling two week basis.

The red dotted line is our model prediction. Orange bars are actual switch.
WEEKLY US DRY GAS PRODUCTION ASSESSMENT
US Dry Gas Production during gas week 4/12/12 increased approximately 0.75 BCF/d to average 64.59 BCF/d.
April to date our US Dry Gas Production index comes in at 64.34 BCF/d versus the final March level of 63.85 BCF/d and April 2011 at 62.28 BCF/d.
Growth continues to be led by gains in the Marcellus Shale.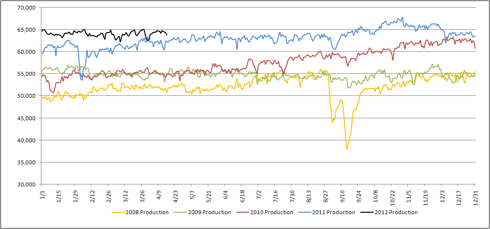 EARLY LOOK FORECASTS
As of today, the Matterhorn Energy Demand Model sees the following going forward: