The following S&P 1000 companies have displayed recent insider buying activity (discretionary direct ownership purchases) during the past 2-weeks and have also been outperforming SPY:
TriQuint Semiconductor (TQNT) 114,333 shares purchased
·         TriQuint Semiconductor provides highly integrated modules to the communications industry through their development and production of gallium arsenide, gallium nitride and surface acoustic and bulk acoustic wave technologies.  Recent buying activity was done by Steven Sharp (Chairman of the Board)

Federal Signal Corporation (NYSE:FSS) 64,500 shares purchased
·         First Signal provides safety & security systems, environmental solutions and fire rescue solutions to municipal, governmental, industrial, and institutional customers.  Recent buying activity was done by five board members and two executive officers including Dennis Martin (President and CEO) and William Barker III (SVP and CFO)

RadiSys Corporation (NASDAQ:RSYS) 25,000 shares purchased
·         RadiSys Corporation provides embedded wireless infrastructure solutions for telecom, aerospace, defense and public safety applications.  Recent buying activity was done by Kevin Melia (Board member)

Digital Generation, Inc. (NASDAQ:DGIT) 12,500 shares purchased
·         Digital Generation offers an end-to-end digital advertising delivery network.  Recent buying activity was done by Gal Trifon (Chief Digital Officer) and Neil Nguyen (President and COO)

ION Geophysical Corporation (NYSE:IO) 6,000 shares purchased
·         ION Geophysical provides seismic equipment and solutions to oil and gas exploration companies and seismic acquisition contractors.  Recent buying activity was done by Franklin Myers (Board member)
 
The following chart shows the performance of the TQNT, FSS, RSYS, DGIT and IO against the performance of SPY over the past 2-weeks.  Note that these stocks have been outperforming the broader market during this time period.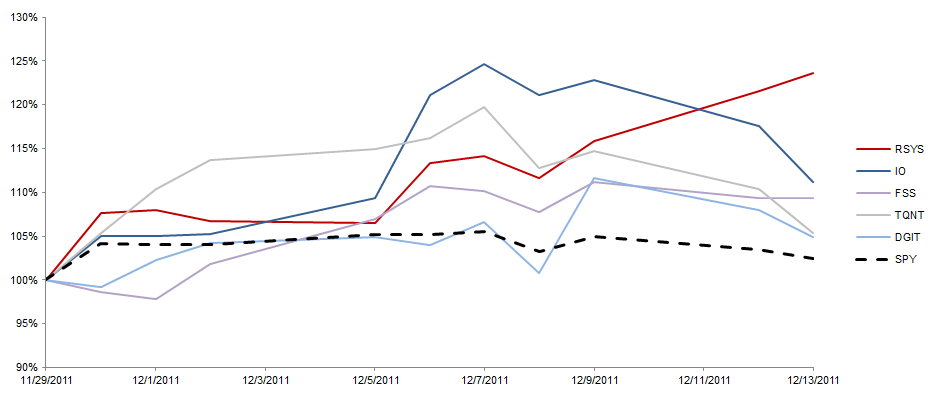 The following table highlights key financial ratios and price performance for each company.
Date Sources: Insider transactions data are taken directly from Form 4s.  Financial data are taken from Yahoo! Finance.
Disclaimer: Please consult your financial advisor before making investment decisions. Depending on your circumstances and risk tolerance, the strategy in this article may not be suitable for all investors.
Disclosure:
I have no positions in any stocks mentioned, and no plans to initiate any positions within the next 72 hours.