There was buzz in economic cyberspace over Friday's personal consumption expenditure price index coming in at 0.74% year-over-year. Is deflation around the corner?
Year-over-Year Change - PCE's Price Index (blue line) versus CPI-U (red line) versus GDP Deflator (green line)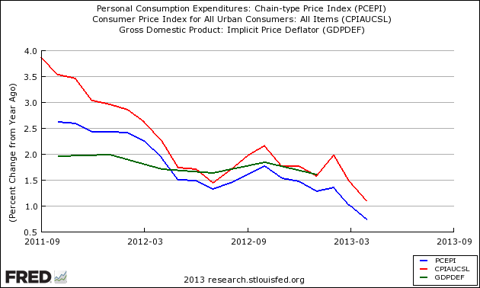 The six month trend is definitely down heading towards deflation. All this in the face of quantitative easing which the majority believe causes inflation. Consider:
the measurements of inflation could be wrong (my position is that the numbers are likely wrong for all as they are averages but the trends are likely correct);
the general understanding of the long term effects of quantitative easing (including the Fed's beliefs) are not correctly understood;
low inflation or deflation works against owner occupied residences, and works against making fixed investments in general;
the general understanding of deflation works against true economic growth.
The Econintersect economic forecast for June 2012 again declined marginally, and remains under a zone which would indicate the economy is about to grow normally. The concern is that consumers are spending a historically high amount of their income.
The ECRI WLI growth index value has been weakly in positive territory for over four months - but in a noticeable improvement trend. The index is indicating the economy six month from today will be slightly better than it is today.
Current ECRI WLI Growth Index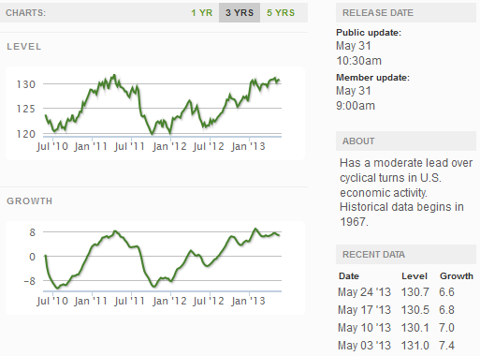 /images/z weekly_indexes.PNG
Initial unemployment claims rose from 340,000 (reported last week) to 354,000 this week. Historically, claims exceeding 400,000 per week usually occur when employment gains are less than the workforce growth, resulting in an increasing unemployment rate (background here and here).
The real gauge - the 4 week moving average - was worsened from 339,500 (reported last week) to 347,250. Because of the noise (week-to-week movements from abnormal events AND the backward revisions to previous weeks releases), the 4-week average remains the reliable gauge.
Weekly Initial Unemployment Claims - 4 Week Average - Seasonally Adjusted - 2011 (red line), 2012 (green line), 2013 (blue line)

Bankruptcies this Week: Sound Shore Medical Center
Data released this week which contained economically intuitive components (forward looking) were:
All other data released this week either does not have enough historical correlation to the economy to be considered intuitive, or is simply a coincident indicator to the economy.
Weekly Economic Release Scorecard:
Disclosure: I have no positions in any stocks mentioned, and no plans to initiate any positions within the next 72 hours.