The economy seems indecisive.
Retail sales are OK if you ignore the better data this week was only due to auto sales. Import and export prices are deflating while producer prices jumped up significantly. Industrial production even though improved month-over-month continues on a "less good" trend line - it has broken blow the range it has been in for almost a year. Inflation adjusted wholesale sales is contracting both year-to-date and year-over-year.
And this was just the data from this week. The data over the last few months seems schizophrenic. This certainly is not the best of times or the worst of times.
The Econintersect economic forecast for June 2012 again declined marginally, and remains under a zone which would indicate the economy is about to grow normally. The concern is that consumers are spending a historically high amount of their income.
The ECRI WLI growth index value has been weakly in positive territory for over four months - but in a noticeable positive trend. The index is indicating the economy six month from today will be slightly better than it is today.
Current ECRI WLI Growth Index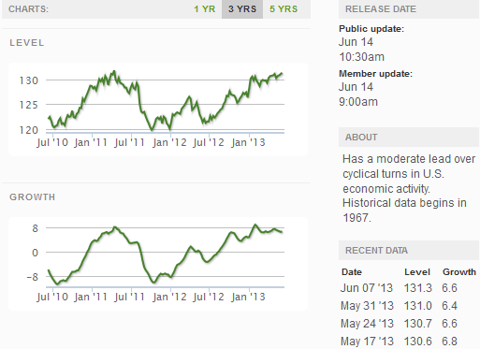 Initial unemployment claims declined from 346,000 (reported last week) to 334,000 this week. Historically, claims exceeding 400,000 per week usually occur when employment gains are less than the workforce growth, resulting in an increasing unemployment rate (background here and here).
The real gauge - the 4 week moving average - worsened from 352,500 (reported last week) to 345,250. Because of the noise (week-to-week movements from abnormal events AND the backward revisions to previous weeks releases), the 4-week average remains the reliable gauge.
Weekly Initial Unemployment Claims - 4 Week Average - Seasonally Adjusted - 2011 (red line), 2012 (green line), 2013 (blue line)

Bankruptcies this Week: Exide Technologies, Privately-held NE Opco (dba National Envelope)
Data released this week which contained economically intuitive components (forward looking) were:
All other data released this week either does not have enough historical correlation to the economy to be considered intuitive, or is simply a coincident indicator to the economy.
Weekly Economic Release Scorecard:
Disclosure: I have no positions in any stocks mentioned, and no plans to initiate any positions within the next 72 hours.