Here we go again with political theater.
A familiar Washington melodrama - will they or won't they shut down the government - took center stage on Friday when the Republican-controlled House of Representatives passed a bill to fund the government, but only if President Barack Obama's landmark healthcare law is ransacked.

Notching their 42nd vote against "Obamacare" and knowing full well the Democratic Senate will reject it, Republicans in the House cast their votes, staged a noisy celebration in front of a placard declaring: "SenateMustAct," and then left town for several days to give time for the Senate to demolish its work.

"The Senate will not pass any bill that defunds or delays Obamacare," Senate Majority Leader Harry Reid said flatly.
As much as I dislike Obamacare, the answer is not another major change. Anyone with management skills knows that continuous major change is destructive. It is far better to fine tune. Even worse, the members of the House know that this bill is dead - so it is simply a political dogmatic statement. The government is incapable of passing legislation that helps the majority - and only special interest legislation seems to be moving.
This is leading towards a government shutdown with two camps playing with fire. The majority will suffer. Way to go Congress!
The Econintersect economic forecast for September 2013 improved but still shows the economy barely expanding. The concern is that consumers are spending a historically high amount of their income, and several non-financial indicators are weak.
The ECRI WLI growth index value has been weakly in positive territory for over four months - but in a noticeable improvement trend. The index is indicating the economy six month from today will be slightly better than it is today.
Current ECRI WLI Growth Index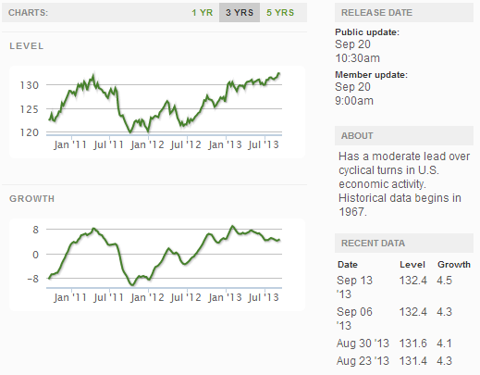 /images/z weekly_indexes.PNG
Initial unemployment claims went from 292,000 (reported last week) to 309,000 this week. Historically, claims exceeding 400,000 per week usually occur when employment gains are less than the workforce growth, resulting in an increasing unemployment rate.
The real gauge - the 4 week moving average - improved from 321,250 (reported last week) to 314,750. Because of the noise (week-to-week movements from abnormal events AND the backward revisions to previous weeks releases), the 4-week average remains the reliable gauge.
Weekly Initial Unemployment Claims - 4 Week Average - Seasonally Adjusted - 2011 (red line), 2012 (green line), 2013 (blue line)

/images/z unemployment.PNG
Bankruptcies this Week: Rural/Metro, FriendFinder Networks (fka Penthouse Media Group), ECOtality
Data released this week which contained economically intuitive components (forward looking) were:
All other data released this week either does not have enough historical correlation to the economy to be considered intuitive, or is simply a coincident indicator to the economy.
Weekly Economic Release Scorecard:
Disclosure: I have no positions in any stocks mentioned, and no plans to initiate any positions within the next 72 hours.