I am sure all the pundits are out in force spinning the jobs data. As I believe that employment is a lagging indicator, it has no place in a discussion of 2014. One of my favorite indicators for trend lines is the rather new ISM non-manufacturing (aka services) index.
The January 2014 ISM non-manufacturing index continues its growth cycle, and strengthened marginally from 53.0 to 54.0 (above 50 signals expansion). But I do not look at this index per se - but two sub-indexes which have good correlations to the economy - the Business Activity Index and the New Orders Index - and both have good track records in spotting an incipient recession. The real good part is that there is little backward revision, and the data is released in real time.
Both the Business Activity Index and the New Orders Index improved in January with both in expansion territory - however these sub-indices are fairly volatile - and one needs to step back from the data and view this index over longer periods than a single month.. One is seemingly flat, whilst the other has a long term down trend.
ISM Services - Business Activity Sub-Index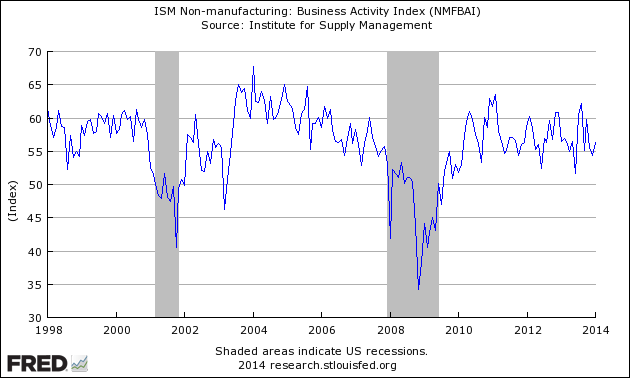 ISM Services - New Orders Sub-Index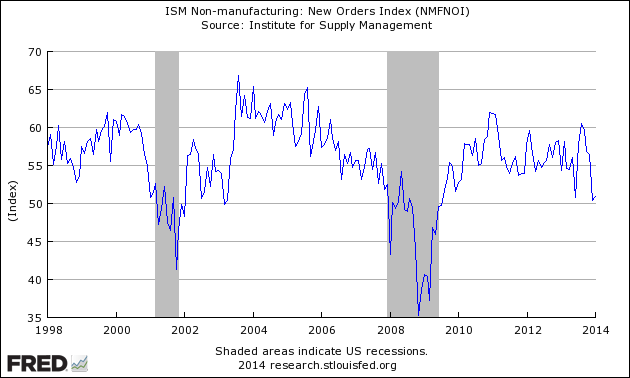 If you extend the trend lines of these indices into the future - you do not see an improving economy. What has been the economy anyway? It has not been the consumer that is driving the economy anyway - but Wall Street fed on the fumes of QE. QE is believed to be over by the 4Q2014. No fumes, no real Wall Street growth.
So my guess is that 2014 will be a rather flat year - not good and not terrible.
The Econintersect economic forecast for February 2014 continues to confirm a moderately improving economy without the roller coaster effect seen from the end of the Great Recession to mid 2013. Is this suggesting 2014 will be a good year? - This remains to be seen.
The ECRI WLI growth index value has been weakly in positive territory for over four months - but in a noticeable improvement trend. The index is indicating the economy six month from today will be slightly better than it is today.
Current ECRI WLI Growth Index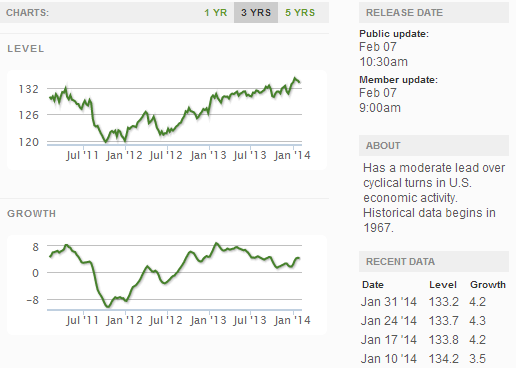 Initial unemployment claims went from 348,000 (reported last week) to 331,000 this week. Historically, claims exceeding 400,000 per week usually occur when employment gains are less than the workforce growth, resulting in an increasing unemployment rate. The real gauge - the 4 week moving average - marginally worsened from 333,000 (reported last week) to 334,000. Because of the noise (week-to-week movements from abnormal events AND the backward revisions to previous weeks releases), the 4-week average remains the reliable gauge.
Weekly Initial Unemployment Claims - 4 Week Average - Seasonally Adjusted - 2011 (red line), 2012 (green line), 2013 (blue line), 2014 (orange line)

Bankruptcies this Week: Hibu (Chapter 15), Tuscany International Holdings, Buffet Partners
Please [click here] to view all of our analysis of the data this week.
Disclosure: I have no positions in any stocks mentioned, and no plans to initiate any positions within the next 72 hours.