Home sales are bad. Pundits and the National Association of Realtors have blamed it on the weather, housing inventory, price jump in flood insurance, lenders being picky on credit, home prices being too high, and rising interest rates.
I am sure all of these have a hand in the game, and I could add that much of the previous years comparable sales were full of foreclosures (which are slowing).
Econintersect Analysis:
Sales growth decelerated 6.9% month-over-month, down 3.4% year-over-year - sales growth rate trend is decelerating using the 3 month moving average.
Prices growth accelerated 1.8% month-over-month, Up 8.8% year-over-year - price growth rate trend is decelerating marginally using the 3 month moving average.
The homes for sale inventory grew marginally this month, and is historically low for Januarys (but higher than inventory levels one year ago).
Sales down 5.1% month-over-month, down 5.1% year-over-year (no typo - month-over-month and year-over-year is the same percentage).
Prices up 10.7% year-over-year
The market expected annualized sales volumes of 4.48 to 4.85 million (consensus 4.65) vs the 4.62 million reported.
November 2013 ended 28 straight months of improving year-over-year home sales volumes (unadjusted data) - and the data this month continued the data deterioration.
Unadjusted Year-over-Year Change in Existing Home Sales Volumes (blue line) - 3 Month Rolling Average (red line)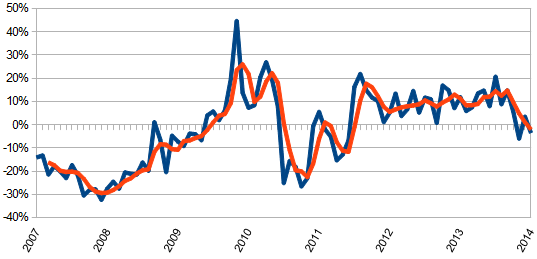 The graph below presents unadjusted home sales volumes.
Unadjusted Monthly Home Sales Volumes

Here are the headline words from the NAR analysts:
Lawrence Yun, NAR chief economist, said unusual weather is playing a role. "Disruptive and prolonged winter weather patterns across the country are impacting a wide range of economic activity, and housing is no exception," he said. "Some housing activity will be delayed until spring. At the same time, we can't ignore the ongoing headwinds of tight credit, limited inventory, higher prices and higher mortgage interest rates. These issues will hinder home sales activity until the positive factors of job growth and new supply from higher housing starts begin to make an impact."

NAR President Steve Brown said that in addition to disruptive weather, higher flood insurance rates are impacting the market in areas designated as flood zones, which account for roughly 8 to 9 percent of sales. "Thirty percent of transactions in flood zones were cancelled or delayed in January as a result of sharply higher flood insurance rates," he said. "Since going into effect on October 1, 2013, about 40,000 home sales were either delayed or canceled because of increases and confusion over significantly higher flood insurance rates. The volume could accelerate as the market picks up this spring.
Comparison of Home Price Indices - Case-Shiller 3 Month Average (blue line, left axis), CoreLogic (green line, left axis) and National Association of Realtors three month average (red line, right axis)

/images/z existing3.PNG
To remove the seasonality in home prices, here is a year-over-year graph which demonstrates a plateau in home price rate of growth.
Comparison of Home Price Indices on a Year-over-Year Basis - Case-Shiller 3 Month Average (blue bars), CoreLogic (yellow bars) and National Association of Realtors
three month average
(red bars)

Inventories improved marginally - and are higher than the levels one year ago.
Total housing inventory at the end of January rose 2.2 percent to 1.90 million existing homes available for sale, which represents a 4.9-month supply at the current sales pace, up from 4.6 months in December. Unsold inventory is 7.3 percent above a year ago, when there was a 4.4-month supply. A supply of 6.0 to 6.5 months represents a rough balance between buyers and sellers.
Unadjusted Total Housing Inventory

When things are bad, many things are blamed. But are we sure that home sales are not driven by consumer confidence. Buying a home is a commitment, and will tie you down if you need to relocate for a job. Poor employment options yields poor home sales.
The Econintersect economic forecast for February 2014 continues to confirm a moderately improving economy without the roller coaster effect seen from the end of the Great Recession to mid 2013. Is this suggesting 2014 will be a good year? - This remains to be seen.
The ECRI WLI growth index value has been weakly in positive territory for over four months - but in a noticeable improvement trend. The index is indicating the economy six month from today will be slightly better than it is today.
Current ECRI WLI Growth Index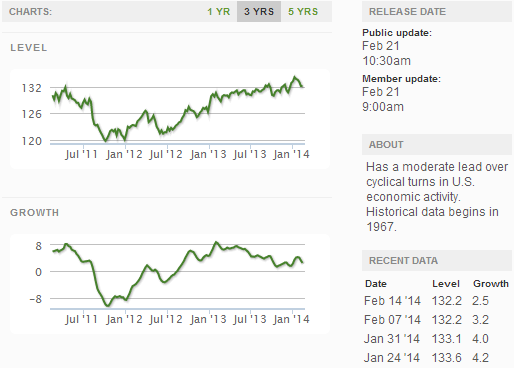 Initial unemployment claims went from 339,000 (reported last week) to 336,000 this week. Historically, claims exceeding 400,000 per week usually occur when employment gains are less than the workforce growth, resulting in an increasing unemployment rate. The real gauge - the 4 week moving average - marginally worsened from 336,750 (reported last week) to 338,500. Because of the noise (week-to-week movements from abnormal events AND the backward revisions to previous weeks releases), the 4-week average remains the reliable gauge.
Weekly Initial Unemployment Claims - 4 Week Average - Seasonally Adjusted - 2011 (red line), 2012 (green line), 2013 (blue line), 2014 (orange line)

Bankruptcies this Week: Lexico Resources International, First Mariner Bancorp, Cereplast, Optim Energy, Event Rentals
To view all the analysis this week - [click here]
Disclosure: I have no positions in any stocks mentioned, and no plans to initiate any positions within the next 72 hours.