Before I start, please note that The Econintersect Economic Index for March 2014 was released this past week, and is showing a moderate growth deceleration. There are soft data points we watch outside of our index which bears watching. Nothing at this time is pointing to real economic contraction, but there is enough data sets in the warning track to let you know that the economy is far from running on all cylinders.
This past week saw terrible pending home sales. Our analysis suggests that February 2014 existing home sales again may not be good.
The current trends (using 3 month rolling averages) continues to show a growing deceleration in pending home sales (as well as actual existing home sales).
Extrapolating the unadjusted data to project February 2014 existing home sales, this would be a 8.0% contraction year-over-year existing home sales.
Pending home sales are based on contract signings, and existing home sales are based on the execution of the contract (contract closing).
After 28 months of year-over-year growth, pending home sales according to theunadjusted data contracted year-over-year for the third month in a row.
The NAR reported January 2014 pending home sales index was up 0.1% month-over-month and down 9.0% year-over-year. The market was expecting month-over-month growth of -0.2 % to 0.0%(versus the growth of 0.1% reported). Econintersect's evaluation shows the index growth decelerated 0.3% month-over-month and down 9.1% year-over-year.
Unadjusted 3 Month Rolling Average of Year-over-Year Growth for Pending Home Sales (blue line) and Existing Home Sales (red line)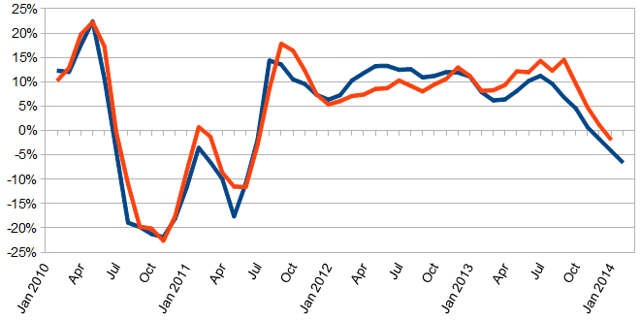 The National Association of Realtors (NAR) pending home sales index offers a window into predicting existing home sales. The actual home sale might appear in the month the contract was signed (cash buyers account for 33% of home sales in January according to the NAR - cash buyers can close quickly), or in the following two months.
Econintersect evaluates by offsetting the index one month to project unadjusted existing home sales. Using this index offset one month suggests unadjusted existing home sales of 280,000 in February 2014 (negative 15,000 fudge factor this month for historical error using this methodology for the month of Februarys in years past).
Using Pending Home Sales to Predict Existing Homes Sales - Unadjusted Existing Home Sales (blue line) & Predictive Forecast Using Pending Home Sales Index (red line)

Using this methodology, 260,000 (positive 25,000 fudge factor), existing home unadjusted sales were forecast for January 2014 sales vs the actual reported number of 281,000 (which is subject to further revision).
Unadjusted Year-over-Year Change in Existing Home Sales Volumes (blue line), 3 month rolling average (red line)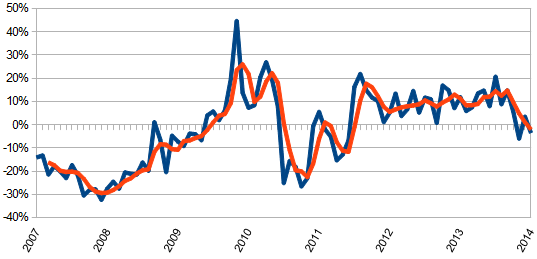 /images/z existing1.PNG
As shown on the above graphic, since mid 2011 home sales have been positively growing year-over-year. However, November 2013 and January 2014 home sales showed a contraction year-over-year for the first time since 2011.
Falling home sales have been blamed on the weather, Inventory, Flood Insurance, Tight Credit, Prices, Interest Rates, student loans effecting credit, and affordability. I am sure all are not helping - but consider that a pent up demand must also be working for expansion. Isn't always funny that when a data point is under expectations, we look for constraints - and when it is above expectations, we look for tailwinds. There MUST be a reason for everything. Ah, maybe humans are just not predictable. Maybe Obama can issue an executive order forcing people to buy. This is my day to be sarcastic.
Other Economic News this Week:
The ECRI WLI growth index value has been weakly in positive territory for over four months - but in a noticeable improvement trend. The index is indicating the economy six month from today will be slightly better than it is today.
Current ECRI WLI Growth Index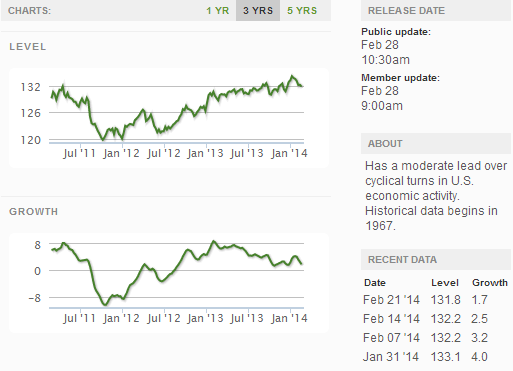 Initial unemployment claims went from 336,000 (reported last week) to 348,000 this week. Historically, claims exceeding 400,000 per week usually occur when employment gains are less than the workforce growth, resulting in an increasing unemployment rate. The real gauge - the 4 week moving average - marginally worsened from 338,250 (reported last week as 338,500) to 338,250. Because of the noise (week-to-week movements from abnormal events AND the backward revisions to previous weeks releases), the 4-week average remains the reliable gauge.
Weekly Initial Unemployment Claims - 4 Week Average - Seasonally Adjusted - 2011 (red line), 2012 (green line), 2013 (blue line), 2014 (orange line)

Bankruptcies this Week: Cayman Islands-based Suntech Power Holdings Co.
To view all the analysis this week - [please click here].
Disclosure: I have no positions in any stocks mentioned, and no plans to initiate any positions within the next 72 hours.