Put your eyes on this FRED graph ....
Year-over-Year Change - Per Capita Seasonally Adjusted Retail Sales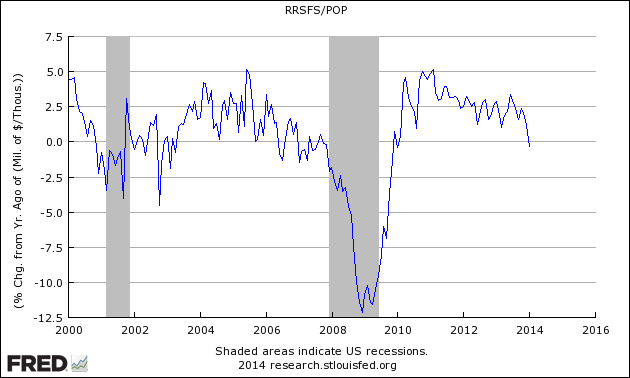 To say that retail sales is in a long term downtrend is an understatement. Our Analysis:
unadjusted sales rate of growth decelerated 0.9% month-over-month, and up 1.5% year-over-year.
unadjusted sales 3 month moving year-over-year average decelerated from 3.3% to 2.6%.
Advance Retail Sales Year-over-Year Change - Unadjusted (blue line), Unadjusted with Inflation Adjustment (red line), and 3 Month Rolling Average of Unadjusted (yellow line)

unadjusted sales (but inflation adjusted) up 0.4% year-over-year
backward revisions were again down moderately - and that makes comparison to last month's data even worse;
merchandise (online and brick) were the largest contributor to the deceleration this month to the unadjusted data.
Yet, US Census headlines stated retail sales were up 0.3%.
I consider this retail sales situation a yellow flag for economic growth. At the present, I see no other yellow flags - and no one should go to the bank with a single bad data point anyway. After all, the pundits could be right - it's the weather (although it does not explain online sales decline).
Other Economic News this Week:
The Econintersect Economic Index for March 2014 is showing a moderate growth deceleration. There are soft data points we watch outside of our index which bears watching. Nothing at this time is pointing to real economic contraction, but there is enough data sets in the warning track to let you know that the economy is far from running on all cylinders.
The ECRI WLI growth index value has been weakly in positive territory for over four months - but in a noticeable improvement trend. The index is indicating the economy six month from today will be slightly better than it is today.
Current ECRI WLI Growth Index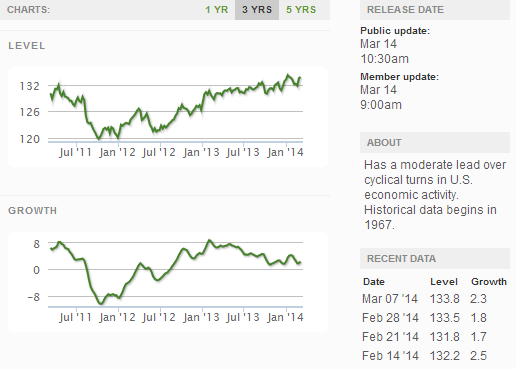 Initial unemployment claims went from 323,000 (reported last week) to 315,000 this week. Historically, claims exceeding 400,000 per week usually occur when employment gains are less than the workforce growth, resulting in an increasing unemployment rate. The real gauge - the 4 week moving average - marginally worsened from 336,750 (reported last week as 336,500) to 330,500. Because of the noise (week-to-week movements from abnormal events AND the backward revisions to previous weeks releases), the 4-week average remains the reliable gauge.
Weekly Initial Unemployment Claims - 4 Week Average - Seasonally Adjusted - 2011 (red line), 2012 (green line), 2013 (blue line), 2014 (orange line)

Bankruptcies this Week: Privately-held Sbarro
For a complete rundown on all analysis this week - [click here]
Disclosure: I have no positions in any stocks mentioned, and no plans to initiate any positions within the next 72 hours.