I think the following images tell the whole story from my analysis this past week.
Unadjusted Year-over-Year Change in Existing Home Sales Volumes (blue line) - 3 Month Rolling Average (red line)
Unadjusted Monthly Home Sales Volumes
/images/z existing2.PNG

Here is how I view the situation:
Sales growth decelerated 3.5% month-over-month, down 6.9% year-over-year - sales growth rate trend is decelerating using the 3 month moving average.
Prices growth decelerated 1.0% month-over-month, Up 7.4% year-over-year - price growth rate trend is accelerating marginally using the 3 month moving average.
The homes for sale inventory grew marginally this month, and is historically low for Februarys (but higher than inventory levels one year ago).
Here is some select quotes from the boyz at the National Association of Realtors explaining away the data:
We had ongoing unusual weather disruptions across much of the country last month, with the continuing frictions of constrained inventory, restrictive mortgage lending standards and housing affordability less favorable than a year ago.

Some transactions are simply being delayed, so there should be some improvement in the months ahead. With an expected pickup in job creation, home sales should trend up modestly over the course of the year.

Student debt appears to be a factor in the weak level of first-time buyers.

The biggest problems for first-time buyers are tight credit and limited inventory in the lower price ranges. However, 20 percent of buyers under the age of 33, the prime group of first-time buyers, delayed their purchase because of outstanding debt. In our recent consumer survey, 56 percent of younger buyers who took longer to save for a downpayment identified student debt as the biggest obstacle.
Let me be very clear - contraction is a warning signal. I have no clairvoyance except the obvious - the average Joe is beginning to see home ownership a burden - and combine this with a poor economy, poor median income, student debt, etc - home sales are not going to do well into the near future.
Other Economic News this Week:
The Econintersect Economic Index for March 2014 is showing a moderate growth deceleration. There are soft data points we watch outside of our index which bears watching. Nothing at this time is pointing to real economic contraction, but there is enough data sets in the warning track to let you know that the economy is far from running on all cylinders.
The ECRI WLI growth index value has been weakly in positive territory for over four months - but in a noticeable improvement trend. The index is indicating the economy six month from today will be slightly better than it is today.
Current ECRI WLI Growth Index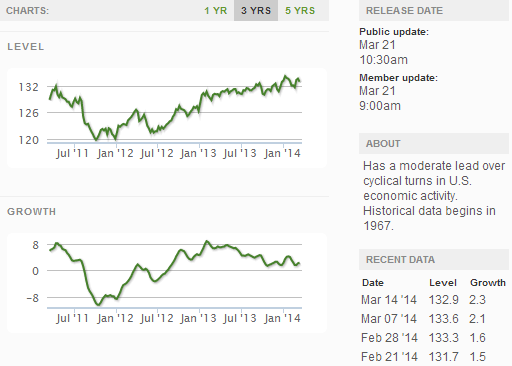 Initial unemployment claims went from 315,000 (reported last week) to 320,000 this week. Historically, claims exceeding 400,000 per week usually occur when employment gains are less than the workforce growth, resulting in an increasing unemployment rate. The real gauge - the 4 week moving average - marginally improved from 330,500 (reported last week as 330,500) to 327,000. Because of the noise (week-to-week movements from abnormal events AND the backward revisions to previous weeks releases), the 4-week average remains the reliable gauge.
Weekly Initial Unemployment Claims - 4 Week Average - Seasonally Adjusted - 2011 (red line), 2012 (green line), 2013 (blue line), 2014 (orange line)

/images/z unemployment.PNG
Bankruptcies this Week: Privately-held QCE Finance (dba Quiznos), privately-held Simplexity, Vertical Health Solutions (dba OnPoint Medical Diagnostics), MModal Holdings
For a complete list of all posts this week [click here].
Disclosure: I have no positions in any stocks mentioned, and no plans to initiate any positions within the next 72 hours.