I am a fan of non-monetary measures which are economic pulse points. Literally everything we buy at one point or another traveled by trucks and rail - and even trucks ride on rail. Rail is a great pulse point because the USA data is consolidated (literally every rail movement in the USA is provided by the Association of American Railroads).
Truck would be the best data point but unfortunately there is no consolidation, and there is a danger in looking at only a portion of the data (and assuming it is representative).
Many of the commodities which ride on rail will appear in retail sales months in the future - this gives rail a forward looking component as the data is issued almost in real time. Here is what the rail data is currently saying for the week ending 29 March 2014:
The weekly data is fairly noisy, and the best way to view it is to look at the rolling averages:
| | | | |
| --- | --- | --- | --- |
|   | Percent current rolling average is larger than the rolling average of one year ago | Current rate of growth accelerating or decelerating | Current rolling average accelerating or decelerating compared to the rolling average one year ago |
| 4 week rolling average | 6.4% | accelerating | accelerating |
| 13 week rolling average | 2.3% | accelerating | accelerating |
| 52 week rolling average | 2.3% | accelerating | accelerating |
USA coal production is up 4.7% same week year-over-year - and coal accounts for almost half of carloads.
Here is a look at the weekly data comparing it to the same week one year ago, backing out economically less intuitive coal and grain, and comparing growth year-to-date.
| | | | |
| --- | --- | --- | --- |
| This Week | Carloads | Intermodal | Total |
| This week Year-over-Year | 7.2% | 13.5% | 0.9% |
| Ignoring coal and grain | 2.9% |   |   |
| Year Cumulative to Date | 0.9% | 3.8% | 2.3% |
[click on graph below to enlarge]
Current Rail Chart

There likely was a weather component in the disappointed rail data earlier in 2014. If there was a weather component, the current surge is only makeup.
The Econintersect Economic Index for April 2014 is again showing an extremely slight growth deceleration - but a growing economy nonetheless. There are a growing number of soft data points we watch outside of our index which bears watching. The economy remains too strong to recess, and too weak to grow.
The ECRI WLI growth index value has been weakly in positive territory for many months - but now in a noticeable improvement trend. The index is indicating the economy six month from today will be slightly better than it is today.
Current ECRI WLI Growth Index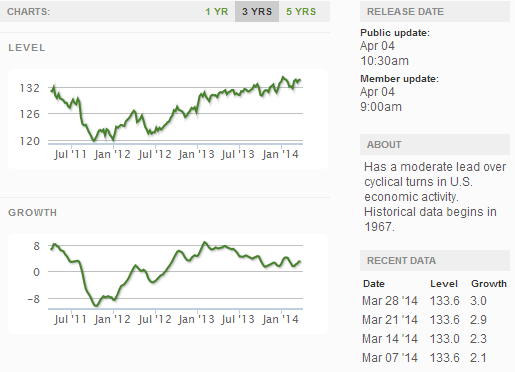 Initial unemployment claims went from 311,000 (reported last week) to 326,000 this week. Historically, claims exceeding 400,000 per week usually occur when employment gains are less than the workforce growth, resulting in an increasing unemployment rate. The real gauge - the 4 week moving average - marginally improved from 319,250 (reported last week as 317,750) to 319,500. Because of the noise (week-to-week movements from abnormal events AND the backward revisions to previous weeks releases), the 4-week average remains the reliable gauge.
Weekly Initial Unemployment Claims - 4 Week Average - Seasonally Adjusted - 2011 (red line), 2012 (green line), 2013 (blue line), 2014 (orange line)

Bankruptcies this Week: none
For a complete list of our posts this week - [click here]
Disclosure: I have no positions in any stocks mentioned, and no plans to initiate any positions within the next 72 hours.