The consumer is not dead, and has been doing its job in creating this economic "expansion" - but appears to slowly weakening in their contribution. On the surface all looks good.
From the U.S. Census Bureau press release:
The U.S. Census Bureau announced today that advance estimates of U.S. retail and food services sales for May, adjusted for seasonal variation and holiday and trading-day differences, but not for price changes, were $437.6 billion, an increase of 0.3 percent (±0.5)* from the previous month, and 4.3 percent (±0.9) above May 2013. Total sales for the March 2014 through May 2014 period were up 4.3 percent (±0.7) from the same period a year ago. The March 2014 to April 2014 percent change was revised from +0.1 percent (±0.5)* to +0.5 percent (±0.2).

Retail trade sales were up 0.4 percent (±0.5)* from April 2014, and 4.3 percent (±0.9) above last year. Auto and other motor vehicle dealers were up 11.1 percent (±3.2) from May 2013 and nonstore retailers were up 7.4 percent (±2.3) from last year.
Seasonally Adjusted Retail Sales - All (red line), All except food services (blue line), and All except motor vehicles (green line)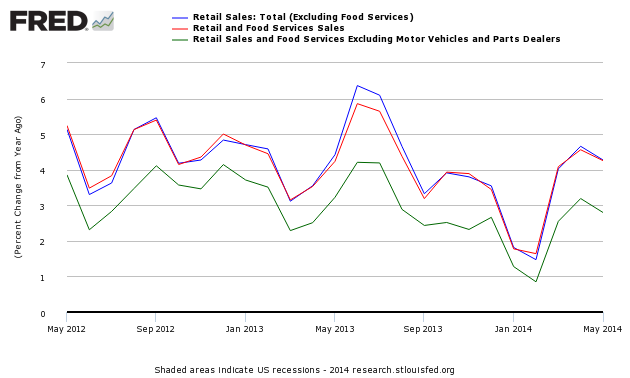 The differences between the headlines and Econintersect are due to different approaches to seasonal adjustment (see caveats at the end of this post). Long and medium term trends always agree comparing the adjusted to the unadjusted data - it is the short term trends and month-over-month change where the conflict occurs.
Comparison of the Year-over-Year Census Seasonally Adjusted Retail Sales (blue line) and Econintersect's Unadjusted Retail Sales (red line)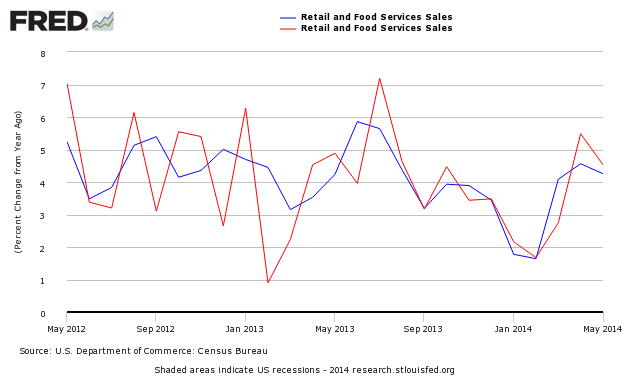 Until one year ago, retail sales growth was running near 5% year-over-year expansion - now it seems to be averaging 1% less. Retail sales per capita seems to be in a long term downtrend (but short term trends vary depending on periods selected - see graph below).
Year-over-Year Change - Per Capita Seasonally Adjusted Retail Sales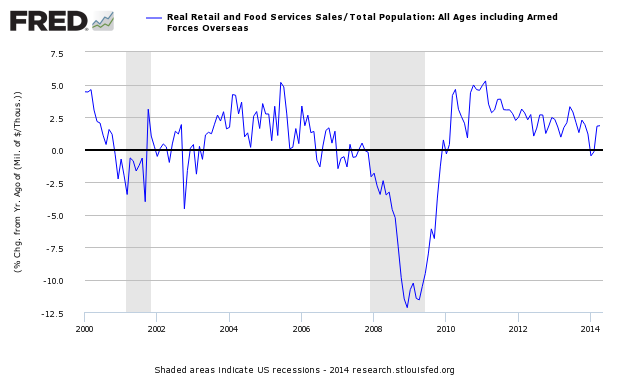 Many pundits are thinking better economic growth is coming - without higher consumption, this is wishful thinking.
Other Economic News this Week:
The Econintersect Economic Index for June 2014 is showing continued growth acceleration. Outside of our economic forecast - we are worried about the consumer's ability to expand its consumption as the ratio between income and expenditures are near all time highs. The GDP contraction for 1Q2014 is a paper contraction as GDP is determined by playing games with accounts. No serious element of the economy was in contraction (except government spending) which is already expanding in the 2Q2014.
The ECRI WLI growth index value has been weakly in positive territory for many months - but now in a noticeable improvement trend. The index is indicating the economy six month from today will be slightly better than it is today.
Current ECRI WLI Growth Index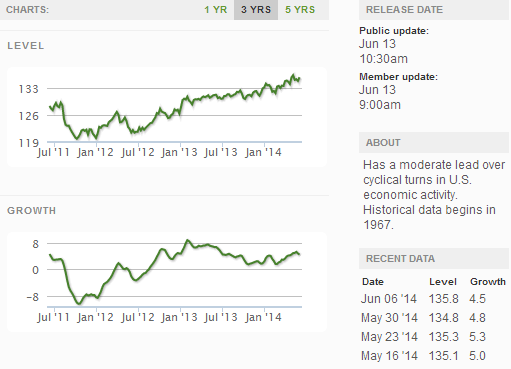 The market was expecting the weekly initial unemployment claims at 300,000 to 340,000 (consensus 309,000) vs the 317,000 reported. The more important (because of the volatility in the weekly reported claims and seasonality errors in adjusting the data) 4 week moving average moved from 310,500 (reported last week as 310,250) to 315,250.
Weekly Initial Unemployment Claims - 4 Week Average - Seasonally Adjusted - 2011 (red line), 2012 (green line), 2013 (blue line), 2014 (orange line)

Bankruptcies this Week: Florida Gaming, Veris Gold and its Canadian-based and United States based subsidiaries (Chapter 15), privately-held Natrol
[click here to read all of our economic news and analysis headlines this week]
Disclosure: The author has no positions in any stocks mentioned, and no plans to initiate any positions within the next 72 hours.