Consumer credit growth has been in a tight range of growth for over a year. When student loans are backed out, the rate of expansion of consumer credit is:
expanding;
significantly better than the current growth of GDP.
One should wonder why credit is expanding over 2% per year. The headline said:
In May, consumer credit increased at a seasonally adjusted annual rate of 7-1/2 percent. Revolving credit increased at an annual rate of 2-1/2 percent, while nonrevolving credit increased at an annual rate of 9-1/4 percent.
Econintersect's view:
Unadjusted Consumer Credit Outstanding
| | | | | |
| --- | --- | --- | --- | --- |
|   | Month- over- Month Growth | Year- over- Year Growth | Month- over- Month Growth without Student Loans | Year- over- Year Growth without Student Loans |
| Total | +0.1% | +6.7% | +0.5% | +3.8% |
| Revolving | -0.1% | +2.3% | n/a | n/a |
| Non- Revolving | +0.2% | +8.3% | -0.9% | +5.9% |
Overall takeaways from this month's data:
Student loan growth has been decelerating for the past 15 months;
Non-revolving credit growth weakened compared to the previous month (which was unusually strong) - and revolving credit (credit cards) also weakened;
The backward revision this month again was moderate.
The market expected consumer credit to expand $13.8 to $22.0 billion (consensus = $19.6 billion) versus the seasonally adjusted headline expansion of $19.6 billion reported.
Note that this consumer credit data series does not include mortgages.
The Econintersect analysis is different than the Fed's:
an effort is made to segregate student loans from consumer credit to see the underlying dynamics;
this analysis expresses growth as year-over-year change, not one month's change being projected as an annual change - which creates a lot of volatility.
where our analysis expresses the change as month-over-month, month-over-month change is determined by subtracting the previous month's year-over-year improvement from the current month's year-over-year improvement.
The commonality between the Fed and Econintersect analysis is that consumer credit is expanding whether one considers student loans or not. Econintersect does not believe the seasonal adjustment methods used in the headlines are accurately conveying the situation for a variety of reasons.
This month student loans accounted for 20% of the growth of total consumer credit. Since the Great Recession, much of the increase in consumer credit had been from student loans. The following graph shows the flow into consumer credit including student loans (blue line) against the flow into student loans alone (red line).
Flow of Funds into Consumer Credit - Total Consumer Credit (blue line) vs Student Loans (red line)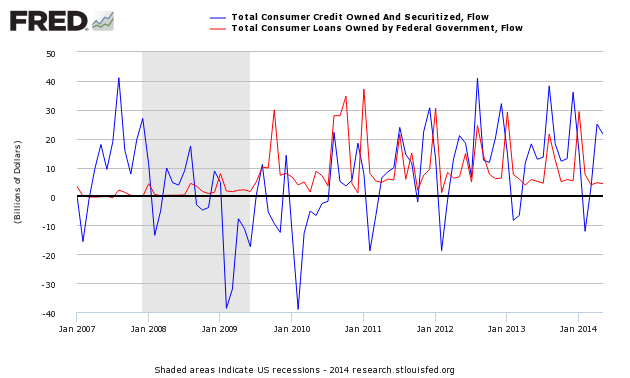 Another way to view the effects of student loans on consumer credit is to view the year-over-year growth in $ billions of student loans as a percent of total consumer credit (including student loans). In short, student loans accounted for all consumer credit growth from 2009 to late 2011. Currently, the growth of consumer credit (blue line in graph below) is showing growth.
Year-over-Year Growth in $ Billions - Total Consumer Credit (blue line) vs Student Loans (red line)
Consider that student loans make up a large portion of assets of the Federal Government [from Econintersect contributor Doug Short]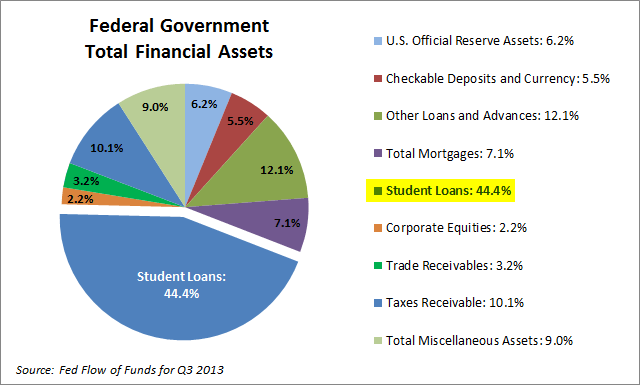 And one final look at total consumer credit and the effect of student loans. The graph below removes student loans from total consumer credit outstanding.
Total Consumer Credit Outstanding - Total Consumer Credit (blue line) vs Total Consumer Credit without Student Loans (red line)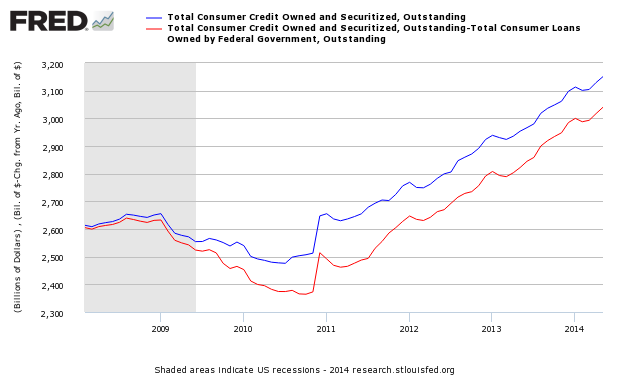 Econintersect spends time on this generally ignored data series because the USA is a consumer driven economy. One New Normal phenomenon has been the consumer shift from a credit towards an electronic payment (current account debit) society - a quantum shift which changes the amount of consumption. Watching consumer credit provides confirmation that this New Normal shift continues.
Year-over-Year Growth of Consumer Credit - Total (blue line), Revolving Credit (red line), and Non-Revolving (green line which includes student loans)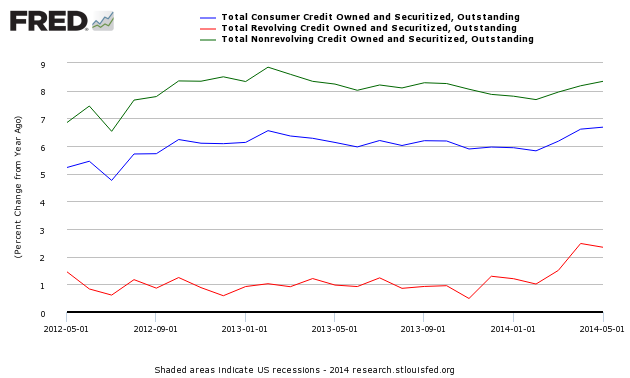 The Federal Reserve reports credit divided between revolving and non-revolving. The majority of revolving credit is from credit cards, while non-revolving credit includes automobile loans, student loans, and all other loans not included in revolving credit, such as loans for mobile homes, boats, trailers, or vacations.
Comparison Revolving Credit Total (blue line) to Non-Revolving Credit Total (red line)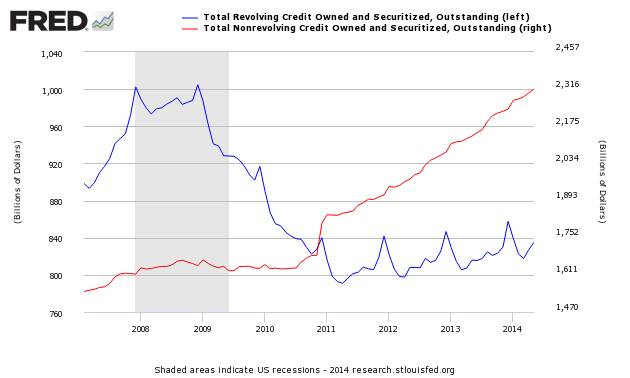 A Look at Consumer Ability to Repay Credit
The percent of consumer disposable income used to repay consumer loans (not including mortgages).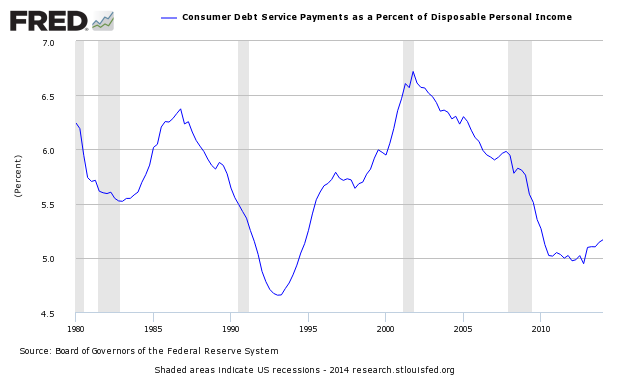 Other Economic News this Week:
The Econintersect Economic Index for July 2014 is showing continued growth acceleration. Outside of our economic forecast - we are worried about the consumers' ability to expand consumption because the ratio between income and expenditures continues near all time highs. The GDP contraction for 1Q2014 is a paper contraction as GDP is determined by playing games with accounts. For 2Q2014 GDP, the trade balance will be a serious headwind.
The ECRI WLI growth index value has been weakly in positive territory for many months - but now in a noticeable improvement trend. The index is indicating the economy six month from today will be slightly better than it is today.
Current ECRI WLI Growth Index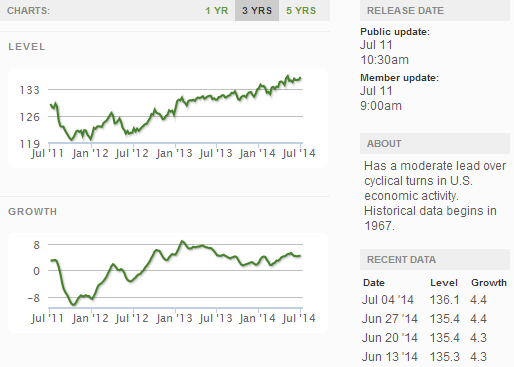 The market was expecting the weekly initial unemployment claims at 305,000 to 321,000 (consensus 315,000) vs the 304,000 reported. The more important (because of the volatility in the weekly reported claims and seasonality errors in adjusting the data) 4 week moving average moved from 315,000 (reported last week as 315,000) to 311,500
Weekly Initial Unemployment Claims - 4 Week Average - Seasonally Adjusted - 2011 (red line), 2012 (green line), 2013 (blue line), 2014 (orange line)

Bankruptcies this Week: USEC
To view all of our analysis and opinion this week [click here].
Disclosure: The author has no positions in any stocks mentioned, and no plans to initiate any positions within the next 72 hours.