What signs should we be looking for to confirm that an economy is expanding faster or slower?? The USA "reportedly" is a consumer driven economy - and i know the current economic expansion had been occurring without much help from the consumer UNTIL the last two quarters of GDP where the consumer has finally seemed to come alive.
Then I see really terrible looking durable goods data.
unadjusted new orders growth decelerated 7.1% (after accelerating a revised 0.6% the previous month) month-over-month , and is down 1.4% year-over-year.
the three month rolling average for unadjusted new orders decelerated 2.7% month-over-month, and up 3.2% year-over-year.
Year-over-Year Change of 3 Month Rolling Average - Unadjusted (blue line) and Inflation Adjusted (red line)

Inflation adjusted but otherwise unadjusted new orders are down 2.9% year-over-year.
The Federal Reserve's Durable Goods Industrial Production Index (seasonally adjusted) growth accelerated 1.1% month-over-month, up 5.7% year-over-year [note that this is a series with moderate backward revision - and it uses production as a pulse point (not new orders or shipments)] - three month trend is accelerating.
Comparing Seasonally Adjusted Durable Goods Shipments (blue line) to Industrial Production Durable Goods (red line)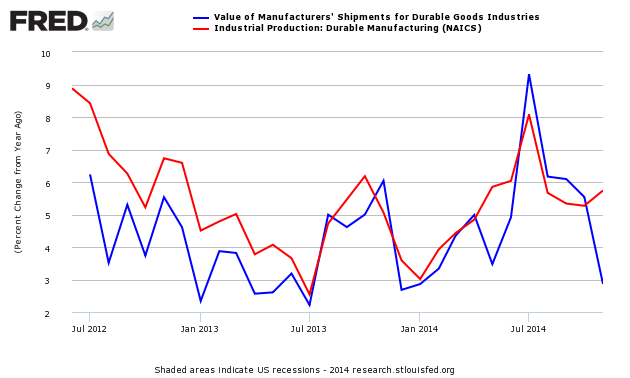 unadjusted backlog (unfilled orders) growth decelerated 1.0% month-over-month, up 12.4% year-over-year.
according to the seasonally adjusted data, the major force on the data was the increase in defense aircraft. Most other areas declined marginally month-over-month.
note this is labeled as an advance report - however, backward revisions historically are relatively slight.
new orders down 0.7% month-over-month.
backlog (unfilled orders) was up 0.4% month-over-month - and remains at a historical high.
the market expected:
| | | | |
| --- | --- | --- | --- |
|   | Consensus Range | Consensus | Actual |
| New Orders - M/M change | 0.5 % to 8.0 % | +3.1 % | -0.7% |
| Ex-transportation - M/M | 0.3 % to 3.0 % | +1.3 % | -0.4 % |
Durable Goods sector is the portion of the economy which provides products which have a utility over long periods of time before needing repurchase - like cars, refrigerators and planes.
There seems to be no long term trend but the short term trend is down.
Year-over-Year Growth Durable Goods New Orders - Unadjusted (blue line) and Inflation Adjusted (red line)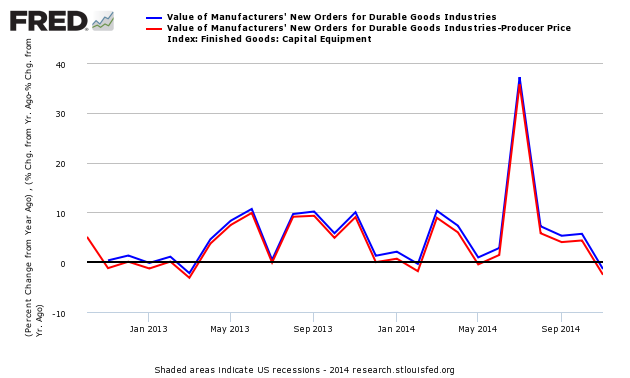 The above graphic shows both the year-over-year change for unadjusted new orders and inflation adjusted new orders using the PPI for inflation adjustment.
For unfilled orders (graph below), the growth trend (red line in graph below) is flat to downward.
Unadjusted Durable Goods Unfilled Orders - Current Value (blue line, left axis) and Year-over-Year Change (red line, right axis)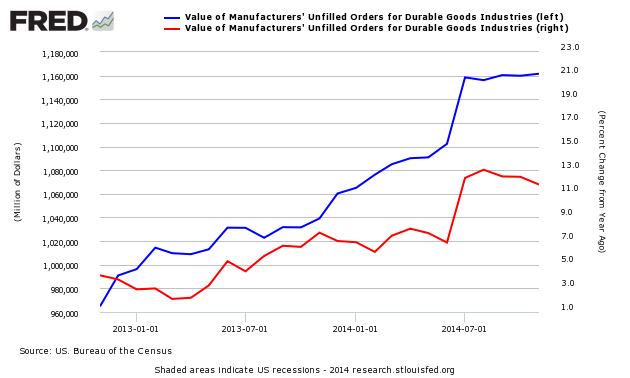 It seems the consumer is not consuming durable goods. This makes me wonder whether economic growth is accelerating.
Other Economic News this Week:
The Econintersect Economic Index for December 2014 is showing our index on the high side of a tight growth range for almost a year. Although there are no warning flags in the data which is used to compile our forecast, there also is no signs that the rate of economic growth will improve. Additionally there are no warning signs in other leading indices that the economy is stalling - EXCEPT ECRI's Weekly Leading Index which is slightly below the zero growth line.
The ECRI WLI growth index value crossed slightly into negative territory which implies the economy will not have grown six months from today.
Current ECRI WLI Growth Index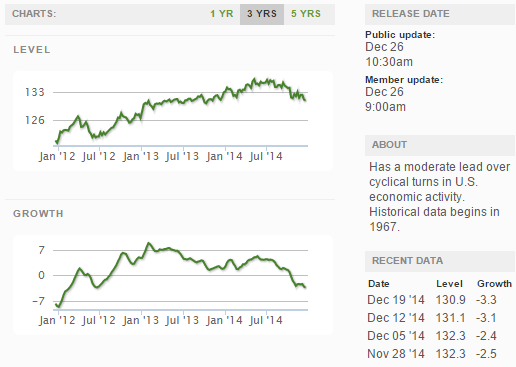 The market was expecting the weekly initial unemployment claims at 280,000 to 294,000 (consensus 290,000) vs the 280,000 reported. The more important (because of the volatility in the weekly reported claims and seasonality errors in adjusting the data) 4 week moving average moved from 298,750 (reported last week as 298,750) to 290,250. Rolling averages under 300,000 are excellent.
Weekly Initial Unemployment Claims - 4 Week Average - Seasonally Adjusted - 2011 (red line), 2012 (green line), 2013 (blue line), 2014 (orange line)

Bankruptcies this Week: NII Holdings
To take a look at all of our analysis this week [click here].
Disclosure: The author has no positions in any stocks mentioned, and no plans to initiate any positions within the next 72 hours.