There was the relatively fantastic employment report on Friday, terrible trade data on Thursday, a contracting manufacturing new orders on Tuesday - but what I thought was most interesting was last weeks release on productivity.
A simple summary of the headlines for this release is that the growth of labor costs is increased significantly from the previous quarter, whilst the rate of growth of productivity actually declined. If one looks at the year-over-year data - it is saying the same thing.
The market was expecting:
| | | | | |
| --- | --- | --- | --- | --- |
| seasonally adjustedquarter-over-quarter at annual rate | Consensus Range | Consensus | Preliminary Actual | Final Actual |
| Nonfarm productivity | -1.5 % to 1.0 % | 0.2 % | -1.8 % |   |
| Unit labor costs | 0.7 % to 2.6 % | 1.2 % | +2.7% |   |
The headlines annualize quarterly results (Econintersect uses year-over-year change in our analysis). If data is analyzed in year-over-year fashion, business productivity was down 0.3% year-over-year, and unit labor costs were up 2.0% year-over-year. Bottom line: the year-over-year data is saying that costs are rising MUCH faster and productivity declining.
Although one could argue that productivity improvement must be cost effective, it is not true that all cost improvement are productivity improvements. [read more on this statement] Further, the productivity being measured is "capital productivity" - not "labor productivity". [read more on this statement here]
Even though a decrease in productivity to the BLS could be considered an increase in productivity to an industrial engineer, this methodology does track recessions. [The current levels are well above recession territory.
Please note that the following graphs are for a sub-group of the report nonfarm > business. Business sector real productivity is growing slower year-over-year than last quarter (see graph below).
Seasonally Adjusted Year-over-Year Change in Output of Business Sector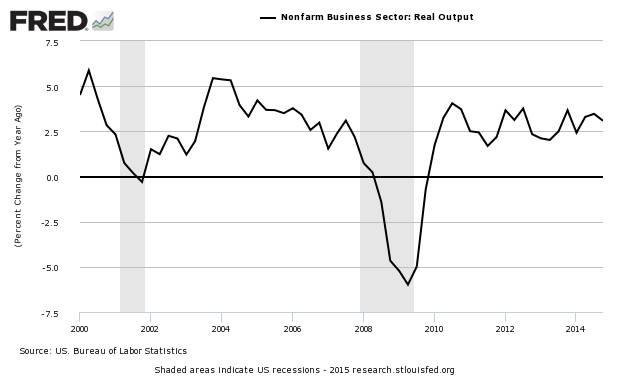 And the year-over-year output per person was worse than the last quarter (see graph below).
Seasonally Adjusted Year-over-Year Change of Output per Hour for the Business Sector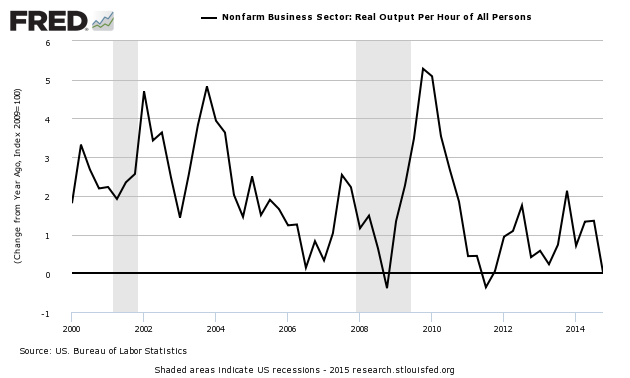 All this is happening while business sector unit labor costs increased - but growth is at a slower rate than last quarter.
Seasonally Adjusted Year-over-Year Rate of Change of Unit Labor Costs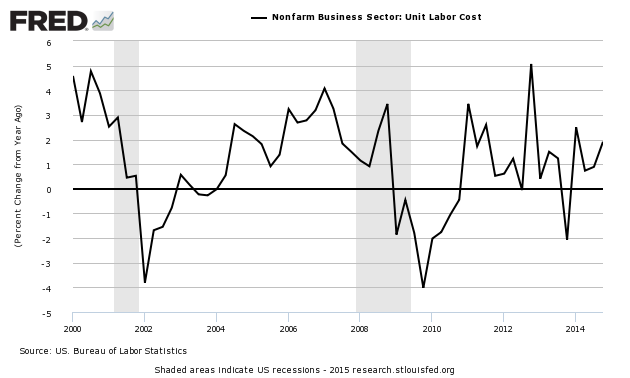 The headlines from the press release:
Nonfarm business sector labor productivity decreased at a 1.8 percent annual rate during the fourth quarter of 2014, the U.S. Bureau of LaborStatistics reported today, as output increased 3.2 percent and hours worked increased 5.1 percent. (All quarterly percent changes in this release are seasonally adjusted annual rates.) The increase in hours worked is the largest increase in this series since a gain of 5.7 percent in the fourth quarter of 1998. From the fourth quarter of 2013 to the fourth quarter of 2014, productivity was unchanged as output and hours worked both increased 3.1 percent. (See chart 1 and table A.) Annual average productivity increased 0.8 percent from 2013 to 2014.

Labor productivity, or output per hour, is calculated by dividing an index of real output by an index of hours worked of all persons, including employees, proprietors, and unpaid family workers.

Unit labor costs in the nonfarm business sector increased 2.7 percent in the fourth quarter of 2014, reflecting a 0.9 percent increase in hourly compensation and a 1.8 percent decline in productivity. Unit labor costs increased 1.9 percent over the last four quarters.

BLS calculates unit labor costs as the ratio of hourly compensation to labor productivity; increases in hourly compensation tend to increase unit labor costs and increases in output per hour tend to reduce them.

Manufacturing sector productivity increased 1.3 percent in the fourth quarter of 2014, as output increased 5.7 percent and hours worked increased 4.3 percent. Productivity increased 1.5 percent in the durable manufacturing sector and increased 0.2 percent in the nondurable manufacturing sector. (See tables A, 3, 4, and 5.) Over the last four quarters, manufacturing productivity increased 2.8 percent, as output increased 4.8 percent and hours increased 1.9 percent. Unit labor costs in manufacturing increased 0.2 percent in the fourth quarter of 2014 and decreased 0.4 percent from the same quarter a year ago.
preliminary chart: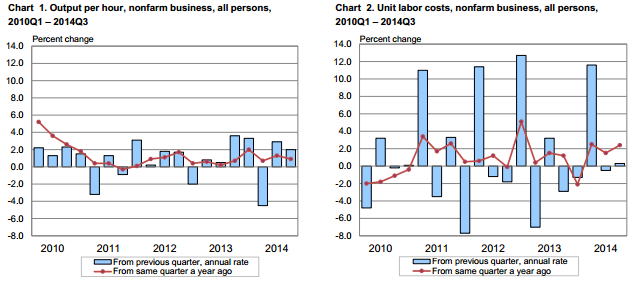 Very strange - reduced productivity is bad for an economy on many levels. One set of bad data is no big deal. But continued poor productivity produces economic headwinds for in a globalized economy.
Other Economic News this Week:
The Econintersect Economic Index for February 2015 continues to show a stable and growing economy - again with a modest decline in growth from last month. All portions of the economy outside our economic model - except residential housing - are showing reasonable expansion. The growth trend line for our model is decelerating, however, if we toss in a few more elements which we analyze (but do not include) in our economic forecast model (such as employment or consumer sentiment) - the trends are improving rather than slowing.
The ECRI WLI growth index value crossed slightly into negative territory which implies the economy will not have grown six months from today.
Current ECRI WLI Growth Index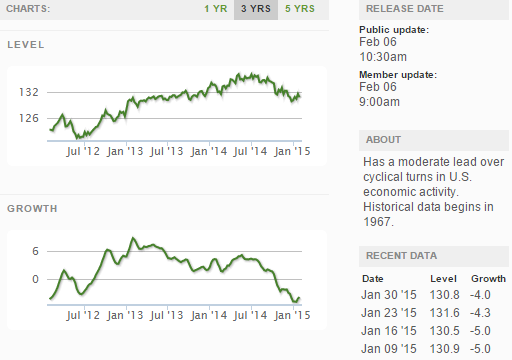 The market was expecting the weekly initial unemployment claims at 280,000 to 310,000 (consensus 300,000) vs the 265,000 reported. The more important (because of the volatility in the weekly reported claims and seasonality errors in adjusting the data) 4 week moving average moved from 306,750 (reported last week as 306,500) to 298,500. The rolling averages have been equal to or under 300,000 for the 19 of the previous 20 weeks.
Weekly Initial Unemployment Claims - 4 Week Average - Seasonally Adjusted - 2011 (red line), 2012 (green line), 2013 (blue line), 2014 (orange line), 2015 (violet line)

Bankruptcies this Week: Endeavour Shipping Company (Limassol, Cyprus-based filed for Chapter 15), Cache, RadioShack
For a complete view of news and analysis this week - [click here]
Disclosure: The author has no positions in any stocks mentioned, and no plans to initiate any positions within the next 72 hours.