The manufacturing portion of the economy is struggling. US Census says manufacturing new orders declined. Our analysis agrees. Unfilled orders' growth continues shrinking year-over-year - and is contracting year-over-year.
Overall, the data is soft - but the big drag was civilian aircraft.
3 Month Rolling Average - Unadjusted Manufacturing New Orders (blue line), Inflation Adjusted New Orders from the Unadjusted Data (red line)

The seasonally adjusted manufacturing new orders is down 1.0% (after last month's downwardly revised decline of 0.7%) month-over-month, and down3.8% year-to-date.
Market expected month-over-month growth of -1.2% to +0.7% (consensus -0.3%) versus the reported 1.0%.
Manufacturing unfilled orders down 0.5% month-over-month, and up 5.6% year-over-year.
Econintersect Analysis:
Unadjusted manufacturing new orders growth decelerated 1.5 % month-over-month, and down 8.0 % year-over-year
Unadjusted manufacturing new orders (but inflation adjusted) down 3.2% year-over-year - there is deflation in this sector.
Unadjusted manufacturing unfilled orders growth declined 1.3% month-over-month, and up 5.6% year-over-year
As a comparison to the inflation adjusted new orders data, the manufacturing subindex of the Federal Reserves Industrial Production was growth decelerated 10.2% month-over-month, and up 2.1% year-over-year.
Seasonally Adjusted Manufacturing Value of New Orders - All (red line, left axis), All except Defense (green line, left axis), All with Unfilled Orders (orange line, left axis), and all except transport (blue line, right axis)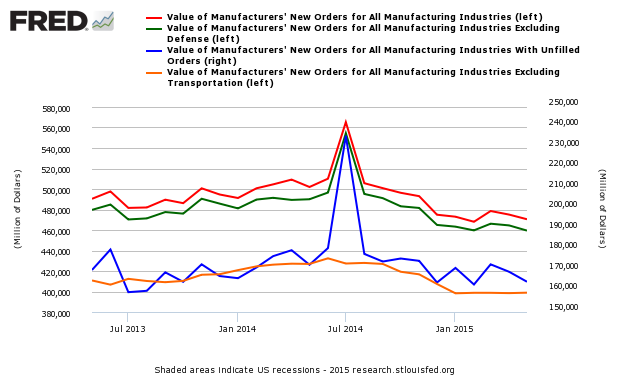 The graph below shows sector growth year-over-year.
Year-over-Year Change Manufacturing New Orders - Unadjusted (blue line) and Inflation Adjusted (red line)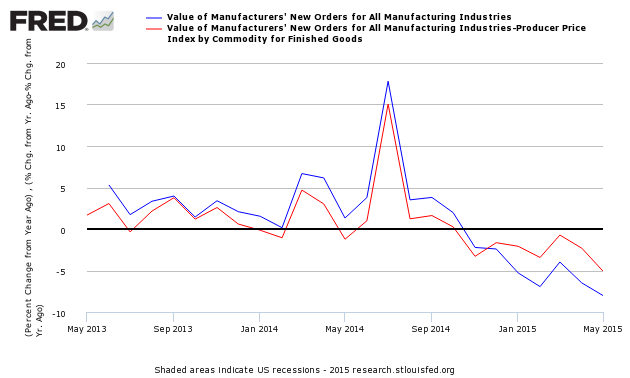 Now look at the manufacturing component of industrial production. While it is true that these are slightly different pulse points (inventory not accounted in shipments) - they should not have different trends for long periods of time.
Comparing Year-over-Year Change - Manufacturing Industrial Production (blue line) to Inflation Adjusted Manufacturers Shipments (green line)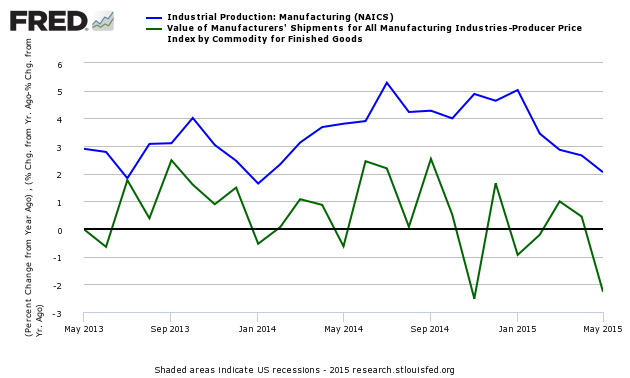 Using employment to confirm manufacturing growth says this industry is growing year-over-year - but growth is now slowing.
Employment Growth - Manufacturing (Seasonally Adjusted) - Total Employment (blue line) and Year-over-Year Change (red line)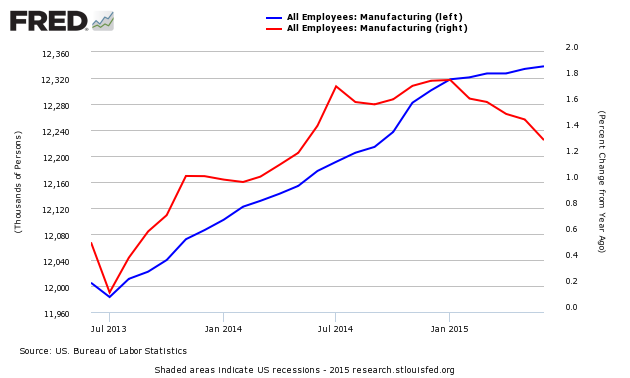 The health of manufacturing is gauged by the growth of unfilled orders. The 3 month rolling average rate of growth is currently decelerating.
Unadjusted Unfilled Orders - Total Current Value (blue line, left axis) and Year-over-Year Change (red line, right axis)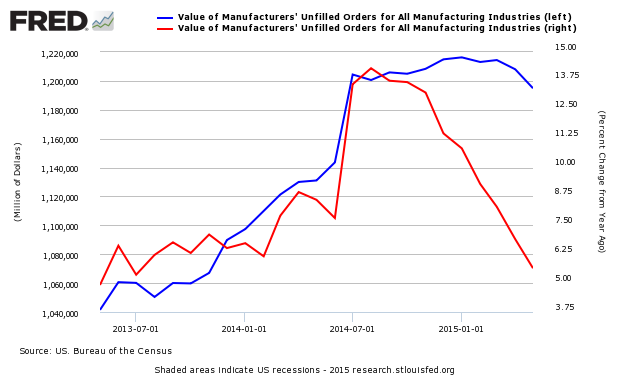 A declining unfilled orders backlog could be a recessionary indication as unfilled orders generally decline in poor economic times. Beware ....
Other Economic News this Week:
The Econintersect Economic Index for July 2015 strengthened partially reversing last month's decline. Still, the tracked sectors of the economy remain relatively soft with most expanding at the lower end of the range seen since the end of the Great Recession. Thinking through the reasons for this month's increase, it was the improvement in a few areas from terrible to marginal growth.
The ECRI WLI growth index is now in positive territory but still indicates the economy will have little growth 6 months from today.
Current ECRI WLI Growth Index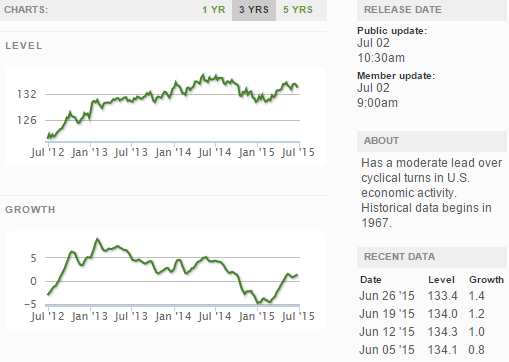 The market was expecting the weekly initial unemployment claims at 270,000 to 275,000 (consensus 270,000) vs the 281,000 reported. The more important (because of the volatility in the weekly reported claims and seasonality errors in adjusting the data) 4 week moving average moved from 273,750 (reported last week as 273,750) to 274,750. The rolling averages generally have been equal to or under 300,000 since August 2014.
Weekly Initial Unemployment Claims - 4 Week Average - Seasonally Adjusted - 2011 (red line), 2012 (green line), 2013 (blue line), 2014 (orange line), 2015 (violet line)

Bankruptcies this Week: Privately-held Baha Mar
Please visit our landing page to view all analysis this week.
Disclosure: I/we have no positions in any stocks mentioned, and no plans to initiate any positions within the next 72 hours.