The advance estimate of second quarter 2015 Real Gross Domestic Product (NYSEMKT:GDP) is a positive 2.3%. This is a significant improvement from the previous quarter's 0.6 % if one looks at quarter-over-quarter headlines. However, year-over-year growth declined so one could say economic growth was mixed. There are significant "buts" relative to this advance GDP estimate.
One must consider:
This advance estimate is based on source data that are incomplete or subject to further revision. (See caveats below.) Please note that historically advance estimates have turned out to be little more than wild guesses.
Headline GDP is calculated by annualizing one quarter's data against the previous quarters data (and the previous quarter was relatively strong in this instance). A better method would be to look at growth compared to the same quarter one year ago. For 2Q2015, the year-over-year growth is 2.3% - down from 1Q2015's 2.9% year-over-year growth. So one might say that GDP decelerated 0.6% from the previous quarter.
Change in inventories insignificantly affected GDP this quarter.
Real GDP Expressed As Year-over-Year Change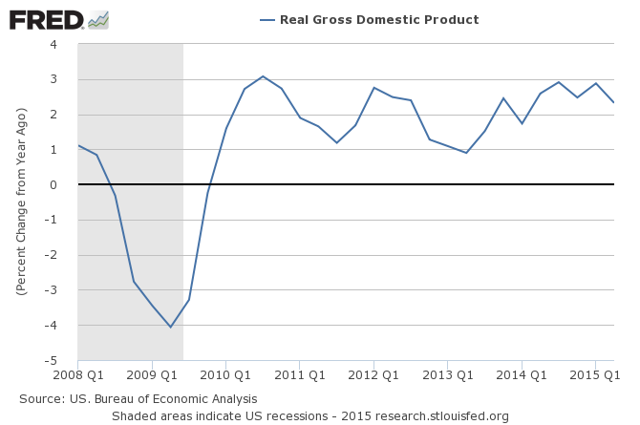 Real GDP is inflation adjusted and annualized - and Real GDP per capita remains on a general upward trend.
Real GDP per Capita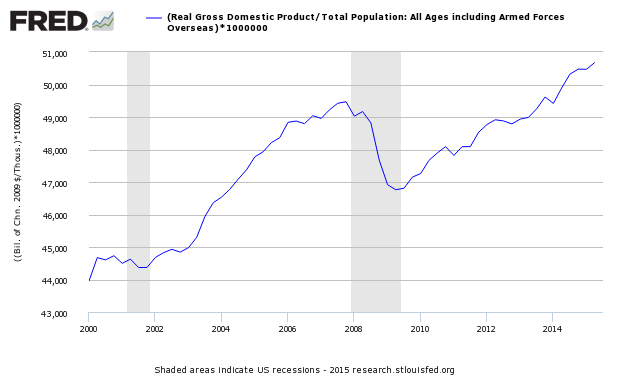 The table below compares the 1Q2015 third estimate of GDP (Table 1.1.2) with the advance estimate of 2Q2015 GDP which shows:
consumption for goods and services improved.
trade balance improved
there was little inventory change
there was little fixed investment growth
there was little change in government spending
The arrows in the table below highlight significant differences between 4Q2014 and 1Q2015 (green is good influence, and red is a negative influence).
[click on graphic below to enlarge]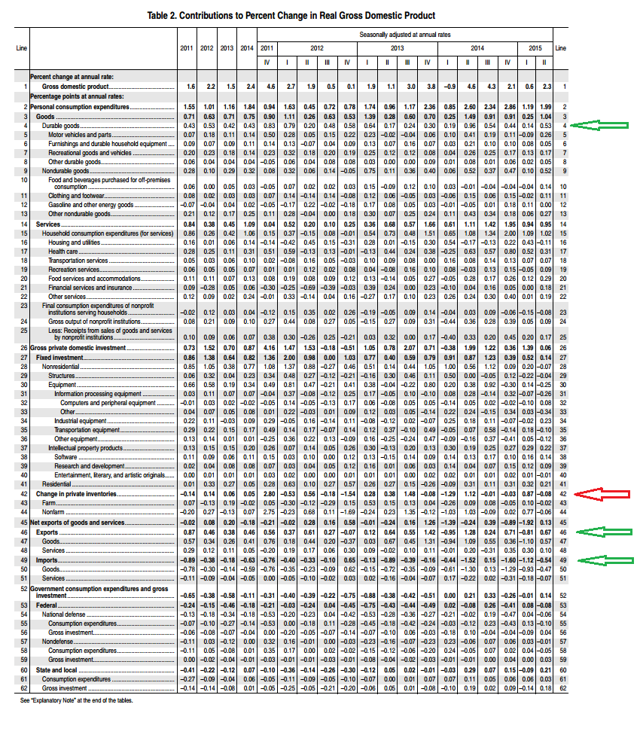 GDP has been in a year-over-year range between 2% and 3% since the beginning of 2014. The BEA's method of determining month-over-month growth is exaggerating economic movements - especially when the economy is acting like a roller coaster.
The current GDP estimate is not an improvement from 1Q2015.
Other Economic News this Week
The Econintersect Economic Index for August 2015 declined to the lowest level since April 2010. The tracked sectors of the economy remain relatively soft with most expanding at the lower end of the range seen since the end of the Great Recession. This economic index has been in a long term decline since late 2014.
The ECRI WLI growth index is now in positive territory but still indicates the economy will have little growth 6 months from today.
Current ECRI WLI Growth Index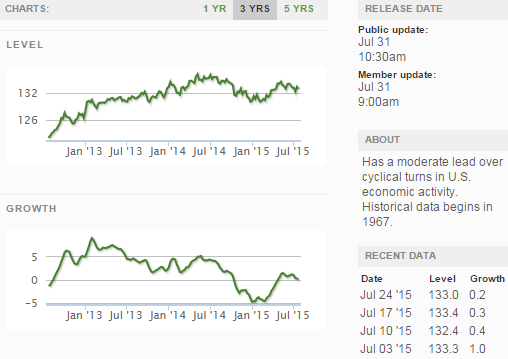 The market was expecting the weekly initial unemployment claims at 270,000 to 275,000 (consensus 272,000) vs the 267,000 reported. The more important (because of the volatility in the weekly reported claims and seasonality errors in adjusting the data) 4 week moving average moved from 278,500 (reported last week as 278,500) to 274,750. The rolling averages generally have been equal to or under 300,000 since August 2014.
Weekly Initial Unemployment Claims - 4 Week Average - Seasonally Adjusted - 2011 (red line), 2012 (green line), 2013 (blue line), 2014 (orange line), 2015 (violet line)

Bankruptcies this Week: Privately-held Relativity Media
Please visit our landing page to see all of our analysis this week.
Disclosure: I/we have no positions in any stocks mentioned, and no plans to initiate any positions within the next 72 hours.