Every week, I try to pick out an economic release that was the most interesting. This week retail sales and industrial production were tied. In both cases, the rolling averages improved - not significantly but noticeable.
I prefer the rolling averages to analyze what is going on. The monthly data is too volatile for a variety of reasons (seasonality defects, weather, data gathering errors ...).
Industrial Production
Headline seasonally adjusted Industrial Production (NYSE:IP) increased 0.6% month-over-month and up 1.3% year-over-year.
Econintersect's analysis using the unadjusted data is that IP growth accelerated 0.2% month-over-month, and is up 1.6% year-over-year.
The unadjusted year-over-year rate of growth decelerated 0.1% from last month using a three month rolling average, and is up 1.9% year-over-year.
Unadjusted Industrial Production year-over-year growth for the past 2 years has been between 2% and 4%. It is interesting that the unadjusted data is giving a smooth trend line.
Year-over-Year Change Total Industrial Production - Unadjusted (blue line) and the Unadjusted 3 month rolling average (red line)

Retail Sales
Retail sales improved according to US Census headline data and were at expectations. Our view is that this month's data has improved the rolling averages. Consider that the headline data is not inflation adjusted and prices are currently deflating making the data better than it seems (and much better than GDP growth).
Econintersect Analysis:
unadjusted sales rate of growth decelerated 0.4% month-over-month, and up2.9% year-over-year. The reason for the deceleration is that the previous month was so strong.
unadjusted sales 3 month rolling year-over-year average growth accelerated0.5% month-over-month to 2.3% year-over-year.
Advance Retail Sales Year-over-Year Change - Unadjusted (blue line), Unadjusted with Inflation Adjustment (red line), and 3 Month Rolling Average of Unadjusted (yellow line)

unadjusted sales (but inflation adjusted) up 4.0% year-over-year
this is an advance report. Please see caveats below showing variations between the advance report and the "final".
in the seasonally adjusted data - department and electronic stores were weak, but mostly everything else was relatively strong..
Conclusion???
What I am suspecting is what is going on is a bottoming of the current economic cycle which was downward. Is this the end or a pause? We will see.
Other Economic News this Week:
The Econintersect Economic Index for August 2015 declined to the lowest level since April 2010. The tracked sectors of the economy remain relatively soft with most expanding at the lower end of the range seen since the end of the Great Recession. Our economic index has been in a long term decline since late 2014.
The ECRI WLI growth index is now in positive territory but still indicates the economy will have little growth 6 months from today.
Current ECRI WLI Growth Index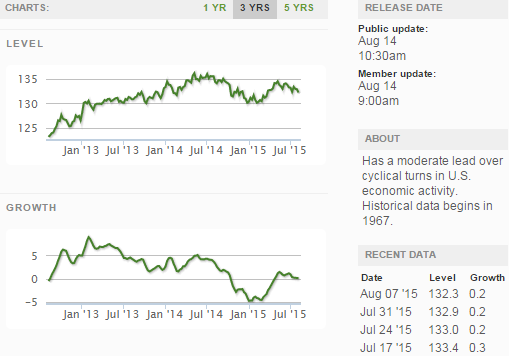 The market was expecting the weekly initial unemployment claims at 260,000 to 272,000 (consensus 270,000) vs the 274,000 reported. The more important (because of the volatility in the weekly reported claims and seasonality errors in adjusting the data) 4 week moving average moved from 268,000 (reported last week as 268,250) to 266,250. The rolling averages generally have been equal to or under 300,000 since August 2014.
Weekly Initial Unemployment Claims - 4 Week Average - Seasonally Adjusted - 2011 (red line), 2012 (green line), 2013 (blue line), 2014 (orange line), 2015 (violet line)

Bankruptcies this Week: Response Genetics, Hercules Offshore
Please visit our landing page for a view of all the analysis this week - especially words on China and Greece.
Disclosure: I/we have no positions in any stocks mentioned, and no plans to initiate any positions within the next 72 hours.