I do not understand this trend yet - but home building sector continues to slow. It is not as though the growth rate is not much different than the growth rate seen in 2013 and 2014 - but it is significantly slower than the growth rate seen for most of 2015.
Be careful in analyzing this data set with a microscope as the potential error ranges and backward revisions are significant. Also the nature of this industry variations from month to month so the rolling averages are the best way to view this series - and still the data remains in the range we have seen over the last 3 years. However, the rolling averages are decelerating.
The unadjusted rate of annual growth for building permits in the last 12 months has been around 10% - it is a NEGATIVE 1.3 % this month.
Unadjusted 3 month rolling averages for permits (comparing the current averages to the averages one year ago) show that construction completions are lower than permits this month for the tenth month in a row.
3 month Rolling Average for Year-over-Year Growth Unadjusted Data
| | | |
| --- | --- | --- |
|   | Building Permits | Construction Completions |
| Current Movement | decelerating | decelerating |
Unadjusted 3 Month Rolling Average of Year-over-Year Growth - Building Permit (blue line) and Construction Completions (red line)

Econintersect Analysis:
Building permits growth decelerated 6.2 % month-over-month, and is down 1.3 % year-over-year.
Single family building permits grew 3.9 % year-over-year.
Construction completions decelerated 1.0 % month-over-month, up 4.8 % year-over-year.
building permits up 4.1 % month-over-month, up 2.7 % year-over-year
construction completions down 7.5 % month-over-month, up 5.2 % year-over-year.
the market expected (from Bloomberg):
| | | | |
| --- | --- | --- | --- |
| Annual Rates | Consensus Range | Consensus | Actual |
| Housing Starts | 1.125 M to 1.200 M | 1.162 M | 1.060 M |
| Housing Permits | 1.125 M to 1.220 M | 1.150 M | 1.150 M |
Note that Econintersect analysis herein is based on UNADJUSTED data - not the headline seasonally adjusted data.
When more building permits are issued than residences completed - the industry is expanding - and this expansion was underway for three years (except for the last two months in 2014). In the graph below, any value above zero shows more permits are being issued than completions.
Difference Between New Home Building Permits and Construction Completions (unadjusted)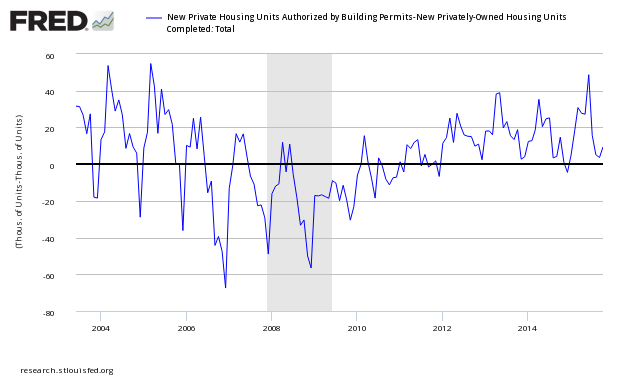 Although the data is noisy - it appears that the trend currently is decelerating growth.
Unadjusted Year-over-Year Change New Homes - Permits (blue line) and Construction Completions (red line)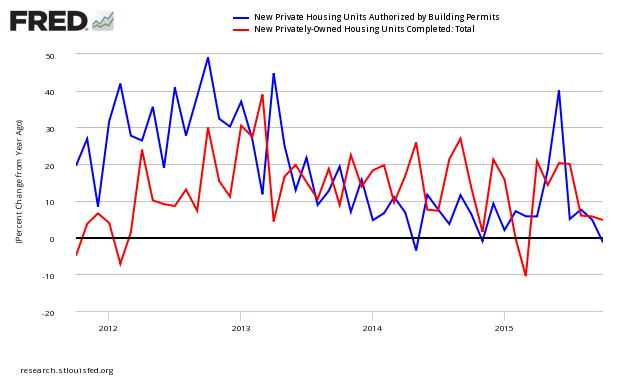 Other points to take away from the data:
Before we start thinking all is well, the residential home industry is about half of the pre-2005 peak.
Seasonally Adjusted Residential Building Permits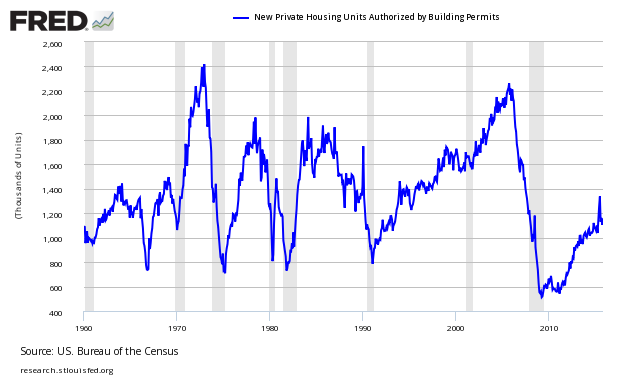 Apartment permits (structures with 5 or more units) contracted 8.9 % year-over-year. Apartments accounted for 36.1 % of all building permits, and 30.2 % of construction completions.
Unadjusted Ratio Apartment Permits (structures with 5 or more units) to Total Permits - higher number means more Apartments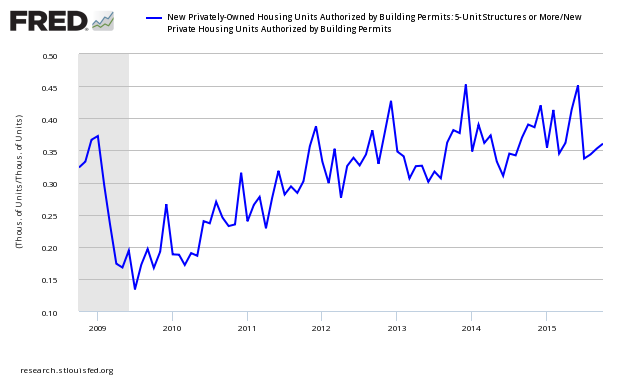 We need several more months of data before one should be concerned about the current short term trend.
Please visit our landing page to view all of our analysis this past week.
Disclosure: I/we have no positions in any stocks mentioned, and no plans to initiate any positions within the next 72 hours.